By: Jonathan Kwan
October 12, 2012
One time, my friend asked me if I knew how to speak Korean. "Of course I know how to speak Korean," I jokingly replied. "Hyundai, Kia, Samsung, LG, Kimchi, Kim Jong-un, and... oppan Gangnam style." (As you can imagine, this is definitely one of those facepalm moments.) Speaking of Gangnam, actually, I didn't do much reading into what it was until Psy's recent viral hit. According to Wikipedia, Gangnam is "one of the most affluent areas of Seoul, and one of the wealthiest neighborhoods in all of South Korea". A lot of times, we like to associate affluence with fashion and taste -- and this usually holds true. Sure, it may sound ostentatious, but a good chunk of the 99% do try emulating the 1% to an extent. However, there are always exceptions to this statement, especially when it comes to the computer world. Browsing a variety of computer enthusiast forums, some people's builds may be expensive in every way, but those so-called gaming cases they use are just so... ugh. Yes, beauty is in the eyes of its beholder, but bad taste is bad taste, haha. In the last few years, I have been on the lookout for the perfect "APH-spec" case without much success. The requirements are simple: Clean exterior look, large unobstructed clear side window, mid-tower, refined build quality, and filters on every vent except rear exhaust. Is this too much to ask for? Apparently it was... until now. Meeting every requirement on the list and a little bit more, SilverStone is up for the challenge with their Temjin TJ04-E, with an excellent brand cachet to boot, too. Read on to find out if this is really the chosen one!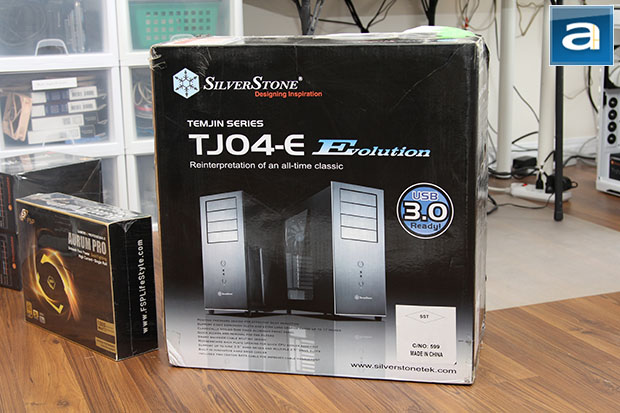 Our review unit of the SilverStone Temjin TJ04-E arrived at our doorstep in its original retail box. As computer chassis packaging is designed with shipping in mind, this one is certainly no exception. Using FedEx Ground, everything arrived in pristine condition for our evaluation today from SilverStone's American offices in California, USA. A quick glance at the retail box reveals a more classic approach to the packaging layout -- with a prominent display of the manufacturer's logo and model number, along with images of the case across the center. Specifications and feature highlights can be found on the remaining sides in the form of tables and diagrams. The same information can be found on SilverStone's website, as partially replicated here:
Model No.: SST-TJ04B-EW (Black + Window)
Material: 7mm aluminum front panel, steel body
Motherboard: SSI-CEB, ATX (up to 12" x 10.9"), Micro-ATX
Drive Bay: External - 5.25" x 4; Internal - 3.5" x 9 (optional 3.5" x 8 + 2.5" x 1), 2.5" x 6
Cooling System: Rear - 1 x 120mm exhaust fan, 1200rpm, 21dBA; Side - Right:1 x 120mm intake fan, 1200rpm, 21dBA; Right - 1 x 120mm fan slot (optional); Top - 1 x 120mm intake fan, 1200rpm, 21dBA, 1 x 120mm / 140mm fan slot (optional); Bottom - 1 x 120mm fan slot (optional)
Expansion Slot: 8
Front I/O Port: USB 3.0 x 2 (backward compatible with USB 2.0), Audio x 1, MIC x 1
Power Supply: Standard PS2(ATX) *1
Expansion Card: Compatible up to 17 inches in length *
Limitation of CPU cooler: 168mm
Limitation of PSU: Unlimited *1
Net Weight: 9.6kg
Dimension: 214mm(W)x489mm(H)x489mm(D), 51.2 liters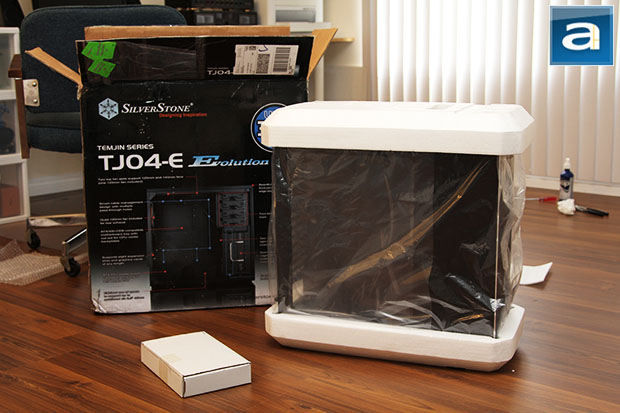 Clipped between two large Styrofoam brackets at the top and bottom is the SilverStone Temjin TJ04-E computer chassis. The accessories are placed inside the case, just like every single one I have reviewed in the past. As I have stated in the introduction of this review, our particular model is the window version. Those who prefer to keep a little privacy to their motherboards and co. can purchase an identical case without the clear side panel. I love to show off my internal components with some fancy LED lighting, so I logically went with the former -- no surprises here. As we can see in our photo above, the TJ04-E is wrapped inside a large plastic bag to prevent any scratches from occurring during transport, along with extra plastic tape on the clear acrylic window for additional protection.
---
Page Index
1. Introduction, Packaging, Specifications
2.
Physical Look - Outside
3.
Physical Look - Inside
4.
Installation and Conclusion