Page 4 - Installation and Conclusion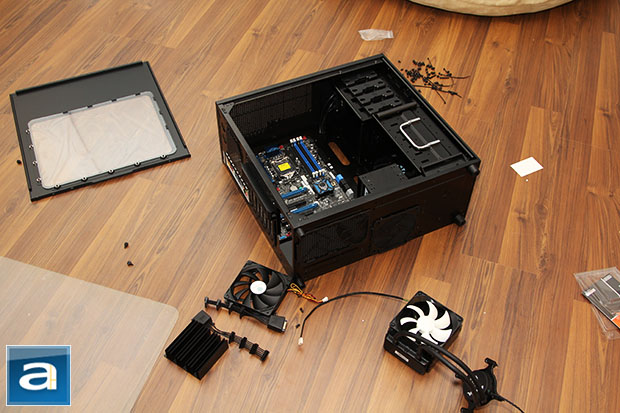 The installation process is generally straightforward with the SilverStone Temjin TJ04-E. For the most part, it is very easy to work with as far as a standard mid-tower is concerned -- a sufficient amount of room with a decent interior. Out of preference, I installed the Intel Desktop Board DZ77GA-70K motherboard first. Next, I installed my SSDs -- I got three to install -- into the 2.5" drive rack, which I later relocated into the HDD tray upon discovering it does not clear my power supply. Needless to say, it was quite a hassle.
SilverStone includes two hard drive heatsinks and a SATA power connector array cable with the Temjin TJ04-E. The hard drive heatsink promises noticeable cooling performance benefits from the company's press material by keeping the drives in their optimal operating temperature, but my computer is an all SSD configuration, so I'll skip out on that. I don't believe not properly cooled or overcooled hard drives were ever an big issue in my past experience, but this is something nice to have. The SATA power connector array cable can be extremely useful for people with tons of hard drives.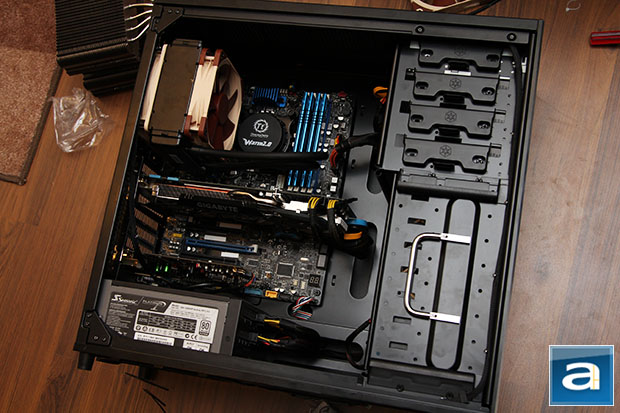 The power supply I used with the SilverStone Temjin TJ04-E is a Seasonic Platinum 1000W. The ventilated bottom is enclosed by a series of dust filters, so rest be assured that your PSU or intake fan won't be doubling up as your vacuum cleaner with the case interior as a dust bag. Combined with a half centimeter clearance room provided by the integrated riser rail, the Temjin TJ04-E has no problems accommodating relatively long PSUs like the one I have used in the photo above. I did have to relocate the SSD rack though.
The rest of the installation process came and went within expectations, as I continued to install the rest of my components. The SilverStone Temjin TJ04-E has a semi-tool-free design; where the 'semi' comes from only the 5.25" drives -- the rest will require a screwdriver. To be honest, I always take out my screwdriver, as attaching screws is usually the most secure method at the end of the day. For the purpose of this review, I have a Gigabyte GeForce GTX 570 SOC installed, as you can see in my photo above. Being the length of an average performance card (Which is, slightly longer than the span of your motherboard), I have had absolutely no issues fitting it into the SilverStone Temjin TJ04-E. I don't see why you would either; after all, it's 2012.
On the other side, the CPU backplate opening is more than large enough to accommodate motherboard sockets across different generations. It is also a real pleasure to work with all the openings on the motherboard tray; it is definitely the right amount in all the right places. With the relatively wide gap between the motherboard tray and right side panel, the Temjin TJ04-E also has some zip tie attachment points to ensure your cables can be organized well. The finished product can be seen above; enjoy.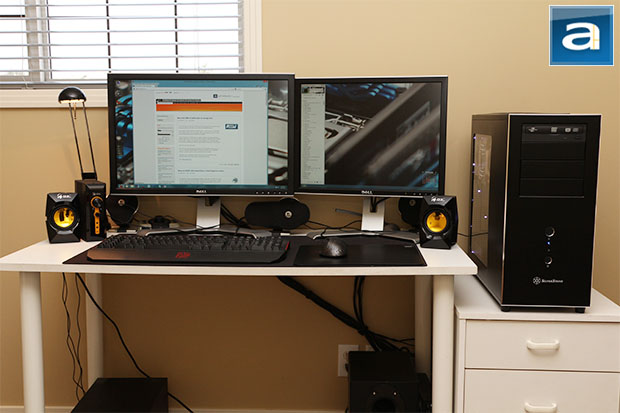 After plugging in everything, our system configured inside the SilverStone Temjin TJ04-E is ready to roll. I hit the large power button at the front, and my computer came to life. Your finished system should resemble what I have above, since there is nothing much you can change here anyway, haha. As promised earlier on in this review, you can see the white power and HDD LEDs at the top of the case. My flash and fast shutter speed configured on my dSLR camera won't let you see it, but I can assure you, it is there. I configured my chassis interior with a NZXT Sleeved LED Kit in white, which looks simply amazing in my opinion. The big window is made for some sweet LED lighting -- don't go without it if you are planning to buy this chassis for your next build.
On a scale from 0.0 to 10.0 where 0.0 is silent and 10.0 is the loudest, the three fans would come in at 4.0/10 subjective sound rating at full blast. They are not particularly loud, but not necessarily quiet either. I am quite sensitive to perceived sound volume, and if you are a quiet PC enthusiast, the SilverStone Temjin TJ04-E will require some modifications to suit your needs. Just to note, the case will not dampen any sound, as the TJ04-E is not made with silent computing in mind.
-----------------------------------------
Does SilverStone know about making good cases? Well, of course they do, and not in the same way I know about speaking Korean. The company has been long known in the industry for making some of the highest quality, most refined, and elite computer chassis in the market. The SilverStone Temjin TJ04-E promises to continue this tradition by entering this fiercely competitive world in a way enthusiasts cannot fail to notice. Combining a clean, striking, and incredible tasteful exterior (At least in my opinion), a perfect side window, and a well defined cooling system with fan filters in every corner, the TJ04-E just screams "APH-spec" in every way. The Temjin product line is about being classy and tasteful, and this case has it in every ounce of metal and plastic used to build it. Seriously, if I were to design a case, the Temjin TJ04-E is pretty darn close to what I would have made. What would I have changed? Firstly, the drive installation system needs a complete overhaul. I don't care if it can accommodate a combined fifteen drives "without compromise", because I just cannot see anyone with that many in a mid-tower chassis. Making it a chore to work with like it is really is the bigger issue. Secondly, refinement. I noticed a number of minor manufacturing issues that needs addressing. While they are not significant, I certainly do not think they should be present in a SilverStone case. Thirdly, having some noise dampening material on the panels would be nice. It might add some weight and cost, but at the end of the day, I will be more than happy to pay the perfect price for a perfect case.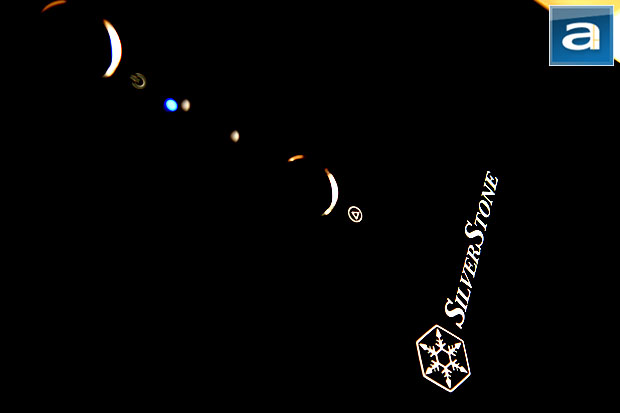 SilverStone provided this product to APH Networks for the purpose of evaluation.

APH:Renewal Award | APH Review Focus Summary:
7/10 means Great product with many advantages and certain insignificant drawbacks; but should be considered before purchasing.
8/10 means Definitely a very good product with drawbacks that aren't likely going to matter to the end user.
-- Final APH Numeric Rating is 7.4/10
Please note that the APH Numeric Rating system is based off our proprietary guidelines in the Review Focus, and should not be compared to other sites.
The SilverStone Temjin TJ04-E is pretty much a perfect case in appearance and design. Some refinement with its design and manufacturing will make it, quite literally, perfect in my opinion.
Do you have any comments or questions about the SilverStone Temjin TJ04-E? Drop by our Forums. Registration is free, and it only takes a minute!
---
Page Index
1.
Introduction, Packaging, Specifications
2.
Physical Look - Outside
3.
Physical Look - Inside
4. Installation and Conclusion