By: Jonathan Kwan
January 6, 2012
Tell you what -- first review of the year, and we got something good in our hands. Late last year, there were some particularly unique power supplies released into the market; such as the Seasonic Platinum and Cooler Master Silent Pro Hybrid. Obviously, as you can tell by my hyperlink, the latter was already covered by yours truly back in November 2011. What is unique about these power supplies boils down to the fact that both PSU's internal cooling fan can be shut off completely under relatively light loads. As a quiet PC enthusiast, this is like a gift from God himself -- fusing together a compromise-free solution by combining both power and silence into one single package. Unfortunately, it seems Satan had a hand in the Silent Pro Hybrid, because there is one problem with it: The fan control system goes bazerk sometimes. That's too bad. So what we have here at APH Networks this morning is yet another product of similar ideas, but claims to have superior execution. Firstly, the Seasonic Platinum, as its name suggests, is 80 Plus Platinum certified. Secondly, the fan can remain off until 30% load is reached, which translates to 300W for our 1000W unit. Considering how most PCs don't suck down 300W even under moderate loads, this is a very impressive and crucial figure. Therefore, without further delay, is the Seasonic Platinum 1000W a power supply from Heaven, pure and unadulterated? Read on to find out!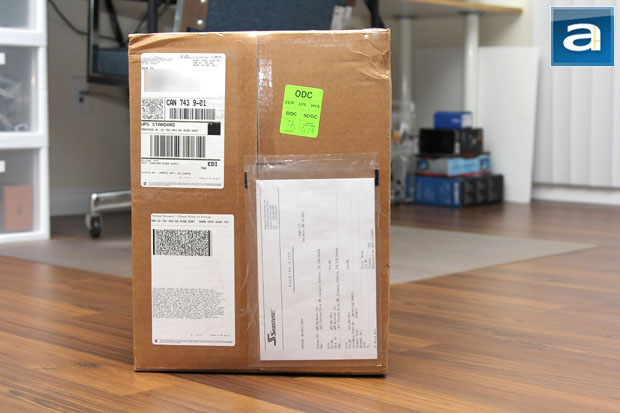 Our review unit of the Seasonic Platinum 1000W came in a medium sized, brown corrugated cardboard box from Seasonic's American offices in California, USA. Traveling for about a week and a half via UPS Standard, it took exceptionally long this time around for the power supply to get to us -- after all, it is Christmas followed by the New Year in the middle. Normally, here at APH Networks, we have an average three to four week queue between a product's arrival and the time the article is finished, but due to some complications in scheduling, we are going to make an exception today The last time something like this happened was back in May last year with our OCZ Vertex 2 160GB 25nm review.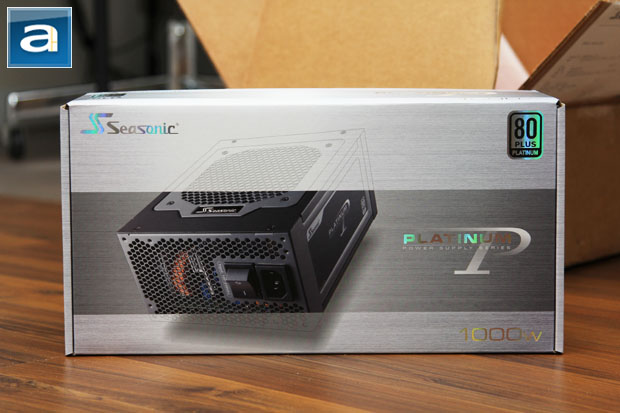 In a somewhat surprising news, it has been a good two years since we have last looked at a power supply from Seasonic. Being a silent PC enthusiast, and someone who has a high appreciation for quality PSUs, this is a rather surprising thing to say. With the most recent report being the Seasonic S12D 850W article published back in December 2009, I am particularly excited to get my hands on the latest and greatest for our review today. Coming in at a somewhat radical departure in retail packaging design compared to its predecessors, the Platinum's box is not only much larger, but also much cleaner looking. Really, there is not a lot in front -- just a photo of the PSU displayed prominently, along with Seasonic's logo, model name, wattage, and an 80 Plus Platinum certification at various locations. The people who designed this should be proud of themselves. Feature highlights are placed at the back; whereas a table of specifications is found on the sides. Speaking of which, let's take a look at some of the special features of the Seasonic Platinum 1000W, as obtained from the manufacturer's website:
1. 80PLUS® Platinum Certified Super High Efficiency
2. 7 Years Warranty
3. DC Connector Panel with Integrated VRM [Voltage Regulator Module]
4. DC to DC Converter Design
5. Active Power Factor Correction [99% PF Typical]
6. Conductive Polymer Aluminum Solid Electrolytic Capacitors
7. High Reliability 105℃ Japanese Grade A Capacitors
8. High Current Gold Plated Terminals
9. Tight Voltage Regulation [±2%]
10. High +12V Output
11. Dual Sided PCB Layout
12. Seasonic Patented Hybrid Silent Fan Control
13. Sanyo Denki San Ace Silent Fan
14. Ultra Ventilation [Honeycomb Structure]
15. Full Modular Cabling Design
16. Multi-GPU Technologies Supported
17. All-in-One DC Cabling Design
18. Easy Swap Connector
19. Universal AC Input [Full Range]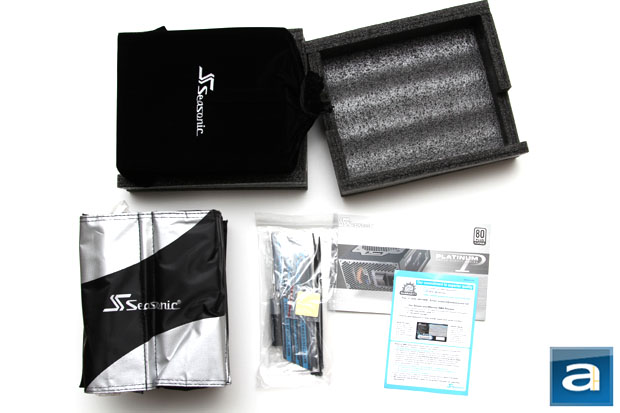 The packaging of Seasonic's Platinum 1000W power supply unit deserves a section by itself, not because it is very good, but because it is clean and very good. For power supplies of this caliber, it is almost reasonable to expect manufacturers to do away with the standard plastic bag packaging -- and Seasonic is no exception here. But unlike the outstanding but rather complicated execution seen with the Thermaltake Toughpower Grand 1200W, the Platinum finishes the task with minimal amounts of material under the flap top box. Sandwiched between two Styrofoam bracket is the PSU itself inside a soft drawstring bag, followed by a dual section Velcro enclosed modular cable bag with the power cord sandwiched between its legs, resealable clear plastic bag with miscellaneous accessories, manual, and warranty information card. Miscellaneous accessories include zip ties, Velcro straps, four screws, case badge, and even a screwdriver.
---
Page Index
1. Introduction, Packaging, Specifications
2.
Physical Look - Outside
3.
Physical Look - Inside
4.
Minor Tests and Conclusion