By: Jonathan Kwan
September 16, 2011
Although I have been in Canada since I was one and half years old, I have always been particularly proud of my Hong Kong heritage. Okay, I will be realistic here. Although my grandparents, my parents, and myself were all born in this wonderful city in the East, I neither look nor act fobby; if you have no idea what that means, look it up -- you are on the internet, haha. But at the very least, I can read and write Chinese, and speak Cantonese quite fluently -- so to touch on the crucial point of this discussion, all this means is I can watch all my favorite Hong Kong dramas on TV without any problem. A while ago, a police series titled "The Mysteries of Love" was on, and the main male character of the story is called Professor King. Now Professor King is quite the man. He has a PhD in Physics, yet he knows everything from criminal psychology to electrical engineering. He has received numerous prestigious awards for his research, yet he is always modest. He comes from an upper class family, yet he treats everyone equally. And the best part of it all? He is very good looking, yet he is only interested in one girl from the beginning to the end; with the girl being the average type everyone can relate to. How can such an ideal man exist in this world? Well, other than to appeal to all the female audience members, of course he doesn't exist. But before you start laughing at all the girls and their wonderful fantasies, I think everyone likes to dream about stuff that combines the best of every world. For example, as a silent PC enthusiast, but a PC enthusiast nonetheless, I am always after a computer that is not only matchless in performance, but also unparalleled in silence. And with any performance computer, the video card is an absolutely crucial component. So to put some substance into our review today, is there such thing as a graphics card that has all the processing power, emits minimal amount of noise, and still does not overheat? With Gigabyte's GeForce GTX 570 1280MB SOC here at APH Networks today, let's see if this is the Professor King of video cards!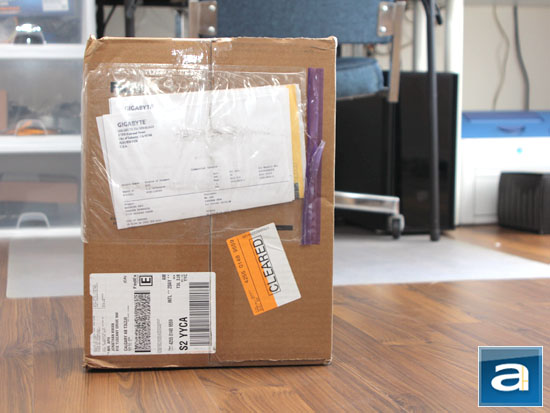 Our review unit of Gigabyte's GeForce GTX 570 1280MB SOC came in a medium-sized, brown corrugated cardboard box from the company's American headquarters at California, USA. Using FedEx International Priority, I was particular excited about getting my hands on this video card, and interestingly, at press time it has actually been more than a month since I've got this card already. But to recall what happened over four weeks ago, I remember shredding through the packaging to getting to the meat of the parcel. I mean, who isn't excited about one of the fastest GTX 570s in the market today?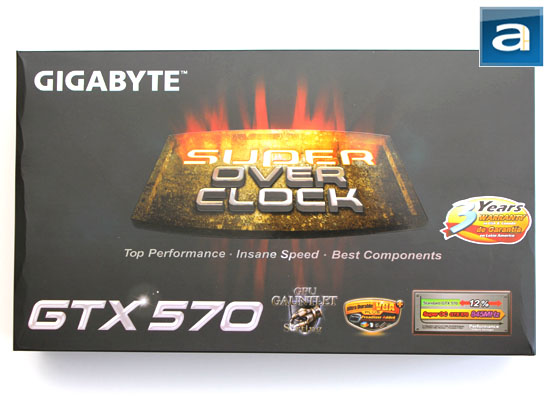 If you are sick and tired of graphics card retail boxes that would make an Apple designer want to jump off a bridge, Gigabyte would like a word with you. The GTX 570 SOC's packaging is uniquely Gigabyte, consistent across the product line, and still ensures you understand it is a video card inside the box when you are roaming your favorite local retail store. However, the flat black background is still clean and mysterious enough to captivate your attention against the competition. As you run your eyes across the center of the box, you know this is not just any GTX 570. It is the Super Overclock version -- with a firey glow around the word "super". And as anyone would know from elementary school, tacking words like "super" and "ultra" in front of anything simply makes it better. But how much better? Flip the box around, and tons of graphics with blocks of text will tell you why, but we are not here to review the box, right? So let's tiptoe around this, but before we move on, let's take a look at the specifications of Gigabyte's GeForce GTX 570 1280MB SOC, as obtained from the manufacturer's website:
Chipset: GeForce GTX 570
Core Clock: 845 MHz
Shader Clock: 1690 MHz
Memory Clock: 3800 MHz
Process Technology: 40 nm
Memory Size: 1280 MB
Memory Bus: 320 bit
Card Bus: PCI-E 2.0
Memory Type: GDDR5
DirectX: 11
OpenGL: 4.1
PCB Form: ATX
Digital max resolution: 2560 x 1600
Analog max resolution: 2048 x 1536
Multi-view: 2
Tools: N/A
I/O: HDMI*1 (by adapter), DisplayPort (by adapter), mini HDMI*1, mini DisplayPort, DVI-I*2, DVI-D, D-sub*1 (by adapter)
Card size: H43 mm x L281 mm x W139 mm
Power requirement: Minimum 650W or greater system power supply with one 8-pin and one 6-pin external power connectors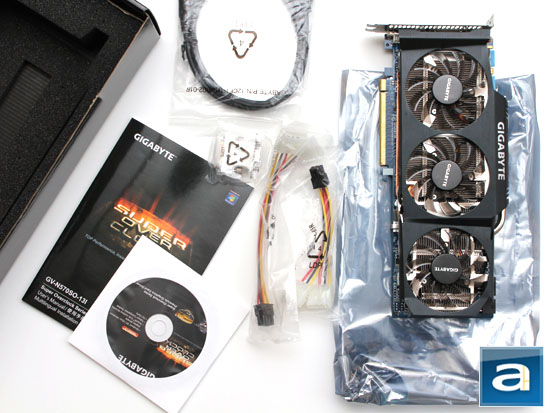 Inside the outer packaging is a thick, black cardboard flap box to protect and accommodate the actual contents. Opening the box with a shiny "Super Overclock" logo in front, a large Styrofoam block can be found with a custom shaped pit accommodates the graphics card, along with a compartment on the side that holds the accessories. Everything is carefully packaged and ensured to be in the right order when the Gigabyte GTX 570 SOC arrives in the hands of the consumer. Out of the box, you will receive the following contents:
1x Gigabyte GeForce GTX 570 1280MB SOC
1x DVI to VGA adapter
2x Molex to 6-pin PCIe adapter
1x HDMI cable
1x User's Manual/Multilingual Installation Guide
1x Driver/Software CD
---
Page Index
1. Introduction, Specifications, Bundle
2.
NVIDIA GTX 570 Architecture
3.
A Closer Look, Test System
4.
Benchmark: 3DMark 11
5.
Benchmark: Battlefield: Bad Company 2
6.
Benchmark: Call of Duty: Black Ops
7.
Benchmark: Colin McRae: DiRT 2
8.
Benchmark: Far Cry 2
9.
Benchmark: Just Cause 2
10.
Benchmark: Metro 2033
11.
Benchmark: Unigine: Heaven v2.5
12.
Power Usage, Temperature, Noise
13.
Overclocking and Conclusion