Page 2 - NVIDIA GTX 570 Series Architecture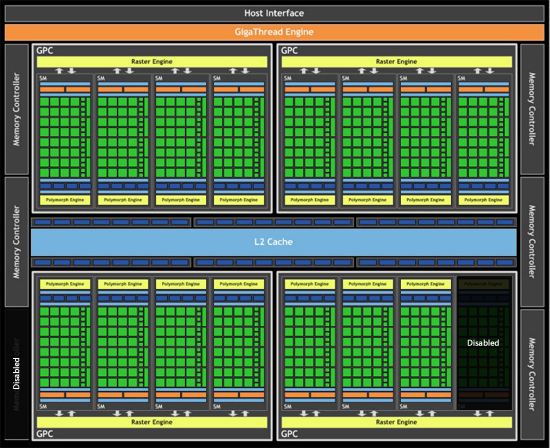 If you have been following tech news (And APH Networks being a comprehensive media website, please feel free to drop by our front page news ever so often) for the last two years or so, you will know NVIDIA's Fermi architecture release schedule has nothing been short of a constant cycle of news relating to yield problems and countless delays. Despite the fact NVIDIA has been constantly delivering unquestionably competitive products in every imaginable price bracket, AMD's GPU division understands it is absolutely crucial to get products out to the market on time. It simply makes business sense -- it does not matter if you have the biggest and baddest product down the pipeline, if the consumer can't buy it, the money will simply end up in your competitor's hands. With the release of the second generation Fermi processors, NVIDIA finally fixed their yield issues, with improved performance and power consumption to boot. As we move through this review, you will soon notice that the GTX 570 we are reviewing today -- along with the GTX 560 we have covered a few months ago -- is really what Fermi should have been like in the first place. What does this cutthroat competition have in store for us today? Let's start off our review today with an in-depth look into the technical design of NVIDIA's offering in the $300-400 high performance market with Gigabyte's GeForce GTX 570 1280MB Super Overclock edition.
The NVIDIA GeForce GTX 570 GPU is based off the refreshed Fermi architecture first introduced in the GTX 400 series cards last year. With the launch of the GTX 580 on November 9, 2010, the rest of the line came progressively; where the one that slots right under -- the GTX 570 we are covering today -- first appeared on the market on December 7, 2010 (Gigabyte's Super Overclock edition, however, came quite a bit later -- this is why we are reviewing this card today). This DirectX 11 and OpenGL 4.1 compliant family of cards competes directly with AMD's Radeon HD 6000 series. We have covered cards such as the Radeon HD 6850 and Radeon HD 6870 midrange performance cards earlier this year, but please do keep in mind the GTX 570 is intended to step up against the Radeon HD 6970.
As the market successor to the GeForce GTX 470, the GF110 based NVIDIA GeForce GTX 570 is designed to take performance level a whole notch up from its predecessor. With the GTX 580 already addressing the $500 market, the GTX 570 takes on the lower end of the high performance GPU spectrum at $350; NVIDIA achieved this by giving the GF110 core a minor surgery and disabled one out of its sixteen streaming multiprocessors as well as one memory controller. With that in mind, the final core configuration of the GTX 570 is a GPU with 480 shader cores, 60 texture units, and 40 ROPs. Compared to its fully unlocked bigger brother, the GTX 570 is down 32 shader cores, 60 texture units, and 40 ROPs. Additionally, with one out of its six 64-bit memory controllers disabled, the bus width is now 320-bit rather than 384-bit as found in the GTX 580. This is why it is configured with 1280MB of memory at a slightly reduced bandwidth of 152GB/s.
Essentially, with the GTX 570 built on the TSMC 40nm fabrication process, transistor count of 3.00 billion, and a die size of 520mm², it is basically the lovechild of a GTX 470 and GTX 480. Thanks to the updated Fermi architecture's transistor leakage improvements over its first generation counterparts, NVIDIA pits the GeForce GTX 570's TDP at 219W -- while slightly higher than the GTX 470, it is actually just over 30W less than the GTX 480. We will take a look into the Gigabyte GeForce GTX 570 1280MB SOC's power consumption and idle/load temperatures later on in this review to see how it fares against the competition.
Brushing the technical data aside, let's take a closer look at the more consumer friendly specifications. The stock clock speed configuration of a standard GTX 570 is 732MHz core, 1464MHz shader, and 950MHz memory. We are not normally interested in reviewing generic boards all that often, and the Gigabyte GeForce GTX 570 1280MB SOC is no exception. The company's Super Overclock interpretation of the video card is built on a custom PCB with a Windforce 3X cooler configured at 845MHz core, 1690MHz shader, and 950MHz memory. The GPU and shader is clocked very aggressively from the factory -- the GTX 570 SOC is one of the fastest of its kind in the market today -- but we are actually quite surprised to see its completely stock memory configuration. So exactly how much overclocking potential do we have under the hood? We will have that answered in Page 13 of this review.
With that in mind, we will take a close look at the Gigabyte GV-N570SO-13I GeForce GTX 570 1280MB SOC in detail on the next page, followed by our usual battery of benchmarks, before moving onto the power usage, temperature, noise, and overclocking tidbits. Stay tuned for all the juicy details in the rest of this review!
---
Page Index
1.
Introduction, Specifications, Bundle
2. NVIDIA GTX 570 Architecture
3.
A Closer Look, Test System
4.
Benchmark: 3DMark 11
5.
Benchmark: Battlefield: Bad Company 2
6.
Benchmark: Call of Duty: Black Ops
7.
Benchmark: Colin McRae: DiRT 2
8.
Benchmark: Far Cry 2
9.
Benchmark: Just Cause 2
10.
Benchmark: Metro 2033
11.
Benchmark: Unigine: Heaven v2.5
12.
Power Usage, Temperature, Noise
13.
Overclocking and Conclusion