Page 13 - Overclocking and Conclusion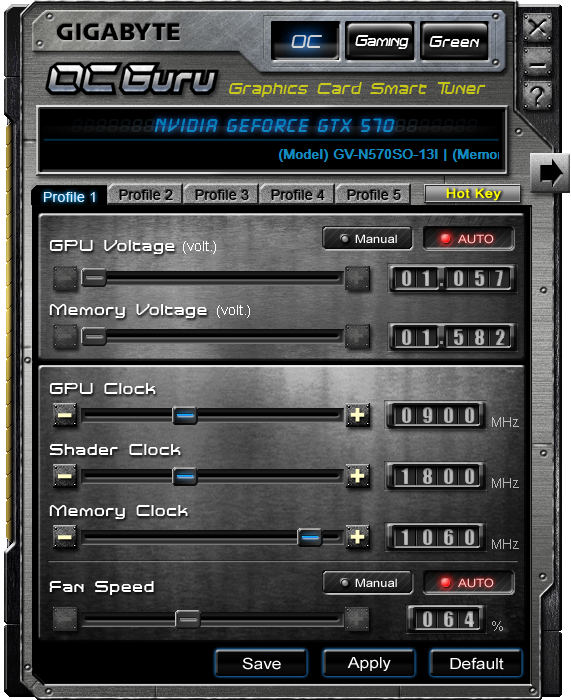 One of the best things about Gigabyte's SOC graphics cards is the company supplies a program called Gigabyte OC Guru. As its name suggests, it is a utility used for tuning the performance of your video card. It allows the voltage of your GPU and memory to be adjusted for overclocking, fan speed control, as well as power saving features. With the latest software revision, I got it installed on my test platform, and immediately got to work. The simple condition for my overclocking procedure is to see how far I could go without adjusting the voltage. As you can see in our screenshot above, the GTX 570 core did surprisingly well in this area -- Gigabyte already has an aggressive overclock from the factory, but we managed to squeeze another 55MHz from that. The net figure is 900MHz, which translates to an awesome 23% over NVIDIA specifications, or 6.5% over Gigabyte specifications. It seems to me other review websites were able to get this card much closer to 1GHz than I could. I am not entirely how they verified their overclocks, but I also scan for artifacts in Furmark in addition to testing for stability. Since Gigabyte neglected to overclock the memory from the factory, here is where our work comes in handy. Starting from 950MHz, Samsung K4G10325FE-HC04 memory ICs reached 1060MHz without any problems, or 11.6% over NVIDIA specifications. Although this result is not particularly earth shattering, I am quite pleased with it nonetheless.
-----------------------------------------
For about $370 at press time, the Gigabyte GeForce GTX 570 1280MB SOC certainly isn't the cheapest GTX 570 based video card around. But get this: It is fast. Like, really fast. Not many manufacturers actually have the guts to push their chips past 800MHz, and here we are, with Gigabyte's Super Overclock interpretation of the GTX 570 mass produced at well past that figure at 845MHz. Impressive? Yes; but the good news does not just stop here. We were able to take it up another 55MHz to a screaming 900MHz with perfect stability, as well as give the memory a good 110MHz boost from stock -- all without any voltage increase. Also, like the WindForce 3X cooler found on the Gigabyte Radeon HD 6870 SOC we have reviewed back in May, the one on this card not only performs very well under load, it is also competitively quiet, and is programmed accordingly out of the box. And as we'd always like to bring up, whether you buy into the whole deal of Gigabyte's Ultra Durable scheme or not, it is unquestionable from an objective manner that the components used are absolutely top notch in quality -- just take off the heatsink and look at the parts used. Simply put, it is true the Gigabyte GeForce GTX 570 1280MB SOC is a card that has all the processing power, emits minimal amount of noise, and still does not overheat. With everything it takes to live up to its "Super Overclock" moniker, what can I say? The Gigabyte GeForce GTX 570 1280MB SOC is, without question, the Professor King of video cards.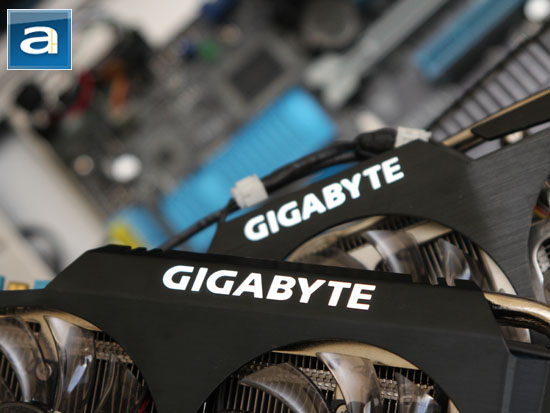 Gigabyte provided this product to APH Networks for the purpose of evaluation.

APH Recommended Award
Since April 30, 2007, Number Ratings have been dropped for all CPUs, motherboards, RAM, SSD/HDDs, and graphics cards. This is to ensure the most appropriate ratings reflected without the inherent limits of using numbers. Everything else will continue using the Number Rating System.
More information in our Review Focus.
The Gigabyte GeForce GTX 570 1280MB SOC not only delivers top performance, insane speed, with the best components -- if you set it up right, it can be quiet and not overheat, too.
Do you have any comments or questions about the Gigabyte GeForce GTX 570 1280MB SOC? Drop by our Forums. Registration is free, and it only takes a minute!
---
Page Index
1.
Introduction, Specifications, Bundle
2.
NVIDIA GTX 570 Architecture
3.
A Closer Look, Test System
4.
Benchmark: 3DMark 11
5.
Benchmark: Battlefield: Bad Company 2
6.
Benchmark: Call of Duty: Black Ops
7.
Benchmark: Colin McRae: DiRT 2
8.
Benchmark: Far Cry 2
9.
Benchmark: Just Cause 2
10.
Benchmark: Metro 2033
11.
Benchmark: Unigine: Heaven v2.5
12.
Power Usage, Temperature, Noise
13. Overclocking and Conclusion