Page 2 - Physical Look - Outside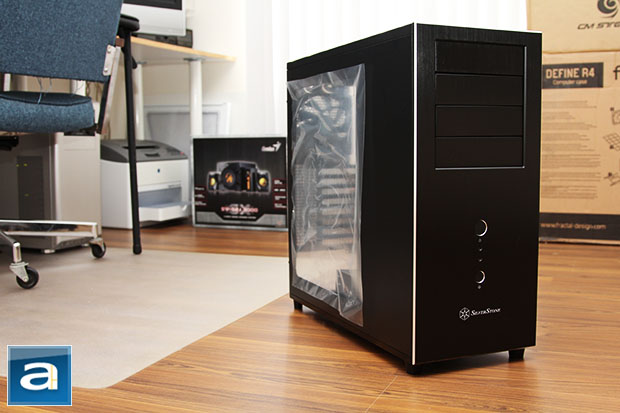 Classic. Classic brilliance. What more can I say about the SilverStone Temjin TJ04-E? This case features a clean brushed aluminum front face with a diamond cut edge treatment for an extremely striking modern appearance. I am a particular big fan of its clean edges and sharp cutoffs for a simple and distinctive design that is far from boring. Seriously, I love it -- the Temjin series is all about having class, and the TJ04-E has its blood. That is, if it has any; but this is not the point. Commanding a strong sense of refined excellence right from its first impression, the exterior construction in every visible location simply screams 'quality'. We will go over this in detail in just a moment. Meanwhile, the left side panel is something that deserves a mention of its own. It features a large, clean, and unadulterated window that provides an unobstructed view of your computer's interior. I'd like to say more, but it simply isn't necessary. Just look at the picture above, and the SilverStone Temjin TJ04-E is a fine example of a case with a windowed side panel done exactly right. Awesome.
From the top of the case, we can see four 5.25" drive bays. By default, they are covered with matching brushed aluminum plates. No mesh, no vents, just classic goodness. Populated in the middle of the bottom half of the case is a neat array consisting of a large power button, blue power LED, blue HDD LED, and a smaller reset button. The power and reset buttons depress with a very shallow travel in a very tactile and firm manner, which feels great to the end user in my personal opinion. SilverStone's logo ends off the path of where your eyes travel on the Temjin TJ04-E.
According to SilverStone's measurements, the TJ04-E comes in at 21.4cm in width, 48.9cm in height, and 48.9cm in depth. These dimensions are about right for an ATX computer case. It tips the scales at approximately 21.2 pounds, which is also about average for something of this size. These figures should not arrive as a surprise, because the TJ04-E is constructed out of plastic, aluminum, and steel.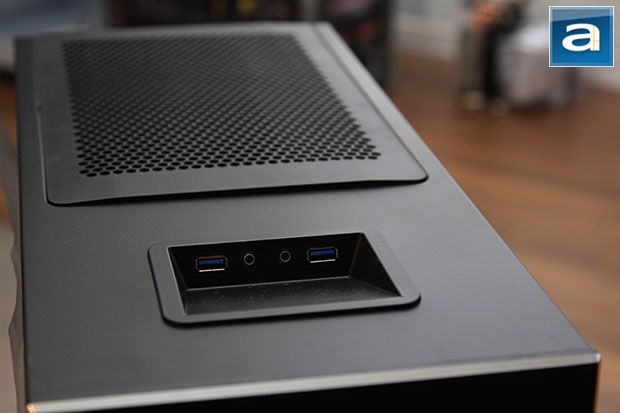 The front panel connectors are recessed into a cavity at the top of the SilverStone Temjin TJ04-E, and ramps at a relatively shallow angle to add some style. Not Gangnam style, but... well, style. It is accessible whether your computer is on the floor or on the table, which is something I have definitely grown to appreciate. The front panel connector layout is also symmetrical, as you can see in our photo above. Starting from the left, we have a USB 3.0 port, 3.5mm headphone, 3.5mm microphone, and another USB 3.0 port. It would have been nice if we have a few extra USB ports, even if it was USB 2.0, but this is really not a big deal. An internal USB 3.0 to 2.0 adapter is included if you own a motherboard that does not have an internal USB 3.0 header.
Behind the front panel connectors is the top fan opening. It can accommodate one 120mm fan (Included) and one 120mm or 140mm fan (Optional) for air intake. Normally, I would loathe at the idea of having a top panel fan opening, primarily due to dust settling issues. After all, I never had any cooling issues with just a rear exhaust fan, especially when a proper airflow pattern is defined. However, a washable mesh dust filter is attached to the removable snap-on cover at the top to prevent the nasty stuff from settling in over time. If you are really inclined, you can permanently seal it off with some makeshift ghetto modification methods, but I really do not have any beef at all with regards to the way SilverStone implemented this feature in their design.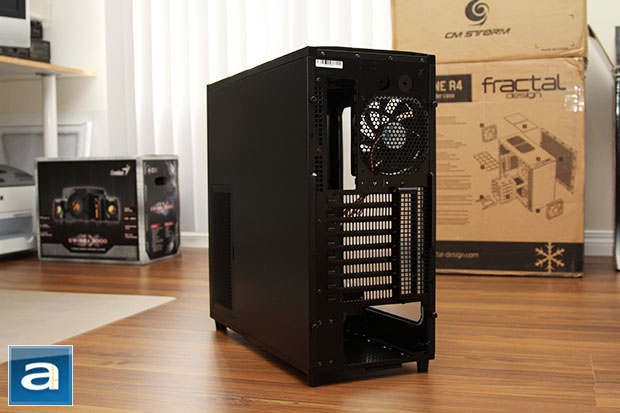 The 'front' intake fans are actually placed on the right side panel behind a removal module containing the air filter. It corresponds to the hard drive rack on the inside; and can accommodate up to two 120mm fans. One 120mm fan is included out of the box. Complementing the black exterior panels, the steel rear of our SilverStone Temjin TJ04-E is appropriately color matched for an extra touch of excellence. The rear layout is pretty much standard for a case with a bottom mounted power supply bay, with a few extra vents here and there for maximum ventilation. Heck, even the space behind the motherboard tray is now ventilated. To be honest, I am not a big fan of all the extra openings, since it will potentially let more dust in. SilverStone says their positive pressure design will keep the dust out, because air will be pushed out of the vents rather than in. We can expectantly spot an included black colored 120mm fan placed adjacent to the motherboard I/O backplate, with two pre-drilled water cooling holes in a horizontal array right above. Your fingers are protected from the rear exhaust fan by a protruding honeycomb mesh grille. The expansion slot covers are fully ventilated as well, as shown in our photo above. Finally, both side panels are held closed by two thumbscrews each.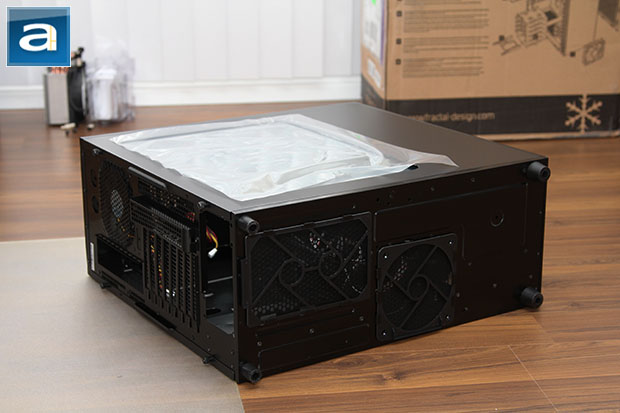 Four rather tall legs support the SilverStone Temjin TJ04-E off the ground, giving it a 2cm rise above the residing surface. The company has two separate removable fan filters to reduce dust from entering your power supply and bottom mounted case fans, respectively. These filters are slid and clipped into place for easy removal for cleaning. At first, the tall legs may appear kind of awkward in product photos, but the case looks just fine in real life. The extra gap between your computer and your floor or desk will provide tons of room for ventilation. This can be beneficial, as majority of modern power supplies have a bottom mounted intake fan.
Generally speaking, the exterior of the SilverStone TJ04-E is one of the most well designed cases I have seen in a while. I may be biased, as beauty is in the eyes of its beholder, but just in my personal opinion -- the TJ04-E is for people with good tastes, haha. The Temjin series is just about classic good looks, and it fits the bill like no other. The panels fit together well enough with minimal panel gaps, but not all of them are perfect, with some parts feeling like a prototype build in some sense. While they may be in areas that are not immediately noticeable, getting things perfect in every degree should be a priority for a premium brand like SilverStone. I will go over this in more detail in the next page.
---
Page Index
1.
Introduction, Packaging, Specifications
2. Physical Look - Outside
3.
Physical Look - Inside
4.
Installation and Conclusion