By: Aaron Lai
February 20, 2015
Customization is a great way to tell other people what is yours. It can show your preferences, whether they are as simple as color, or other things like brands. But customization comes under the assumption the thing you are customizing is yours -- this is why "personalizing" public property is called vandalism. It would be fine if the perpetrator owned that wall or the playground. However, since they do not, they are not allowed to redesign the aluminum siding or slides. When I was in Grade 3, I learned this the hard way when I wrote my name on my classmate's shoes. In those days, we had two pairs of shoes at school; one for outdoors and one for indoors. Therefore, anytime we would go outside, all the kids would run into the hallways and change their shoes. It just so happened another classmate had the same outdoor shoes as mine, but he kept his in much better condition. One day after class, I got out to the hallway late, and noticed my shoes were gone. Left in its place were the classmate's shoes. So I went home with his shoes on my feet, and I thought, "I should make sure no one gets confused about who owns the shoes", and went ahead to write my name on them. I wish I could say I forgot that the shoes were his, but I was very aware of this fact. The next day, I wore the shoes to class, swapped into my inner shoes, and sat at my seat. It was only a few moments later I was confronted by the teacher. I was shortly sent to the principal's office, and the end result was me spending my afternoon with a sponge and some cleaning agent to remove my name from his shoes. At this point, I should say I do not condone vandalism at all, and I got what I deserved. When it comes to customizing your computer's hardware, this can be done through various ways, but one prevalent way is to add some lights to the case. Today we are reviewing the BitFenix Alchemy Connect LED Strips, an example of what users can use to modify their computer without too much hassle. As today's computer is actually mine to play with, let us see what the result is when we add some color!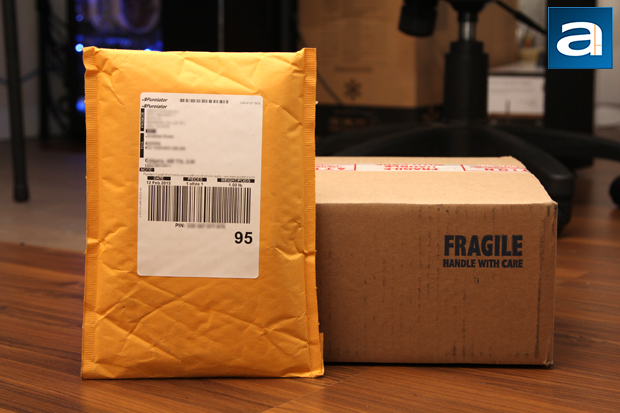 Today's review unit of the BitFenix Alchemy Connect LED Strips arrived in separate containers from both sides of Canada. The bubble wrap-lined envelope traveled around 1700 miles or 2700 kilometers from Ontario to our APH Networks location here in Calgary. This contained one of the BitFenix Alchemy Connect LED Strips; specifically, the green one. The box, on the other hand, traveled from our neighboring province of British Columbia. Along with the remaining four case lights, contained in the cardboard box were other BitFenix products, including the BitFenix Recon and the Spectre Pro LED. Both of these products will be reviewed in the coming weeks. Both parcels were shipped via Purolator Ground and arrived in pristine condition. Since it only traveled within the country, I would hope nothing too crazy occured to these packages.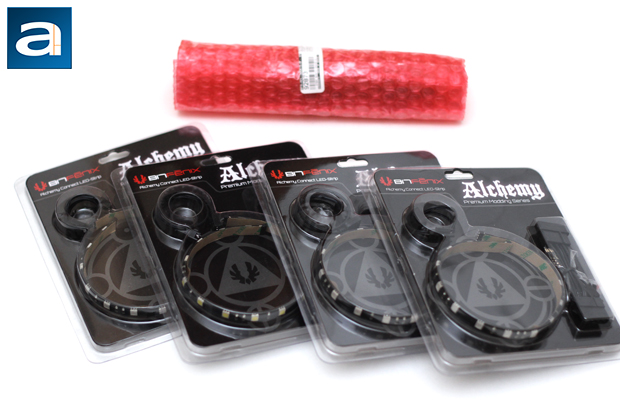 After opening up the container, I pulled out the BitFenix Alchemy Connect LED Strips. BitFenix graciously sent us all five colors for testing, all at the same length of thirty centimeters. Four of them, as you can see, are packaged in their retail containers, while one of them arrived in their OEM shipment of a red bubble wrap bag. On a side note, I received this from Editor-in-Chief Jonathan Kwan, and immediately one of my friends saw the red bubble wrap bag and exclaimed, "Woah, puffy!". For you frequent readers, this is also the same friend who thought the Silicon Power Armor A30 looked like a "teddy bear", and still cannot understand how girls shop, despite being a girl herself. As for the standard containers, the LED lights are encased in a clamshell packaging. On the top is BitFenix's logo, along with the product name beside it. The LED strip is visible from the front, along with all of its accessories. In the middle of the strip is a small design which looks kind of like a summoning circle. Thankfully, we do not need to summon any spells to open up this package, as the backing pops off to give us access to the product.
Before we continue, I have grabbed the specifications from the manufacturer's website, for your perusal:
Specifications
Available LED Colors: Red, Green, Blue, Orange, White
LED Type: 5050 Top SMD
Angle: 120°
Lumens: 50-60lm
Voltage (v): 12
Available lengths: 12cm, 30cm, 60cm
Alchemy Connect™ 120mm
LEDs: 6
Wattage (W): 1.44
Alchemy Connect™ 30cm
LEDs: 15
Wattage (W): 3.6
Alchemy Connect™ 60cm
LEDs: 30
Wattage (W): 7.2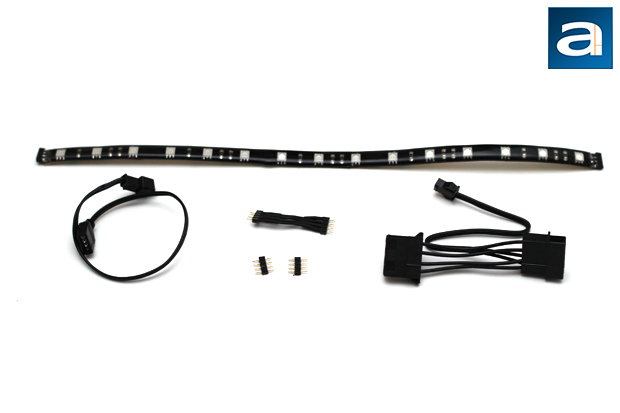 As I have already mentioned, all of the strips BitFenix provided with us today are thirty centimeters in length, but other lengths such as 12cm and 60cm are available too. Since all of them arrived with the exact same accessories and look exactly the same before plugging them in, I have just photographed everything you will get in a single package. As you can see, along with the BitFenix Alchemy Connect LED strip, you also have a daisy chain four-pin to a two-pin power connection on the left. This connects to the right most connector, which is a two-pin to Molex connection. In between are several four-pin connectors to attach the LED strip to the power cable, and to daisy-chain several strips to each other, in the event you want different colors or a longer length. There are two straight connectors and one extended connector. As for the LED strip itself, it comes as is, with double-sided 3M tape attached to the backside. The strip looks clear, and feels rubbery in the hand. There are a total of fifteen LEDs, with approximately two centimeters between each one.
To install the LED strips themselves, you will need to first find a place to mount the strips. As these are adhesive backed, they are semi-permanent in their mounting. When I say semi-permanent, I mean they should not be regularly removed and remounted, because the adhesive backing will lose its stickiness. However, I should also mention these strips are easy enough to remove for some temporary adjustments. I would have wished this to be more a clip-like implementation, so that users can easily reposition the strip without any thought. This would also make moving from case to case less of a hassle. To mount the strips, all you have to do is remove the wax-paper backing, and attach the strip to the case. Next, attach the Molex connector to the power supply. From there, attach the two pin to four pin connection cable. Finally, you can attach the daisy-chain end to the LED strip for instant glow-ification. BitFenix has called this product the Alchemy Connect because you can connect multiple LED strips to a single Molex connection. Just take one of the male-to-male four pin connectors that comes as an accessory and attach it to the other end while attaching the additional strip to the male connection. You will see an example of this in the coming photos.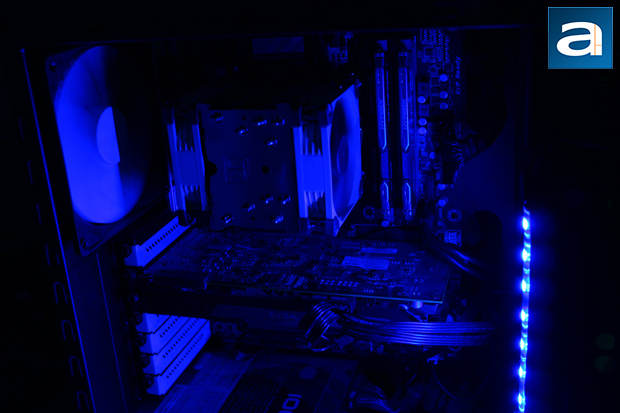 Computer "SpaceH" with BitFenix Alchemy Connect LED Strips (Blue).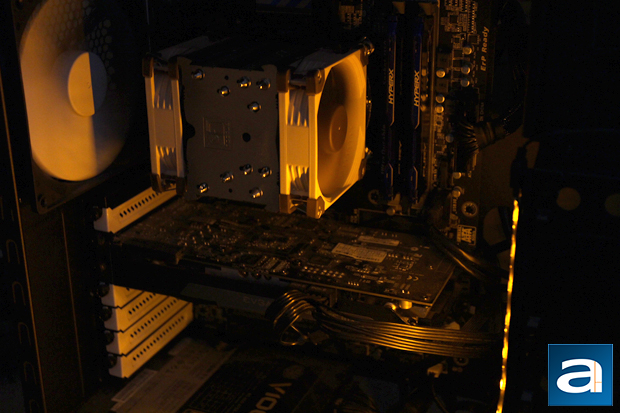 Computer "SpaceH" with BitFenix Alchemy Connect LED Strips (Orange).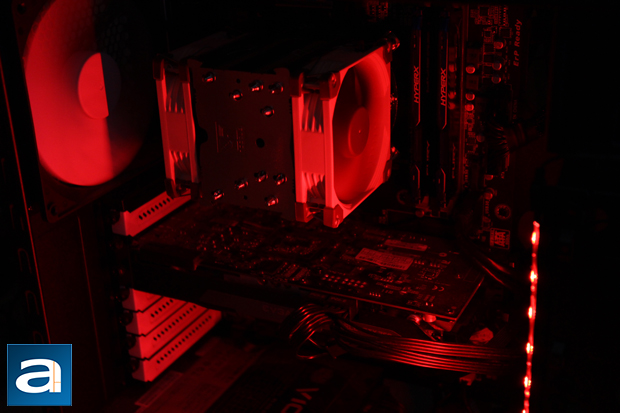 Computer "SpaceH" with BitFenix Alchemy Connect LED Strips (Red).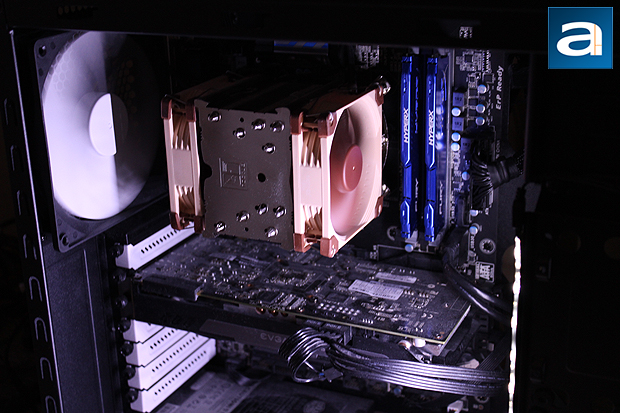 Computer "SpaceH" with BitFenix Alchemy Connect LED Strips (White).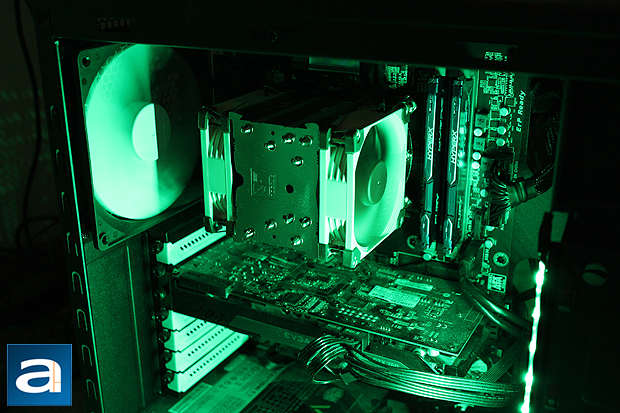 Computer "SpaceH" with BitFenix Alchemy Connect LED Strips (Green).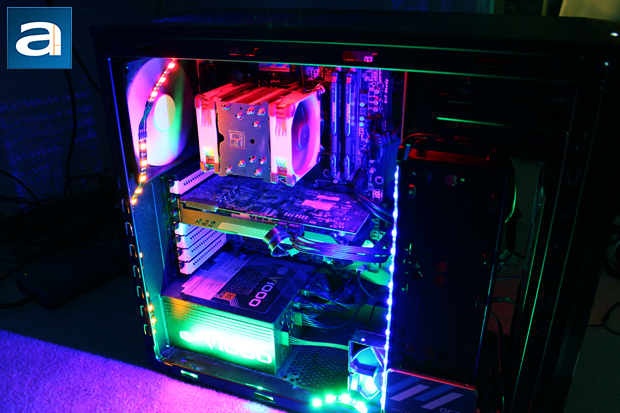 Computer "SpaceH" with BitFenix Alchemy Connect LED Strips (Blue, Red, Orange, Green).
Thankfully, with a mid-tower case, the Fractal Design Core 3300, is not too large to be illuminated by a single 30cm strip. If you have a different case size though, you could easily purchase a smaller or larger strip, too. As you can see in the photos above, all of the LEDs are capable of lighting the entire case to a varying degree. With the large hard drive and solid state drive bracket installed, I attached the strips to this bracket, as it provided a straight and flat area for the BitFenix Alchemy Connect LED Strips to mount on. I have to say the nice thing about LED lights in general is how they mask the colors of different computer parts. If you have parts of varying colors, like the tan and brown on the Noctua NH-U9S or the blue on the Kingston HyperX Fury RAM, the Alchemy Connect covers it all. The exception are the white LEDs, which hides nothing. User preference will definitely play a factor here when choosing which color, as this is the main point of these kinds of products. The last photo also shows the daisy chaining capabilities. I connected all of the LED strips except for the white strip. Having both the straight and the extended connector was extremely handy, as there were corners which the extended connector could bend while the shorter one would not. This was evident when connecting the strips near the corner. The strip is also very flexible to bend around places, if need be. When I constructed and photographed the last picture, it was really hard not to start singing Christmas tunes, but I restrained myself. Overall, the installation process was very simple with very few issues. The LEDs disperse the lights quite evenly and brightly despite having individual LED units.
-----------------------------------------
BitFenix has done an excellent job in providing users with more customization to their computer. While this is purely an aesthetic choice for users, it is a very nice looking one, as many cases nowadays have windows -- or at least openings -- installed into the case itself. It provides some nice mood lighting for those gaming into the whee hours of the morning. With fifteen independent LEDs, the BitFenix Alchemy Connect LED Strips are more than capable to illuminate your entire build. Brightness and even distribution are no problem for the Alchemy Connect. The daisy chaining capabilities also allow for further customization, whether it is for different colors or just to extend the strip itself. The implementation of this is quite standard, but the thoughtfulness in adding different type of chain connectors is a smart move by BitFenix. If I could suggest some ways to improve, it would be to change the way the LED strips attach to the case. As I have mentioned before, having an adhesive backing makes it harder to move the lights around. Rather, using clips to connect the Alchemy Connect LED Strips would ease this concern, while still holding the lights sturdily in place. While this is not a sticking point (Pardon the pun), it could be considered. Looking at some retailers, the BitFenix Alchemy Connect LED Strips are not the cheapest. Each thirty centimeter strip is around $20, and there are a few other options at a lower price, namely the SilverStone LS01. However, BitFenix has thrown in some additional accessories, which are very helpful. Nonetheless, in the end BitFenix delivers with an excellent solution for user customization.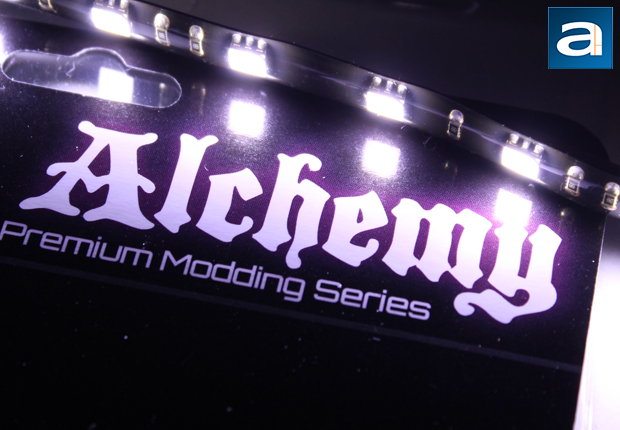 BitFenix provided this product to APH Networks for the purpose of evaluation.
APH Review Focus Summary:
8/10 means Definitely a very good product with drawbacks that aren't likely going to matter to the end user.
7/10 means Great product with many advantages and certain insignificant drawbacks; but should be considered before purchasing.
-- Final APH Numeric Rating is 7.4/10
Please note that the APH Numeric Rating system is based off our proprietary guidelines in the Review Focus, and should not be compared to other sites.
If you are looking for something to light up your [computing] life like nothing else, then the BitFenix Alchemy Connect LED Strips are more than up for the challenge.
Do you have any comments or questions about the BitFenix Alchemy Connect LED Strips? Drop by our Forums. Registration is free, and it only takes a minute!