By: Aaron Lai
September 19, 2014
If you take a look at your family, you will find you look quite a bit like your fellow kin. Now, for those who have studied basic biology or anything related to the subject will know genetics plays a role in the features we have. Thus if two people are born from the same parents, they will share similar features. From eye and hair color, to attached and detached ear lobes, genetics affect how you and your descendants will look like. For example, I find it kind of odd when people tell me I look like my sister, despite the fact I know I look nothing like my sister. Yet I once saw a picture my friend took where both my sister and I had the exact same facial expression. It was eerily similar, especially since neither my sister nor I expected him to have taken that photograph. On the other hand, it is not just genes, as environmental factors play a big role, too. Whether it is the geographical location, diet, or the media you are exposed to, these all play a part in shaping your appearances. These factors may take a bit longer to create parallels, especially since it takes people time to adapt to their surroundings. However, you can make this observation with married couples after a few years of living together. Even though they may have no blood connection, they start looking more and more like each other, because they are living in the same environment and exposed to similar external factors. What does this have to do with our review of the Fractal Design Core 3300? Fractal Design's most popular case is probably the Define R4, especially with its clean looks and excellent features. So when Fractal Design refreshed their budget-end Core series, I could only wonder if there would be any similar features between this and the higher end Define R4. There was a lot to like about the Fractal Design R4, so can we expect the same thing from the Core 3300? Is there any family resemblance between these two Scandinavian cases? Let's read on to find out!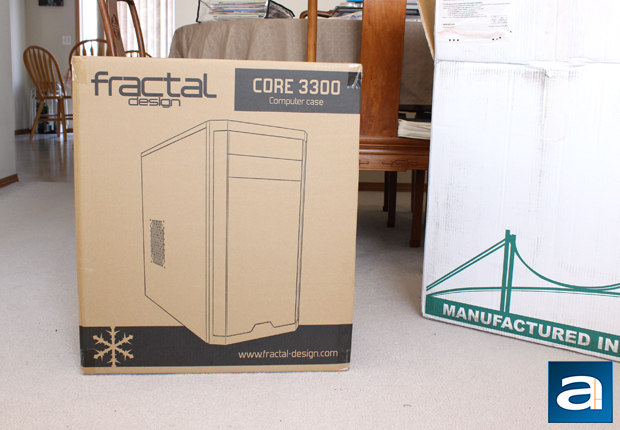 Our review unit of the Fractal Design Core 3300 arrived directly from Fractal Design's Swedish headquarters in Askim. You readers might be thinking, "Hey, let's Askim about Sweden!", but the only thing I know are the hockey players that have hailed from there. From seven time Norris Trophy winning Nicklas Lidstrom, to the standout goaltender Henrik Lundqvist, to the power forward Mats Sundin, I can easily say Sweden produces great players all around. Of course, you might also think about the Sedin twins, but since they are on the Vancouver Canucks, I refuse to mention anything about them. Arriving via UPS Standard, the Core 3300 was actually shipped in a secondary box labeled "Manufactured in Sweden". Opening up this box revealed the actual retail box of the Fractal Design Core 3300. Both of these boxes did not have much observable damage, and thus I can say UPS Standard did a great job in shipping a box more than 6900 kilometers or over 4000 miles without any problems. Much like their cousin, the Design R4, this box is a standard corrugated cardboard box, with black printing on the outside. This is not the flashiest of chassis retail boxes, but I am pretty sure more people are interested with the internal contents. A few diagrams of the case are printed on the box, but otherwise it is a plain old container.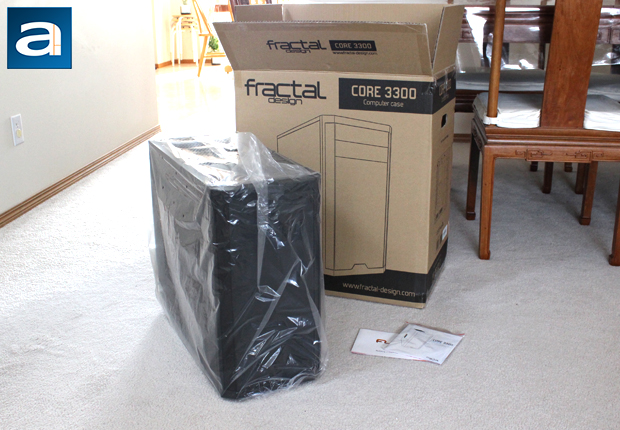 Grabbing the nearest pair of scissors, I cut through the top layer of packing tape, and opened up the case. The Fractal Design Core 3300 was wrapped in a large transparent plastic bag, and wedged between two large Styrofoam fittings. The large brackets are good at absorbing shocks, experienced when shipping or moving the case in the retail box. The plastic bag is also adequate at ensuring there will be less surface scratches or marks. Both of these protective measures were good to see, showing Fractal Design is concerned about protecting their products. The Fractal Design Core 3300 comes exclusively in black, which is expected of a case in this price range. Along with the case, there is a user manual, as well as an advertisement for Func computer peripherals. On first impression, I can tell the Core 3300 is actually quite a bit different from the Fractal Design cases we have seen from the past, but simplicity is still king here. I will cover more of this in detail later.
Before I do, let's take a peek at the specifications of the Fractal Design Core 3300, as obtained from the manufacturer's website:
Key features
- A Wide Body mid tower case with bottom-mounted PSU, designed for exceptional airflow and cooling.
- Brushed aluminum-look front panel with a sleek, three-dimensional textured finish
- Superior water cooling support, supporting one 240/280mm radiator in the front and a 240mm radiator in the top
- Featuring a 140mm rear exhaust fan for optimal cooling
- Total 7 fan slots with two Silent Series R2 140mm fans included
- Smart cable management with 22mm of space behind the motherboard plate for clean installations
- Supports extremely tall tower CPU coolers, up to 185mm in height
- Multiple easy-to-clean dust filters designed into the case to help maintain a dust free interior
- Innovative vertical HDD bracket, which simultaneously holds three 3.5" drives and three 2.5" drives
- Two additional SSD positions behind the motherboard plate
Specifications
- ATX, E-ATX (up to 295 mm wide) Micro ATX, Mini ITX motherboard compatibility
- 2 drive bays of 5,25"
- 3 bays 3.5"- all compatible with SSDs
- 2 -2.5" dedicated SSD unit position
- 7 expansion slots
- Support Graphics cards up to 430mm. One or more 3.5" hard drives may interfere with side-mounted power connectors on graphics cards longer than 255 mm
- Support cooling system: 7 - Fan positions (2 Silent Series R2 fans included)
- Filtered fan slots in front and bottom
- CPU coolers up to 185 mm in height
- ATX PSUs up to 170 mm deep when using the bottom fan location for a 140mm fan; when not using this fan location longer PSUs can be used
- 22 mm of space for cable routing behind the motherboard plate
- Available in Black
- Case dimensions (WxHxD):233 x 451 x 517mm
- Net weight: 7.8 kg
- Package dimensions (WxHxD): 322 x 625 x 540mm
- Package weight: 9.3 kg
Cooling system
- Front: 2 - 120/140mm fans (included is 1 hydraulic bearing 140mm Silent Series R2 fan, 1000 RPM speed)
- Rear: 1 - 120/140mm fan (included is 1 hydraulic bearing 140mm Silent Series R2 fan, 1000 RPM speed)
- Top: 2 - 120/140mm fan (not included)
- Bottom: 1 - 120/140mm fan (not included, PSU length limits apply)
- Side: 1 - 120/140mm fan (not included)
Water Cooling compatibility
- Front –30mm thick 240 or 280mm radiator: 15mm fan spacing required for full fastening, radiators with 20mm fan spacing can be used with only the top half fastened to the case. (radiators of any thickness may be used if all 3.5" positions are empty)
- Top – 30mm thick 240mm radiator (with no components on the upper 11 mm on the motherboard that are taller than 38mm)
- Top – 30mm thick 280mm radiator with slim fans
- Rear – 120/140 mm radiator
Front interface
- 2 - USB 3.0
- Audio in/out
- Power button with LED (white)
- HDD activity LED (white)
- Reset button
Package contents
- Core 3300 computer case
- Accessory box
- User manual
Additional information
- EAN:7350041081968
- UPC: 817301011969
- Product code: FD-CA-CORE-3300-BL
---
Page Index
1. Introduction, Packaging, Specifications
2.
Physical Look - Outside
3.
Physical Look - Inside
4.
Installation and Conclusion