Page 4 - Installation and Conclusion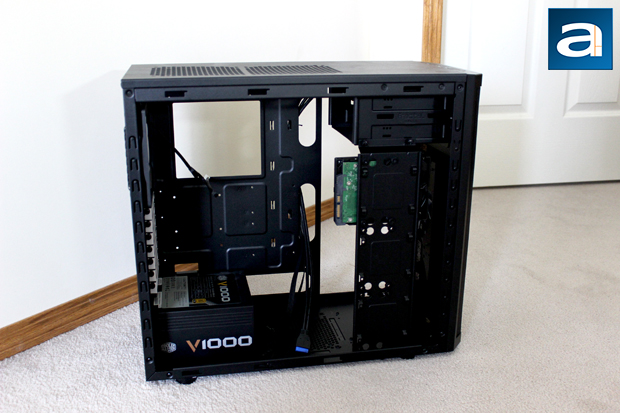 As I have done with every case I have reviewed in the past, the first thing on the list is to install the power supply into the Fractal Design Core 3300. Of course, this is quite an easy task, as my Cooler Master V1000 1000W fit in the spot quite easily. One thing I did notice was how much space I still had, and it just proves to show how wide the Core 3300 is. Normally, I would install the motherboard next, but since the vertical bracket is just crying out to be tested, I threw my Western Digital Caviar Blue 1TB onto the backside of the bracket. With the included flat-head screws, the hard drive fit easily onto the bracket. Never did it feel flimsy, but instead it was very sturdy. Overall, the bracket was easy to use, but I think most users will still prefer the traditional tray, especially when it means they can slide their drives in and out.
Next, I pre-routed the power supply cables to hopefully get a better cabling job. Unfortunately, with the way the drives are placed, it is hard to get a nice cabling job to the hard drive without it sticking out. As I have mentioned in the prior page, the number and placement of the holes are perfectly placed, and they are also quite large. My next step was to mount the motherboard; namely the ATX-size Gigabyte Z87X-D3H. Mounting the board is quite a bit easier with the Core 3300, as Fractal Design actually provided a screw adapter for the standoffs, which made for an easier install. As well, the holes are actually correctly screwed in, so there were no alignment problems. On a side note, as you will see in the picture soon after, I did not actually use an aftermarket cooler. However with the extra girth you get with the Core 3300, this should not be an issue at all. You can probably fit a NH-U14S or Noctua NH-D15 in single fan configuration without any issues.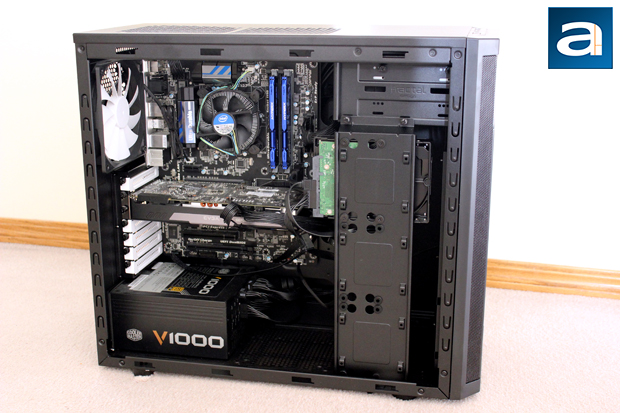 My last part to install was the graphics card. Using the thumbscrews, I removed the two respective back plates, and slid my EVGA GeForce GTX 760 into place. Then I used the same thumbscrews, and secured the GPU down. Just for reference, the maximum graphics card length the Core 3300 can handle is not set in stone, especially with the vertical hard drive cage. I can personally say you can easily fit a card over 300 mm without any issues, even with a 3.5" hard drive installed right where the graphics card extends to. According to Fractal Design though, you can put in a graphics card up to 430mm. If need be, you may have to move the hard drive to a lower position so the two components will not interfere with each other. I finally plugged all the cables into place, wrapped some of the wires at the back using included zip-ties, closed up the case and plugged it in. Overall, the installation was a lot better than I expected from a budget case. Fractal Design really pays attention to the small details, and their Swedish precision is seen all over the place. All of the included screws and components were in their separate baggies for easy identification. Call me OCD, but I think this is just awesome. Large open spaces in the case means cabling through is simple and straightforward. And finally, everything just fits as I expect. There were no problems with screws or with getting things in their place. It just works.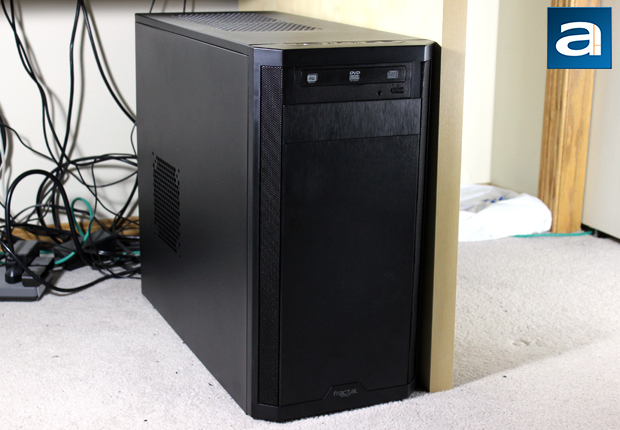 Plugging all my monitors and peripherals into the back ports, I clicked the power button, and the system whirred to life. The top power button glows a radiant white, and the activity LED is also a bright white. In fact, it is almost too bright at times. While it is not a seizure-inducing strobe light, it can bother some users, especially late at night. When I moved from my last case, the Silverstone Precision PS10, I was quite worried I would lose the sound proofing abilities the PS10 had. According to the standard APH Networks sound scale, where 0 is silence and 10 is loud, the Fractal Design Core 3300 is a 3.0/10 on everyday usage. Now obviously, there is no sound canceling with this case, therefore this is to be expected. But I am quite impressed, considering I can barely even tell the smooth hydraulic bearing fans are even spinning. When I first started using the case, I quite literally had to look at the case and the power LED to ensure that my computer was actually turned on. And while it is not as quiet as PS10, it is still impressive for sound performance nonetheless. I should also note that I found my computer to run a few degrees cooler than it did in the Precision PS10, and this is probably due to the more vent openings, as well as the lack of an insulating material inside.
-----------------------------------------
If the Fractal Design Define R4 and the Core 3300 were brothers, you will definitely see the family resemblance. This makes for a lot to like about the case. Fractal Design follows the same path of simple design, and it really works for me. Build quality, despite a front plastic panel, is still top notch. Opening up the case, and one will find even more to love. The two fans are both 140mm fans, and are actually same fans found in the older brother. There are some removable filters, especially where it counts like underneath the power supply. When you get to the install, you will see how flawless the entire case is with the ease of installing your components. The large gap behind the case also ensures you will not have much trouble wiring up the computer to make it look nice. Finally, when you actually plug your computer in, the lack of sound is actually overwhelming. You would think a non-insulated case would be horrendous with the acoustics, but quiet and effective fans keep noise to a minimum, and the rubber or foam padding around some components reduce it even more. One notable difference between the Core 3300 and the Define R4, the vertical hard drive bracket, is a mixed bag to me, with pros and cons. But it sure does its job to hold your drives, and hold up to six at a time. Keep in mind, this is still not a carbon copy of the older brother, and it is a budget friendly case, thus there will be some sacrifices you will have to make. You will not find any rubber grommets around cabling holes or rubber feet at the bottom of the case. There will not be any sound isolating materials. The top and side ventilation areas are also left unfiltered. But all of this is acceptable, especially when you can find the Fractal Design Core 3300 for as low as $50 USD at press time. The Fractal Design Core 3300 follows in the legacy of the Define R4, with great build quality and a superb attention to detail. This is one Scandinavian flick Fractal Design should be really proud of.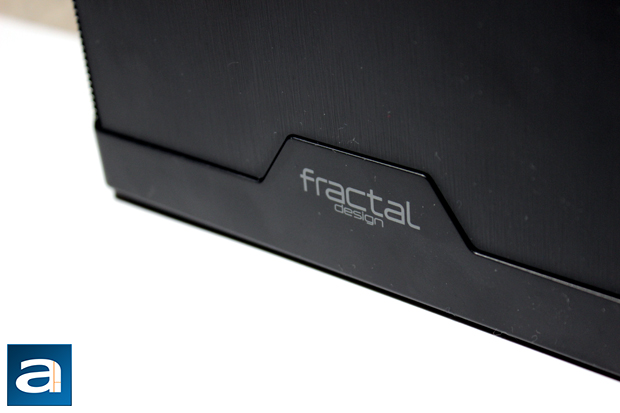 Fractal Design provided this product to APH Networks for the purpose of evaluation.

APH equal.balance Award | APH Review Focus Summary:
8/10 means Definitely a very good product with drawbacks that aren't likely going to matter to the end user.
7/10 means Great product with many advantages and certain insignificant drawbacks; but should be considered before purchasing.
-- Final APH Numeric Rating is 7.5/10
Please note that the APH Numeric Rating system is based off our proprietary guidelines in the Review Focus, and should not be compared to other sites.
At a friendly price of $49.99 USD at press time, Fractal Design has me stealing Futurama's Philip J. Fry's line by saying, "SHUT UP AND TAKE MY MONEY!"
Do you have any comments or questions about the Fractal Design Core 3300? Drop by our Forums. Registration is free, and it only takes a minute!
---
Page Index
1.
Introduction, Packaging, Specifications
2.
Physical Look - Outside
3.
Physical Look - Inside
4. Installation and Conclusion