By: Aaron Lai
June 24, 2014
Ask me what the most expensive laptop I have seen in my life, and I would answer back with any rugged line of laptops, like the Panasonic Toughbook. When I first spotted them at a local retailer back around 2002, it was the first time I saw a good combination of weight, performance, and -- get this -- an optical drive. Unfortunately, it was also the first time the price of a laptop alone made me take a second glance. At the time, I did not understand why the laptop was so expensive, until I realized what Toughbooks were. Panasonic started the line in 1997 as their line of rugged computers designed to withstand all sorts of extreme environment factors and mishaps, while still being able to fully function as well as any other laptop. Fast forward to today, the same thing is found with other manufacturers like Dell. These computers' price tags are not small either, and come close to the trade-in value of the car I currently drive. The specifications on these machines are generally mediocre at best, yet their prices remain astronomically high. Of course, these are not aimed at the general public, as there are many different industries benefiting from these lines of laptops. On the other hand, you can see durability plus electronics equals an empty wallet, as you really have to pay to keep them protected from the elements and accidents. So as I review the Silicon Power Armor A30 today, an external USB 3.0 hard drive that can withstand drops up to three meters or almost ten feet, I can only wonder if this is a good combination of protection and performance. Were there any compromises Silicon Power had to make to keep it as durable as it is? Can it keep up with the rest of our storage solutions? And even more importantly, how does this compare with the ADATA DashDrive Durable HD650 500GB, an external hard drive I evaluated in just the past week? All of these questions, and more, will be answered in today's review.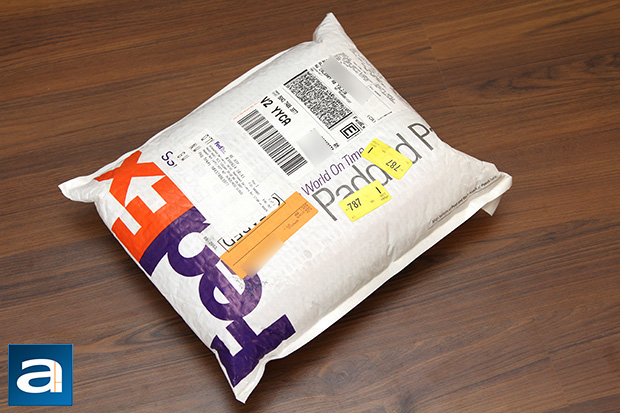 Today's unit of the Silicon Power Armor A30 1TB arrived in a FedEx Padded Pack envelope from Silicon Power's American headquarters, located in Fremont, California, USA. Using the International Priority service, both the external hard drive and the Silicon Power Superior SDXC UHS-I U3 64GB card arrived safely without any bumps or rips. On a side note, when we opened up the already padded envelope, the products were found to be wrapped in not one, but three different layers of either bubble wrap or plastic bags. This is somewhat ironic, considering the Armor A30 is supposed to be a shockproof external storage device, and thus should be able to handle the bumps and falls encountered during shipping. I guess for Silicon Power, it is better to be safe than sorry, haha.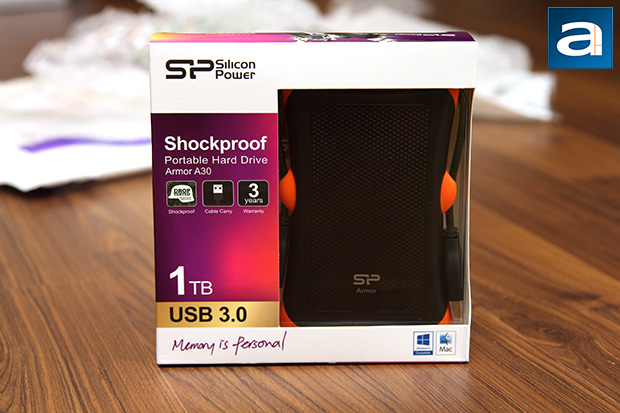 Taking all the wrapping off, and we are finally greeted with the retail packaging of the Silicon Power Armor A30 1TB. As this is the second product we have received from Silicon Power, I cannot say if the packaging is consistent with their other products, but it sure does follow a similar scheme. Starting from the front, we have a purple-pink gradient on top of a white background. The A30 itself can also be seen from the front plastic window. On the left side are some features, the main one being its drop tested badge. As well, we know it is a USB 3.0 drive, and comes with a three year warranty. In the bottom right hand corner, we see the operating systems the Silicon Power Armor A30 is compatible with. Finally, flipping to the back and we have even more specifications. While the box design is generic, it gets the main features across to users without creating confusion.
Before continuing on, I will reveal the specifications for this external hard drive, as found on the manufacturer's website:
- Dimensions: 87.5 x 134 x 18.6 mm
- Weight: 181g
- Standard Compliance: USB 3.0 / 2.0
- Data Transfer Rates: Max. 5 Gb/s (USB 3.0 Mode); Max. 480 Mb/s (USB 2.0 Mode)
- Power Supply: DC 5V (Power supplied through USB)
- Supported Operating Systems: Windows 8 / 7 / Vista / XP / 2000 , Linux 2.6.31 or later, Mac OS 10.5 or later (only USB 2.0 currently supported)
- Operating Temperature: 5C ~ 55C
- Storage Temperature: -40C ~ 70C
- Capacity: 500GB, 1TB, 2TB
- Color: Black, White
- Three-year warranty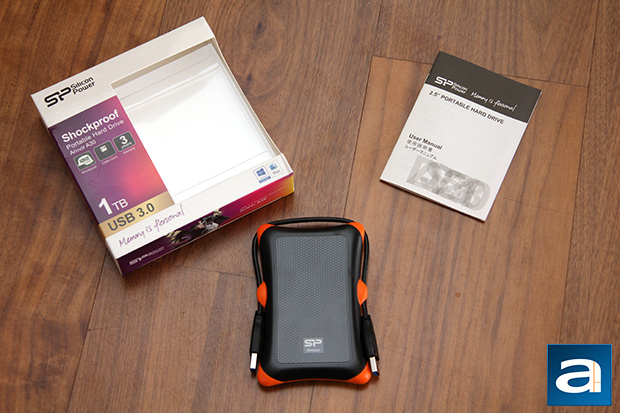 Opening up the retail box, I emptied the contents onto the ground, and this is everything inside. The first thing to note is the Silicon Power Armor A30 1TB in its black and orange glory. Just to note, a white-gray option is also available at press time. Two other capacities, a 500GB and a 2TB are also available at the time being. Next is the full USB 3.0 male-to-male, which was found wrapped around the Armor A30 as shown in the picture above. Finally is the small user manual, which tells people more information about the product. Tossing all of this aside, we can finally get a closer look at the Armor A30 1TB itself.
---
Page Index
1. Introduction and Specifications
2.
A Closer Look, Test System
3.
Benchmark: AIDA64 Disk Benchmark
4.
Benchmark: ATTO Disk Benchmark
5.
Benchmark: Crystal Disk Mark 3.0
6.
Benchmark: HD Tach 3.0.1.0
7.
Benchmark: HD Tune Pro 4.60
8.
Conclusion