By: Jonathan Kwan
May 12, 2014
High school calculus. These three words may resonate differently with different people; for me, it was really a love-hate relationship. I loved that course, because I actually like math. At the same time, I did not like that course, because I did not understand what half the stuff meant until years after I have entered engineering in university. One of the topics discussed in the curriculum was optimization. Basically, in order to find the point in the graph where the input variable produces the highest corresponding out, simply take derivative of the formula about the input variable, set the derivative equal to zero, and solve for the input variable. If you have no idea what I just wrote, basically, optimization is just about finding the sweet spot. Simple enough, right? Well, a few months ago, in my fourth year Electrical Engineering class in designing wireless communication systems, the very type of question was asked on a quiz. While most students in high school could probably have solved it in about two minutes, I had some real trouble recalling the product rule and chain rule, so it took me over half an hour to figure out the right answer (I did the rest of the quiz in less than ten minutes, and I ended up with an A+ in that course). The sad part is, apparently, the majority of the class got that question wrong. In the real world, optimization -- or finding the sweet spot -- is something we evaluate more often than we think, even if you have no idea how to take the derivative, or recall any details on the product rule and chain rule. Recently, Silicon Power sent over their latest Superior SDXC UHS-I U3 64GB card for review. Sure, it is not as fast as the Kingston SDXC UHS-I U3 64GB I have reviewed back in April. But for half the price of the competition, do we have a classic case of optimization in our hands? Read on to find out!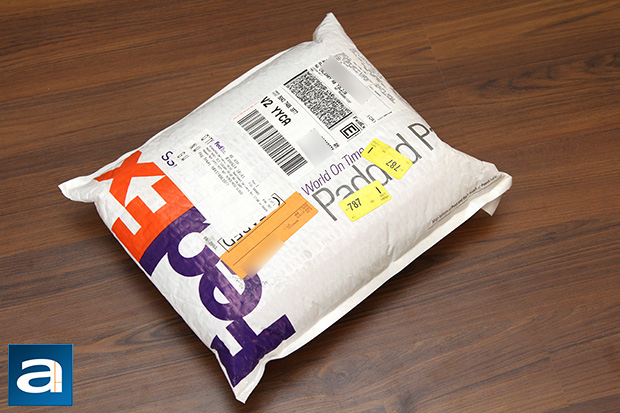 Our review unit of the Silicon Power Superior SDXC UHS-I U3 64GB card came in a medium sized bubble envelope from the company's American headquarters in Fremont, California, USA. As you can probably tell from our photo above, it came about via FedEx. Using the International Priority service, everything arrived in quickly and in pristine condition for our review today. Tagging along the trip is the rugged Silicon Power Armor A30 external hard drive (No relation to the Thermaltake Armor A30), which my colleague Aaron Lai will be taking a look at in a few weeks from now.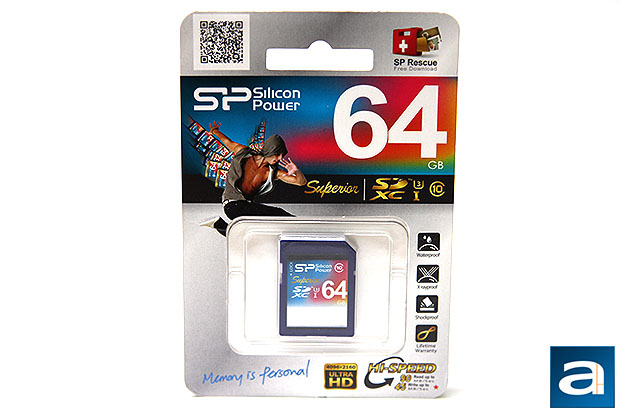 The retail packaging of Silicon Power's Superior SDXC UHS-I U3 64GB is quite the standard fare. This is the same kind of packaging where you can hang it on a store shelf rail, but chances are that it will be locked up in the glass cabinet behind a counter for security purposes. Situated boldly across the top is a strip on top of its grey-white gradient background that encompasses Silicon Power's logo, the card's 64GB capacity in uber large text, the fact that it is part of the Superior product line, as well as its SDXC Class 10 UHS-I U3 type and speed rating. There is also a man jumping with his chest exposed thanks to an unzipped shirt; while having a good looking body, I am not into that kind of thing, haha. Moving on, a plastic shell encases the card at the bottom. An array of icons on the right highlights the fact it is waterproof, X-ray proof, shock proof, and comes with lifetime warranty. At the bottom, the "Memory is Personal" slogan can be seen, as well as its high-speed 90MB/s read and 45MB/s write specification for 4K Ultra HD compatibility.
Before we move on, let's take a look at the specifications of the Silicon Power Superior SDXC UHS-I U3 64GB, as obtained from the manufacturer's website:
- Form factor:SDXC (64 GB)
- Card dimension:24 x 32 x 2.1 mm
- Operating temperature:0ºC to 70 ºC
- Storage temperature:-40ºC to 85ºC
- Compatible with SDHC / SDXC UHS-1 enabled host devices.
- Limited Lifetime Warranty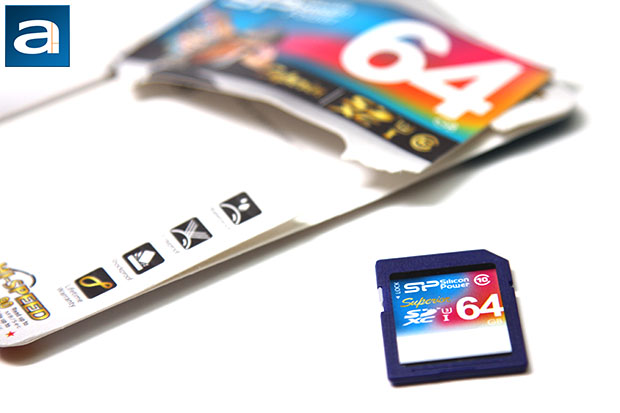 Although I am not entirely sure what is the right way to crack open the package, I am particular thankful that it is not a blister pack, so there is really little risk in cutting myself regardless of how I execute this task. With all the safety risks out of the way, and more experience from opening the same type of packaging thanks to the last few SD cards I have owned, the best way is to peel between the cardboard layers of the main flap. This is a lot cleaner than the "rip it apart like a kid on Christmas morning" approach I have first tried -- but somehow, it ended up looking sort of like that anyway. Out of the box, you will get a clear plastic shell that holds the Silicon Power Superior SDXC UHS-I U3 64GB card, and the SDXC card itself inside. Yep, that's it. With regards to the Silicon Power Superior UHS-I U3 SDXC card, I can spend all day talking about the sticker design, but what good does that do if you can just look at our photo that came right before this paragraph? Other than that, it is just a normal looking, blue colored flash memory card that carries the size and shape of any other member in the Secure Digital family, with a write protection switch on the left, and prints on the back indicating that it is made in Taiwan.
One thing to keep in mind is Silicon Power sells a very similar card, the Superior SDXC UHS-I 64GB (Notice the lack of the "U3" designation), which features the same 90MB/s read and 45MB/s write specification. We have not tested that card before, but it is an older card with a lower speed rating. The Superior SDXC UHS-I U3 64GB we are reviewing today is the latest flagship model available from Silicon Power. According to my contact, it will carry approximately the same street price as its predecessor when available on North American soil, so be sure you are buying the right card when shopping. This can be identified by the "3" instead of "1" in the "U" of the UHS-I logo.
-----------------------------------------
The Tests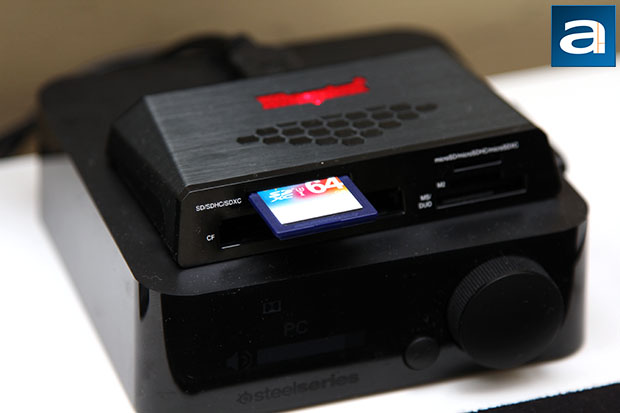 For real life testing, the Silicon Power Superior SDXC UHS-I U3 64GB is used with a Canon EOS 60D and Canon Digital Rebel T2i dSLR camera. To ensure the card performance is not limited by the interface, we used Kingston's FCR-HS3 USB 3.0 card reader for benchmarking. This one of the fastest card readers available in the market today. The FCR-HS3 outperforms the PCI Express based Ricoh card reader in the Lenovo ThinkPad T420 we have used in our previous tests. The rest of our system specifications are as listed:
CPU: Intel Core i7-3770K @ 4.6GHz
CPU Cooling: Noctua NH-U14S (2x Noctua NF-A15)
Motherboard: Intel Desktop Board DZ77GA-70K
RAM: Patriot Viper 3 Low Profile PC3-17000 4x8GB
Graphics: Gigabyte GeForce GTX 760 2GB
Chassis: SilverStone Temjin TJ04-E (Noctua NF-S12A PWM, Noctua NF-P12 PWM)
Storage: SanDisk Extreme II 240GB; OCZ Octane 512GB; Patriot Pyro SE 240GB
Power: Seasonic Platinum 1000W
Sound: Auzentech X-Fi HomeTheater HD
Optical Drive: LiteOn iHAS224-06 24X DVD Writer
Operating System: Microsoft Windows 8.1 Professional
Compared Hardware:
- Silicon Power Superior SDXC UHS-I U3 64GB
- A-DATA SDHC Class 6 Eee PC Edition 8GB
- ATP ProMax II SD Class 6 2GB
- Kingston SDXC UHS-I U3 64GB
- Patriot EP Pro SDHC 32GB
- Patriot LX Series SDXC 64GB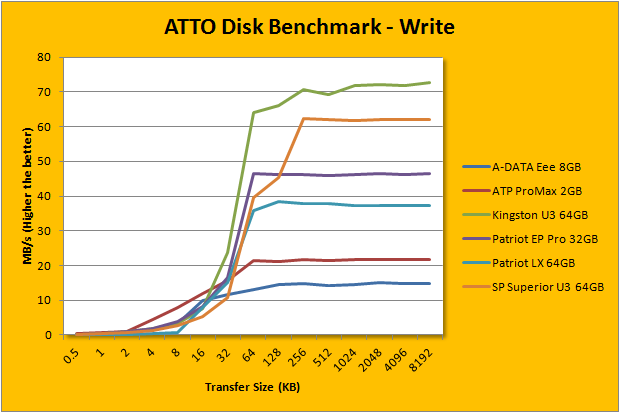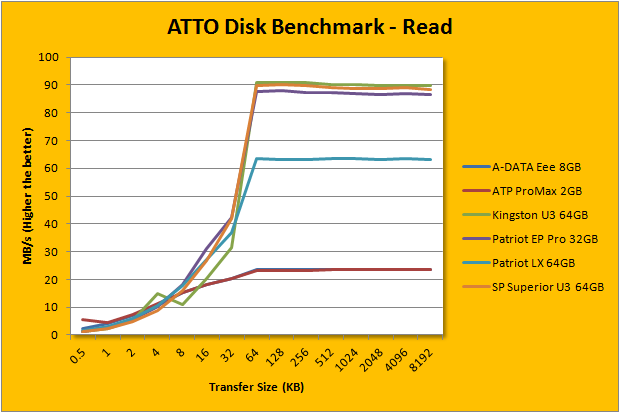 As always, I have included a few oldies on the chart to see how SD cards have evolved in performance over the years. Obviously, if you are looking for the latest and greatest SD card, I don't think a 2GB Class 6 and 8GB Class 10 card is going to be first and second on your list of compared items, so I will spend more time focusing on its closer competitor -- the Kingston SDXC UHS-I U3 64GB. As you can see in our graphs above, the Silicon Power was completely under the Kingston for both read and write, but it is half the price of the rival card. The peak write speed for the Superior SDXC came in at 61.994MB/s according to our tests, which is quite a bit faster than its 45MB/s rated speed. 90% peak write speed is reached at 128KB transfer size, which is the later than the industry standard of 64KB. Coincidentally, the 64KB write speed comes in at 45.353MB/s; maybe that is where they got the speed rating. Meanwhile, the Kingston SDXC peaked at 'only' 72.55MB/s; not quite the 80MB/s rated figure, but close nonetheless. The next closest on the list, Patriot's EP Pro SDHC 32GB, has a peak write speed of 46.589MB/s. Again, consider the price of the cards.
As far as the read speed is concerned, again, the Silicon Power Superior SDXC UHS-I U3 64GB delivered, on average, lower performance than the Kingston SDXC UHS-I U3 64GB under the curve -- but this time, they were a lot closer than it was in the write benchmark. Kingston's flagship card peaked at 91.003MB/s, whereas Silicon Power's entry came in a hair below at 89.979MB/s. 90% peak read speed is reached at 64KB transfer size in this test. Normally, if this was a USB flash drive, I would have criticized it for its low small file I/O performance. However, since you are going to be dealing with primarily large files anyway, the Silicon Power Superior SDXC UHS-I U3 64GB is simply going to be more than fast enough for any real world usage at the time of review. Based on my real life experiences using my Canon EOS 60D dSLR camera, shooting videos in 1080p, or firing off a burst of shots is not going to be a problem at all -- the Silicon Power Superior SDXC UHS-I U3 64GB is a very fast card. If you own a 4K capable camera, you really should not have any issues with either card. Obviously, the Silicon Power is not as fast as the Kingston, but it is significantly cheaper.
-----------------------------------------
When it comes to evaluating the intended audience of a product, you can usually place people into one of the following three categories: Those who want to spend the least amount of money no matter what, those who want the best performance no matter what, and those who want to strike an optimal balance between price and performance. If you are reading APH Networks, there is a pretty high chance you fall into one of the latter two categories. When I reviewed the Kingston SDXC UHS-I U3 64GB last month, it became clear to all of us that the company wanted to make a memory card for people who simply want the best. When it comes down to the Silicon Power Superior SDXC UHS-I U3 64GB we are reviewing today, its performance on the charts versus the price tag it carries clearly indicates the company wanted to make a memory card for people who are conscious to both its price and its performance. And this classic case of optimization does not come with particularly hard math. Delivering 62% of the write performance at 64KB and 85% at 128KB and above for 50% of the price of the Kingston, do we have yet another winner in our hands? Without even using calculus, I think so. For a street price of about $50 when released according to the manufacturer, and backed by Silicon Power's limited lifetime warranty, there is quite a bit to like about the Superior SDXC UHS-I U3 64GB card. Ladies and gentlemen, bring on the 4K ultra high definition cameras.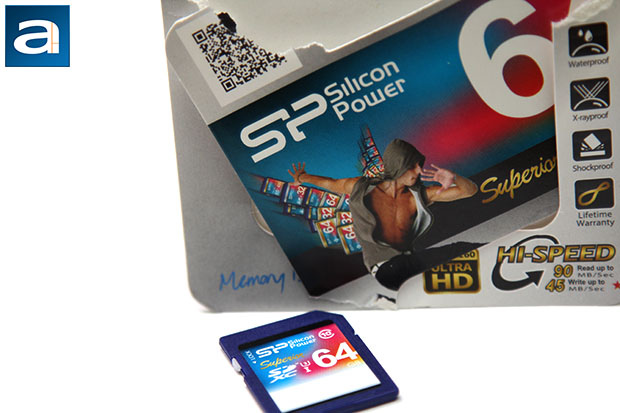 Silicon Power provided this product to APH Networks for the purpose of evaluation.

APH equal.balance Award | APH Review Focus Summary:
8/10 means Definitely a very good product with drawbacks that aren't likely going to matter to the end user.
7/10 means Great product with many advantages and certain insignificant drawbacks; but should be considered before purchasing.
-- Final APH Numeric Rating is 7.8/10
Please note that the APH Numeric Rating system is based off our proprietary guidelines in the Review Focus, and should not be compared to other sites.
For a street price of about $50, the Silicon Power Superior SDXC UHS-I U3 64GB delivers speedy performance for a very competitive price.
Do you have any comments or questions about the Silicon Power Superior SDXC UHS-I U3 64GB? Drop by our Forums. Registration is free, and it only takes a minute!