By: Preston Yuen
May 13, 2011
Final Fantasy -- a well-known series of role-playing games developed by Square Enix. The atomic bomb -- the infamous bomb developed in the United States and contributed to the end of World War II. Are you catching on now? Will it be better if I got a bit more specific? Razer -- a well known company in the computer market for developing peripherals geared towards gamers. Noctua -- an well recognized company renowned for their superb quietness in quality computing components. Thermaltake -- what exactly do we know about Thermaltake? Well, from what we have seen so far on APH Networks, we know that they produce pretty decent keyboards and mice by their sub-brand, Tt eSPORTS. We also know Thermaltake cases are decently priced for the features and quality it gives. If you are new around here, what I am really talking about is the Thermaltake Armor A60 reviewed by yours truly, and the Thermaltake Armor A90 reviewed by my colleague Jonathan quite some time back. However, what we have here today is much different than these two chassis that I have just mentioned. Although it may be the smallest of the three, it is actually priced at approximately $30 USD more at press time. Presenting to you the Thermaltake Armor A30, the first question you may be asking is whether or not it is an overrated chassis with some "meh" additional features tacked on. Funny to mention, because this little bugger can fit quite a bit under the hood, given the amount of physical space it requires. I don't know about you, but the next thing that comes to my mind is whether or not I can conveniently bring a decently built computer to LAN parties and show off my 1337 skills. So would the Armor A30 stand a chance against its bigger brothers? Read on to find out!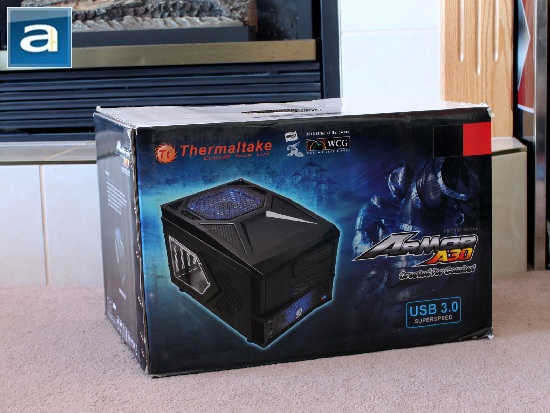 With the Armor A30, we complete our collection of Armor A series cases here at APH Networks; with our review unit sent to us here in Calgary, Alberta, Canada from Thermaltake's American headquarters in California, USA. It is clear to me Thermaltake has kept a very consistent theme throughout their Armor series with a purple glow around the image of the chassis itself, and a knightly figure and model name printed boldly on the right side of the retail box. Their company name and logo is printed nicely on the top left corner next to what they state the A30 as the official product of WCG. Also shown on the front is that it supports USB 3.0. You can take a good look around the back side of the box for the Armor A30's highlighted features.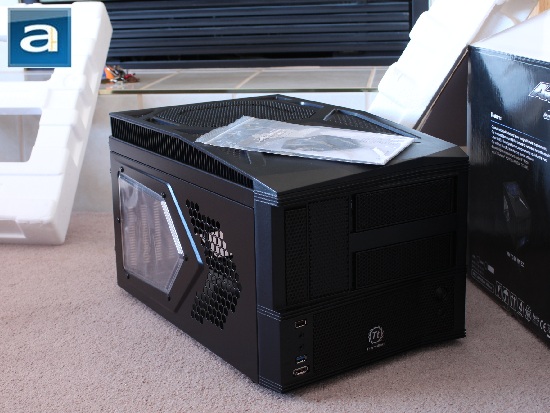 Opening the box, we will find the Thermaltake Armor A30 fitted snugly inside a large plastic bag clipped between two Styrofoam blocks for its safe travels from our good neighbors down south. A manual also slipped out of the box while I gave it a yank out of the package. Other chassis accessories placed inside the Armor A30. Let's take a closer look at the specifications before moving on, as obtained from Thermaltake's website:
Case Type: Gaming Cube
Material: SECC
Front Bezel Material: Plastic & Steel Mesh
Color: Black
Side Panel: Transparent Window
Motherboard Support: 9.6" x 9.6" (Micro ATX), Mini-ITX
Motherboard Tray: Yes
5.25" Drive Bay: 2
Ext. 3.5" Drive Bay: 1
Int. 3.5" Drive Bay: 2 & 2 x 2.5" SSD / HDD
Expansion Slots: 4
Front I/O Ports: USB 3.0 x 1; USB 2.0 x 1; eSATA x 1; HD Audio x 1
Cooling System: 90 x 90 x 25 mm blue LED fan (1200rpm, 16dBA, front intake), 60 x 60 x 25 mm fan x 2 (1500rpm,18dBA, rear exhaust), 230 x 230 x 20 mm blue LED fan (800rpm, 15dBA, top exhaust)
Liquid Cooling Capable: No
Liquid Cooling Embedded: No
Power Supply Supported: Standard PS2 PSU
Power Supply Included: No
Dimension (H x W x D): 266 x 291 x 456 mm (10.5" x 11.5" x 18.0")
Net Weight: 6.7 kg / 14.8 lb
Security Lock: N/A
Application: Portable LAN Party system
Warranty: 3 Years
---
Page Index
1. Introduction, Packaging, Specifications
2.
Physical Look - Outside
3.
Physical Look - Inside
4.
Installation and Conclusion