By: Preston Yuen
September 17, 2010
Back in the days, I remember being convinced to join the APH Networks community for a contest as it could win me some great prizes. In retrospect, at that time I was merely thinking, "I might win something... hopefully" and still, I doubted myself because I thought had little chance. But times have changed, and so do our perspectives on different aspects of life. And indeed, it gave me new opportunities to find out my own interests. Stumbling across my first prize was Cooler Master's HAF 932 full tower chassis at the time. From a simple prize, and quite a while later I was invited to join the team, I recently stumbled yet across another interesting product. To be honest, this was one case I never have expected to own, as I did not even put a second of thought into. At first impression, I thought this case looked pretty nice, with well implemented blue LED fans. But when I come to think about it, I am a very picky person when building my own computer, especially when it comes to the quality and stylish design of a case like our Editor in Chief Jonathan Kwan. I personally prefer a mid or full tower enthusiast case with a fairly large unobstructed side window. Front and rear fans are standard requirements on all of my cases. The designs and features of the chassis would have to be distinct and fundamentally different from any other case the average user may own. The Thermaltake Armor A60 I stumbled upon recently seems to fit my requirements for the most part. For MSRP $90 at press time, how well does it mix in with my collection of high performance computers? Let us reveal the Thermaltake Armor A60 to you today!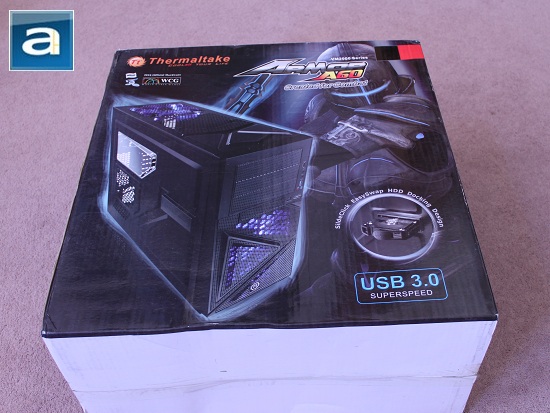 It was somewhat interesting how I received the Thermaltake Armor A60. Some of you may know that I've started school earlier than most university students around here, so on orientation day, I was sitting in the lecture theater listening to one of the professors talking about computer hardware (And it should not be much of a surprise to you that I'm listening to this guy, judging by what I do here at APH Networks). About three-quarters of the way into the orientation, I got a call from my brother, saying that I got in trouble with the brown suited UPS man. So I rushed home and found the Thermaltake's Armor A60 shipped from California, USA, with next to no bumps and bruises sitting in front of my "command center" here in Calgary, Alberta, Canada.
Being the little brother of the Thermaltake Armor A90 reviewed by Jonathan recently, much of the layout and design of the box was quite similar than its kin -- with the black background, and unique graphics in its foreground design. The image of the chassis dominates the center-left of the front, showing the major panels. A fictional character in what it seems to be a "ready-position" pose for combat is presented on the right side, with a radiant purple glow to contrast the blue light emitted by the case's front and upper LED fans. The Thermaltake brand and Armor A60 model name is printed boldly at the top in fancy text, with the slogan "Created for Combat"; just like the A90. As well, for your interest sake, there are highlighted features placed on the back of the box, with the SideClick EasySwap design for 3.5" HDD being the prominent feature.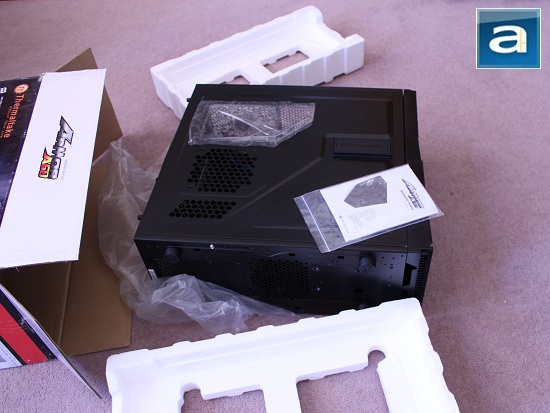 Opening the box, we will find the Thermaltake Armor A60 wrapped within a large plastic bag, wedged between two large Styrofoam brackets to ensure its safety when traveling to the consumer's destination. An instruction manual came along with our Armor A60 as well. Other chassis accessories are secured inside the mid-tower; we will go into further detail later. Before moving on, here is a quick look at the specifications of the Thermaltake Armor A60, as obtained from Thermaltake's website:
Case Type: Mid Tower
Material: SECC
Front Bezel Material: Mesh
Color: Black
Side Panel: Window
Motherboard Support: Micro ATX, Standard ATX
Motherboard Tray: No
5.25" Drive Bay: 3
Ext. 3.5" Drive Bay: 1
Int. 3.5" Drive Bay: 5 and 1 x 2.5" SSD/ HDD
Expansion Slots: 7
Front I/O Ports: USB3.0(SuperSpeed) x 1, USB2.0 x 1, e-SATA x 1, HD Audio x 1 (Support AC 97)
Cooling System: Front (intake): 120 x 120 x 25 mm Blue LED fan, 1000rpm 16dBA. 120 x 120 x 25 mm / 200 x 200 x 20 mm (Optional). Rear (Exhaust): 120 x 120 x 25 mm TurboFan, 1000rpm 16dBA. Top (Exhaust): 200 x 200 x 20 mm Blue LED fan, 800rpm 15 dBA, 2 x 120 x 120 x 25 mm (Optional). Bottom (Intake): 120 x 120 x 25 mm (Optional). Side (Intake): 120 x 120 x 25 mm (Optional).
Liquid Cooling Capable: Yes
Liquid Cooling Embedded: No
Power Supply Supported: ATX PSII
Power Supply Included: No
Dimension (H*W*D): 480 (H) x 210 (W) x 500 (L) mm / 18.9 (H) x 8.3 (W) x 19.7 (L) inch
Net Weight: 15.7 lb / 7.1 kg
Security Lock:
Application:
Warranty: 3 years
---
Page Index
1. Introduction, Packaging, Specifications
2.
Physical Look - Outside
3.
Physical Look - Inside
4.
Installation and Conclusion