Page 4 - Installation and Conclusion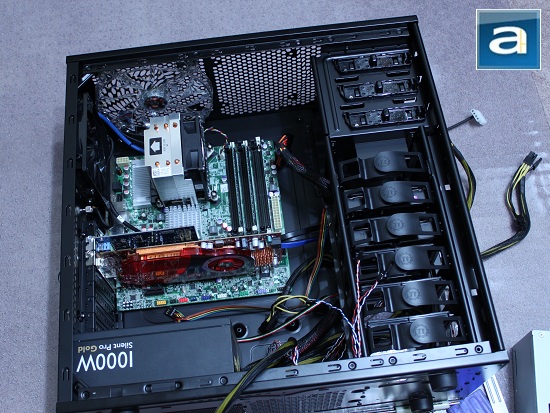 The Thermaltake Armor A60 gives you plenty of space to work with, so it is really up to you whether you want to install the motherboard or the power supply first. For my preference, I dropped the power supply prior to installing the motherboard, so I can get the minor cabling sorted out before creating a big mess -- along with the front panel I/O, audio, eSATA, and USB cables ready to be plugged in once the motherboard is settled. Three risers were screwed in, and I left the rest to the integrated bumps for easy installation of the motherboard.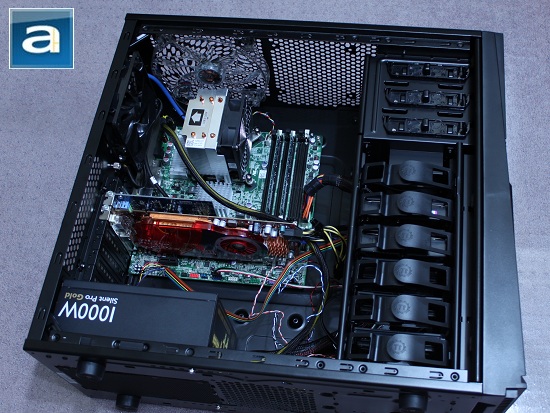 Since I had almost all the cables prepared ahead of time, routing the rest of them was not much of a problem. Installation of my power supply was not all that difficult, even with tight fitting power supply clips. Almost all cables were neatly tucked behind the 3.5" drive rack for maximum concealment, with an exception of the 4-pin ATX/8-pin EPS connector from my power supply unit, since it was slightly shorter than I expected it to be. It would have been nice if Thermaltake provided slightly more space between the motherboard and adjacent panel so more cables could zip behind. But as for thin wires, you could get away with it by tucking it behind the motherboard. Shown above is not exactly the neatest possible cabling, but just for show, this is generally how it is done. Once zip tied, everything should be as neat as necessary. Installation of optical drives and hard drives were pretty simple, thanks to the tool-free installation system and removable drive trays, respectively.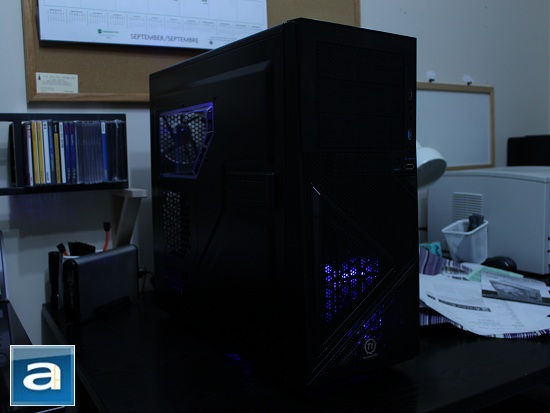 After setting it up and plugging in all the necessary peripherals, the Thermaltake Armor A60 is ready to rock this club, and we gon rock all night... I mean, ready to rumble. Power it on by pressing the triangular power button and your computer will come to life with the blue glow emitting from top, front, and all around, wherever else you have lights. If you like what you see here, the Thermaltake Armor A60 offers very good bang for your buck.
On a scale of 0.0 to 10.0 where 0.0 is the silent and 10.0 is loudest, the fans would come in at 3.5 subjective sound rating in my opinion. I am quite sensitive to sound, especially when I need to get my work done on my PC, and I must say, these fans are actually pretty quiet, even if you are picky and can't work too well in a noisy environment.
-----------------------------------------
I have to say, even though brothers exhibit some similar characteristics, realistically there are many things that make them equally as different. While we can see resemblance between the Armor A90 and the Armor A60, there are still lots of things that make them unique, but in the end, the Armor A60 is a yet another quality chassis from Thermaltake that is reasonably priced at $90 at press time. Besides having the right looks (Again, this is subjective, but I like it), it feels and is built solidly, and as far as interior spaciousness is concerned, it is very commendable for a mid-tower. Thermaltake's SideClick EasySwap is a great feature for users looking for convenient swapping of interal Serial ATA hard disks, and you won't find that in the Armor A90. The Armor A60 is also painted matte black all around, which is not always found in products in this price range. With that said, there are still a few things I would like to see improved in the Thermaltake Armor A90, and these elements are mainly shared between this its elder brother. Firstly, Thermaltake can really increase the size of the window for a more stylish and quantitative representation of its internal components. Also, although good ventilation can be is a good thing for today's hot running hardware, the excessive openings situated at the top of chassis is an ongoing problem for myself, since dust tends to settle into the computer. The last thing I want to mention is the lack of an available lock for the SideClick EasySwap drive bay. All in all, if the Thermaltake Armor A60 is visually appealing to you, and these minor drawbacks don't bother you at all, $90 is a price tag well justified in my opinion!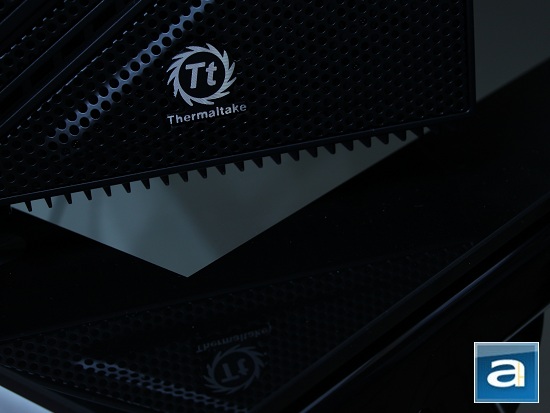 Special thanks to Ramsom over at Thermaltake for making this review possible.
APH Review Focus Summary:
8/10 means Definitely a very good product with drawbacks that aren't likely going to matter to the end user.
7/10 means Great product with many advantages and certain insignificant drawbacks; but should be considered before purchasing.
-- Final APH Numeric Rating is 7.1/10
Please note that the APH Numeric Rating system is based off our proprietary guidelines in the Review Focus, and should not be compared to other sites.
The Thermaltake Armor A60 is one of the few cases where unique features meet competitive pricing -- and if you dig its design and the SideClick EasySwap drive bay, plug this into your list of components for your next build is not a bad idea.
Do you have any comments or questions about the Thermaltake Armor A60? Drop by our Forums. Registration is free, and it only takes a minute!
---
Page Index
1.
Introduction, Packaging, Specifications
2.
Physical Look - Outside
3.
Physical Look - Inside
4. Installation and Conclusion