By: Jonathan Kwan
May 30, 2014
When Lenovo Canada made a "mistake" of selling an IdeaPad Y410p with an Intel Core i7-4700MQ processor, dedicated NVIDIA GeForce GT755M graphics, 8GB of DDR3 RAM, and 1TB hard drive for $279 CAD last week, no one could have imagined it to turn out to be its worst ever public relations disaster ever recorded in the company's history. If you do not know what is going on, we here at APH Networks has the entire story covered live as it unfolded. Lenovo's Facebook page was filled with messages from angry customers, Twitter activity with related hashtags was almost impossible to keep up with, and when mainstream media jumped on the story, the whole thing became an utter and total shipwreck. Who knew? While we here at APH Networks are not going to judge whether it is an honest human error or a deliberate scheme by Lenovo, one thing we can all learn from this story is, there are times in life when what appears to be small, irrelevant things at first turn out to be much more significant than first imagined. For example, I take a lot of pictures. In order for me to transfer the photos from my camera to my computer, I used to depend on my Dell UltraSharp 2408WFP's built in card reader. Nothing special. However, when that monitor died in December of last year, it was then I knew how often and how dependent I was on that card reader. Every time I needed to copy a photo to my PC, I would reach for the temporary monitor, only to keep rediscovering several times a day I am only reaching in vain. For those few months in between until I got my replacement Dell UltraSharp U2413, I began to appreciate the benefits of having a desktop card reader. It sits nicely on my desk, reads almost every card in existence, and does not require me to physically readjust my monitor after I pop in and out cards. What is this card reader in question, you may ask? It is none other than the Kingston FCR-HS3.
Our review unit of the Kingston FCR-HS3 came in a FedEx Large Pak from California, USA, as usual from the company. To ensure everything arrives safely, the good people at Kingston provided extra protection by adding an extra layer of protection with a small, brown corrugated cardboard box inside. Using the International Economy service, everything arrived safely and quickly in excellent condition to us here in Calgary, Alberta, Canada for our review. Inside the package was the Kingston SDXC UHS-I U3 64GB I have reviewed last month, as well as the MobileLite G3 card reader, in which my colleague Aaron will be covering shortly. We will include the benchmark results for the MobileLite G3 in this review today.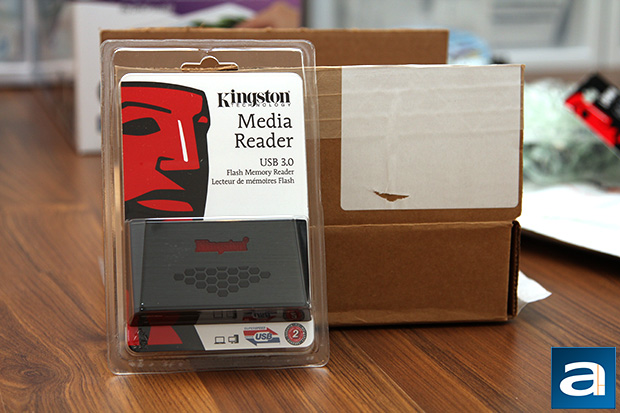 Those who are familiar with Kingston's products will be instantly familiar with the FCR-HS3's retail packaging. Actually, it carries the exact same style as the DataTraveler Ultimate 3.0 G3 I reviewed last year. Its plain white background is interrupted by the prominent red Kingston logo along the western edge; creating a clean yet distinctive design for the end user. On the right, we have Kingston's logo, followed by the words "Media Reader" in relatively large font. Its product description can be found below, highlighting its USB 3.0 interface. The clear plastic shell bevels out to accommodate the Kingston FCR-HS3 card reader itself, giving people a very good view of the physical product. While I am certainly not a big fan of blister packs, it is hard to argue against the company's choice of packaging, because it is quite fitting, especially if you are going to pick this up at your favorite local retail store. At the bottom is an array of icons, including a laptop, desktop, SuperSpeed USB 3.0 certification, and its two-year warranty.
Before we move on, let's take a look at the specifications of this product, as obtained from the manufacturer's website:
- Dimensions: 3.66" x 2.07" x 0.63" (93.17mm x 52.68mm x 16.00mm)
- Speed Rating: USB 3.0, up to 5.0Gb/s data transfer speed
- USB 3.0 — up to 5.0Gb/s data transfer speed
- Ultra portable; sleek metal construction
- Maximize the full speed potential of your memory cards
- Built-in LED indicator and three-foot USB 3.0 cable
- Portable — convenient small size
- Versatile — works with the following Flash card formats: CompactFlash, CF Type I (UDMA 0-6), CF Type II (UDMA 0-6), SD, SDHC, SDHC UHS-I, SDXC, SDXC UHS-I, microSD, microSDHC, microSDXC, Memory Stick/M2, Memory Stick, Memory Stick PRO, Memory Stick Duo, Memory Stick PRO Duo, Memory Stick M2
- Requirements — system with USB 3.0 port
- Backwards Compatible — with USB 2.0
- Guaranteed — two-year warranty, free technical support
What is the best way to design a flash memory card reader? I don't know about you, but personally, I probably would not have been able to do a better job myself after seeing the Kingston FCR-HS3. Well, to be fair, I am in Electrical Engineering, so I do not engage in industrial design -- but that is beside the point. I just think Kingston's desktop card reader is a good looking device. Measuring in at 93.17mm wide, 52.68mm deep, and 16.00mm tall, the little black box is probably not going to be your best travel companion (Look out for my colleague Aaron Lai's MobileLite G3 review soon), but it fits right in on my desk. The FCR-HS3's mainly plastic construction feels solid in the hand, and comes with an excellent blend of a brushed aluminum finish on top, with a sleek glossy finish in front. Its lines are nicely angled to create a bit of visual excitement. A matrix pattern at the top seems to form a triangle pointing in the direction of the card slots, and the red Kingston logo actually lights up to indicate when a card is active. The red backlight will blink in the event of drive activity.
Four distinct slots can be seen from the front, as you can see in our photo above. The Kingston FCR-HS3 can accommodate pretty much any flash memory card in existence right now. This includes CompactFlash, CF Type I (UDMA 0-6), CF Type II (UDMA 0-6), SD, SDHC, SDHC UHS-I, SDXC, SDXC UHS-I, microSD, microSDHC, microSDXC, Memory Stick/M2, Memory Stick, Memory Stick PRO, Memory Stick Duo, Memory Stick PRO Duo, and Memory Stick M2 according to the manufacturer's website. To make your life as easy as possible, each slot is labeled with white text adjacent to it in order to indicate what cards it can take. While you will not be able to read every card that has ever existed, if you are dinosaur enough to still have something like SmartMedia, my advice to you is: Get with the times, bro. For the rest of our readers, if you are old enough to recall when that was still around, be sure to pat yourself on the back.
I am actually quite happy it can read microSD cards natively, even though most cards sold in that form comes with an adapter. However, the slot on the FCR-HS3 is really tight, and I had quite a bit of trouble pulling my particular card out (Using a Kingston branded one, no less) after being inserted. It would be excellent if Kingston could adjust the tolerances of the slot a bit for easier card removal.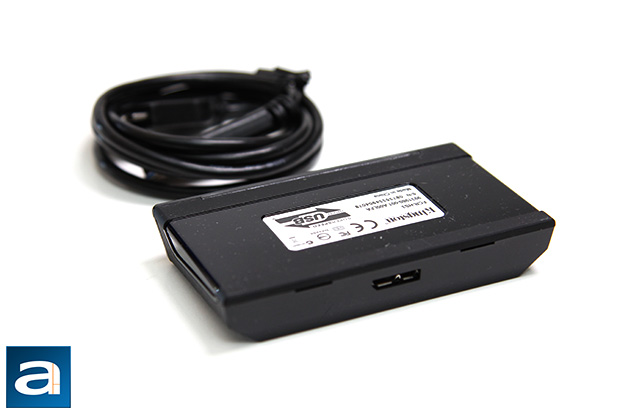 Flipping the Kingston FCR-HS3 around, and looking at the back, you will find only one thing, and that is its USB 3.0 interface port. Out of the box, the company includes a three foot USB 3.0 cable. Personally, I found that to be extremely short for a desktop card reader; I would have much appreciated it if a six foot cable was included instead. Other than that, the usual certifications can be found on the sticker at the bottom. If it is of any interest to you, the Kingston FCR-HS3 is made in China, but what is not nowadays?
Since the desktop card reader is extremely lightweight, thanks to the simplicity of components and its plastic construction, do not expect a whole lot of trip with your desk. It is lined with some not-very-rubbery rubber at the bottom to make the best out of the situation, but thanks to the laws of physics, I do not believe Kingston could have done any better in this regard. With all said and done, let us move straight into the benchmarks.
-----------------------------------------
The Tests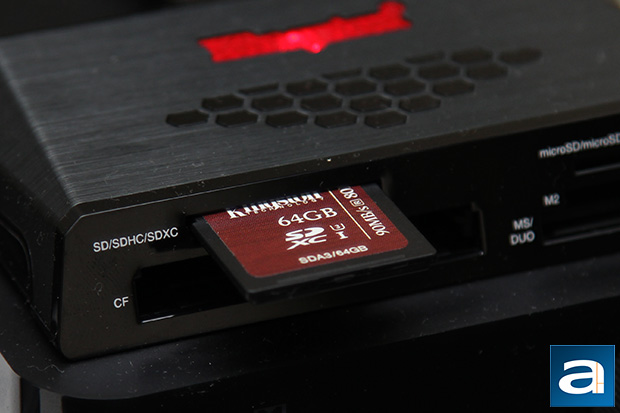 For the tests, I have benchmarked the card readers using the fastest SDXC UHS-I U3 card available at press time, the Kingston SDXC UHS-I U3 64GB I have reviewed last month. The rest of our system specifications as follows:
CPU: Intel Core i7-3770K @ 4.6GHz
CPU Cooling: Noctua NH-U14S (2x Noctua NF-A15)
Motherboard: Intel Desktop Board DZ77GA-70K
RAM: Patriot Viper 3 Low Profile PC3-17000 4x8GB
Graphics: Gigabyte GeForce GTX 760 2GB
Chassis: SilverStone Temjin TJ04-E (Noctua NF-S12A PWM, Noctua NF-P12 PWM)
Storage: SanDisk Extreme II 240GB; OCZ Octane 512GB; Kingston HyperX 3K 240GB
Power: Seasonic Platinum 1000W
Sound: Auzentech X-Fi HomeTheater HD
Optical Drive: LiteOn iHAS224-06 24X DVD Writer
Operating System: Microsoft Windows 8.1 Professional
Compared Hardware:
- Kingston FCR-HS3 (USB 3.0)
- Dell UltraSharp U2413 (USB 3.0)
- Kingston MobileLite G3 (USB 3.0)
- Ricoh on Lenovo ThinkPad T420 (PCIe)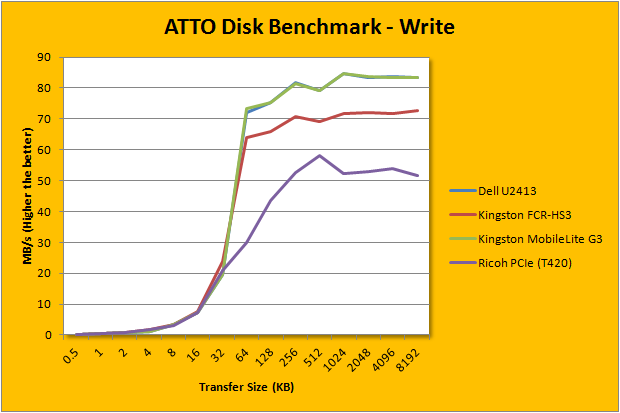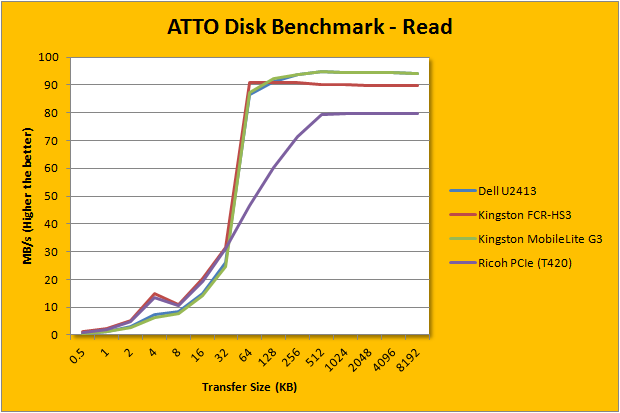 In our tests today, we will not get into detailed performance analysis using several different benchmarks, as we usually do in our storage reviews. The reason behind this is while its interface and controller has influence on the overall I/O performance, it is also very much related to the tested card itself. We are not reviewing the card itself today; we just want to know the maximum transfer rate the Kingston FCR-HS3 can provide. ATTO disk benchmark provides valuable insight into evaluating storage performance; it is especially held in high regard since it is not local disk limited like Windows file copy, but rather the interface itself. This has been one of our favorite benchmarking programs since 2010, and as such, has been an integral part of our storage benchmarks. We have used in everything ranging from network attached storage systems to solid state disks.
Prior to this test, the Kingston FCR-HS3 was our standard card reader for evaluating flash memory card performance. This is because the FCR-HS3 is tested to be one of the fastest and most versatile card readers around; exceeding the performance of my Lenovo ThinkPad T420's PCIe based Ricoh card reader. However, much to my surprise, I found there are actually two products that actually performs better than Kingston's desktop card reader when testing cards in the Secure Digital physical form. That is my Dell UltraSharp U2413 monitor and Kingston's MobileLite G3, where both provided quite literally identical results. I am suspecting they have the same drive controller inside, because their performance curve is practically identical. With that in mind, I am making absolutely no attempt in saying the FCR-HS3 is slow. It kicked off 72.55MB/s in maximum write speed with our Kingston SDXC UHS-I U3 64GB, and an impressive 91.003MB/s maximum read speed on the same card. For the Dell UltraSharp U2413 and Kingston MobileLite G3, the same ATTO configuration provided a maximum write speed of just under 85MB/s using the same card, and nearing a whopping 95MB/s in the read benchmark. That said, both of those card readers can only read cards in the Secure Digital footprint, and not anything else.
-----------------------------------------
If a flash memory card reader is one of those little things in life that are important but often overlooked, then the Kingston FCR-HS3 is an excellent solution for the masses. This compact reader is not only compatible with practically every card current in the market today, but also pretty darn good looking while sitting on my desk. In a world where we often weigh between function versus form, the FCR-HS3 compromises on neither. I am not going to lie -- even though I have long received my replacement Dell UltraSharp U2413 monitor, which features a speedy built in SD card reader, the Kingston I am reviewing today still sits on my desk as my tool of choice. Why? Well, because I do not need to reach far for the side of my monitor every time; this is not to mention it is quite annoying to do minute adjustments to the position of my LCD display arm every time I slide in and pop out a card on its side. I will agree the Kingston FCR-HS3 is not fastest reader in the market today. It is a bit slower than my Dell UltraSharp U2413, and even Kingston's own MobileLite G3. But neither of them carries the versatility and wide compatibility the FCR-HS3 encompasses. For about $20 at press time, it is a small price to pay for all the things it brings to the table. My only complaint? A longer USB cable is always appreciated. Oh yeah, and make microSD cards a bit easier to remove, but that may just be me.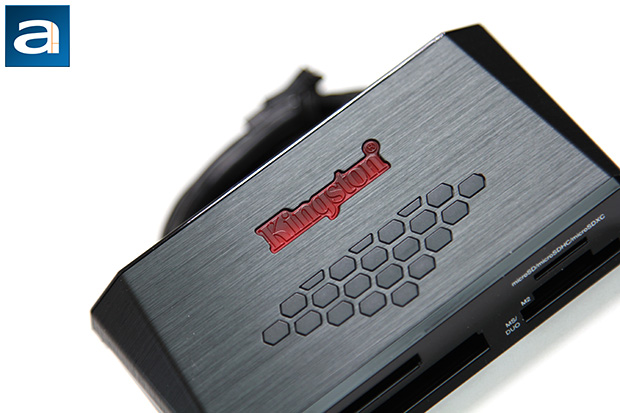 Kingston provided this product to APH Networks for the purpose of evaluation.

APH:Renewal Award | APH Review Focus Summary:
8/10 means Definitely a very good product with drawbacks that aren't likely going to matter to the end user.
7/10 means Great product with many advantages and certain insignificant drawbacks; but should be considered before purchasing.
-- Final APH Numeric Rating is 7.5/10
Please note that the APH Numeric Rating system is based off our proprietary guidelines in the Review Focus, and should not be compared to other sites.
The Kingston FCR-HS3 is a sleek, good looking, and versatile desktop card reader for only $20 at press time.
Do you have any comments or questions about the Kingston FCR-HS3? Drop by our Forums. Registration is free, and it only takes a minute!