By: Aaron Lai
June 6, 2014
Since November of last year, I have been taking pictures with my dSLR, as I picked a Canon T3i during the most recent Black Friday. Hopefully you have seen the difference in the photos compared to my last camera, a small Canon PowerShot SD780 IS. Of course, I still have a lot to learn, and getting a better camera does not necessarily make you a better photographer, but it sure makes it more fun. After that, the next thing I purchased was a Canon 50mm f/1.8, or what is more commonly known as the "Nifty Fifty", or the "Plastic Fantastic". This cheap lens is highly regarded by many photographers, but comes with some sacrifices. For one, the plastic construction is mediocre at best, and does not feel as solid as even some kit lenses. It is also a fixed or prime lens, and so you do not get any zooming capabilities. Despite these letdowns, it still performs very well, and can be had for around $100 on a regular basis. The Canon 50mm f/1.8 is also very light, and provides some great bokeh, making it a very good choice for both beginner and intermediate photographers alike. Canon has shown with the Nifty Fifty that a great experience does not have to come from seemingly higher-end, higher-priced product. In fact, great products can be found at all price brackets. So when Kingston sent us the MobileLite G3, a plastic card reader that can be found as low as $10 USD at press time, I could not help but wonder if this was a plastic-fantastic kind of product, or just another generic card reader. Fortunately, we will be delving into the issue at hand, so read on to find out!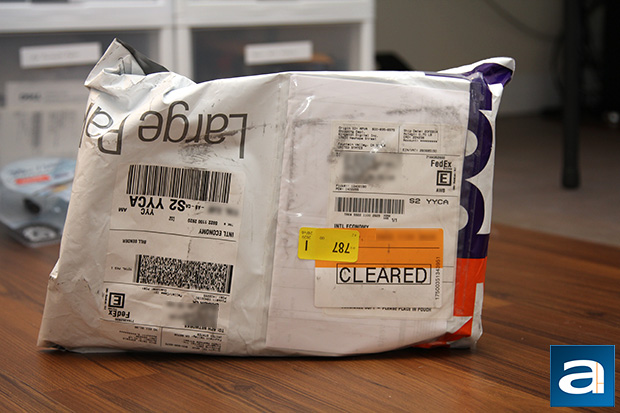 Today's review unit of the Kingston MobileLite G3 arrived in a FedEx Large Pak. This shipment originated from California, USA, which is where Kingston's American offices are located. To ensure that the package arrived safely, Kingston provided an extra layer of protection by putting their products inside a smaller, brown corrugated cardboard box. Using the International Economy service, everything arrived in pristine condition to APH Networks in Calgary, Alberta, Canada. Inside the package was the Kingston SDXC UHS-I U3 64GB and the Kingston FCR-HS3, both previously reviewed by Editor-in-Chief Jonathan Kwan.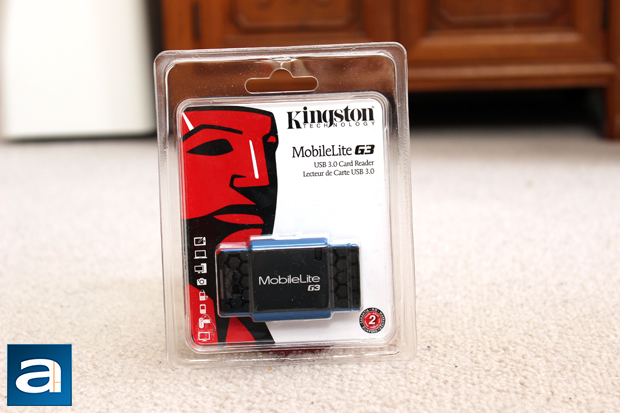 Popping open the bag and the box, we are greeted with the Kingston MobileLite G3's retail packaging. The design of Kingston's packaging has been quite similar for the longest time, with a red Easter Island-like head on the left side, and the product's name on the right side. While you can say it gets a bit old, it is also very recognizable, and thus you know right away when the product in your hands are a Kingston. The design is very clean, and shows no more than what you might want to know. This is a pretty self-explanatory product, so there is barely any text on the front, with a small two year warranty badge on the bottom right hand corner. Unfortunately, you can also tell this is in the horrendous blister pack linked with all sorts of hatred to retail products. It is quite form-fitting and keeps the whole thing as slim as possible, but it is also quite frustrating to open. Flipping to the back we have a few specifications as well as some more uninteresting fine print.
Before we continue on, we will pull up the features and specifications for the Kingston MobileLite G3, according to the manufacturer's website:
- Compliant — with the USB 3.0 specification, SDA 3.01 standard
- Versatile — multi-functional USB card reader supports SD/SDHC/SDXC, microSD/SDHC/SDXC and MSPD
- Backwards compatible with USB 2.0
- Portable — easily fits in your pocket
- Guaranteed — two-year warranty, free technical support
- Dimensions: 2.45" x 1.16" x 0.646" (62.15mm x 29.40mm x 16.40mm)
- Operating Temperature: 32°F to 140°F (0°C to 60°C)
- Storage Temperatures: -4° to 158° F (-20°to 70°C)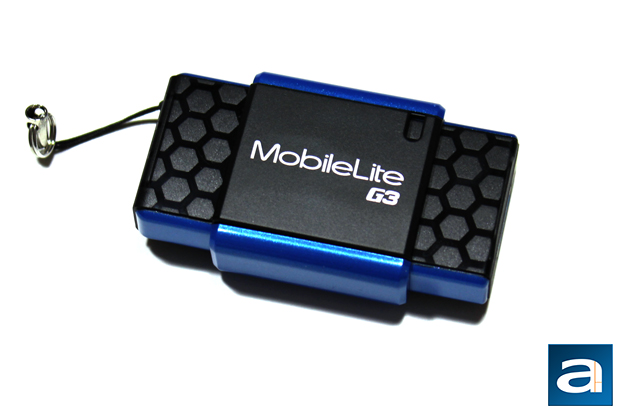 With a knife, I carefully cut open the package, making sure I did not cut myself in the process. Inside the retail container is everything you see in the picture: the Kingston MobileLite G3 and a small keychain string. Looking at the card reader, you can see there is not much to analyze. In terms of design, there are two blue strips of glossy plastic on both of the sides. The rest of it is made out of black plastic, with silver-grey lettering on both top and bottom. On the left and right side is a honeycomb pattern, which alternates glossy and matte, and it adds a bit of texture to what would otherwise be a smooth device. As you can see, the two sides are also recessed, because both can be pushed in to reveal the USB 3.0 port and the card slots; one at each end, obviously. If you are observant, you will probably notice a small notch or divot on the top-right corner of the body. This is where the blue LED activity light lives, and by the name, you can tell it flashes when there is card activity, for both reading and writing. The Kingston MobileLite G3 is quite a bit smaller than the card reader we reviewed last week, the Kingston FCR-HS3, with dimensions of just 62.15mm x 29.40mm x 16.40mm. It also weighs in at a paltry 16 grams, and thus should not be an issue for on-the-go usage. As for build quality, the MobileLite G3 is not as solid as I would like it to be. The collapsible parts wiggle a lot, and make a clattering noise when shook about. Fortunately, the lightness of the device means it can take an accidental fall without making much of a mark, as I did a few times while using this device. One neat thing to point out is the retractable cover on the card input side, which is long enough to fully conceal an SD card when the cover is extended. Whether this was by design or not, it is a nice way to transport your card without worrying about breaking the media itself.
Where the Kingston MobileLite G3 shines in mobility, hence the name, it lacks in card capability. This card reader's two slots can hold SD, SDHC, SDHC UHS-I, SDXC, SDXC UHS-I, microSD, microSDHC, microSDXC, and Memory Stick PRO Duo cards. Luckily for you, this list comprises of majority of the portable media storage in use nowadays. The only omission that might actually be missed is CompactFlash, which is found in high-end, professional cameras, as well as older photography equipment. Of course, if you have money to buy a camera like the Canon EOS 1D X, or the Nikon D4s, I doubt you would hesitate to purchase a more expensive card reader. The real beauty is the native microSD slot, which is for smaller devices in the market, like smartphones and tablets, as well as some slimmer point-and-shoot cameras. While majority of these cards are sold with an adapter, or can be read through the device itself, having the flexibility to use the card reader is a plus. Just to note, both the slots and the USB 3.0 output is identified with fine-print, in case you get something mixed up. While I cannot even imagine how someone would try to put a microSD card into the USB 3.0 port, it is a good idea to leave it labelled, just in case.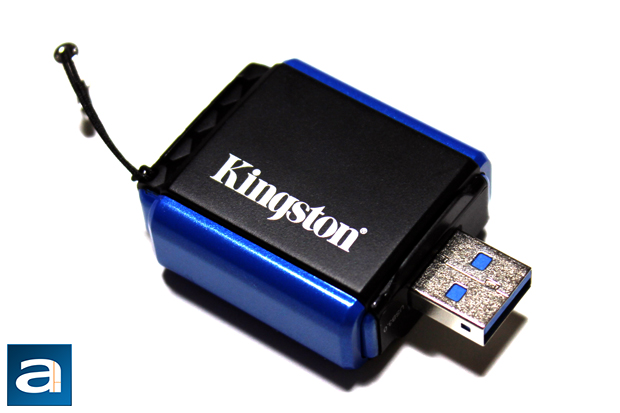 Turning the card reader over, we see the standard Kingston logo. I also retracted the two covers so you can see how small the device can become. As I have mentioned before, the Kingston MobileLite G3 is equipped with USB 3.0 to take advantage of the faster speed capabilities. Of course, like all other USB 3.0 devices, you will need a USB 3.0 port in the host device to actually see the speed difference. This is also backwards compatible, and will work in both USB 3.0 and 2.0 ports. With all that said, you are probably now itching to know the actual performance of the card reader. Is it light on its feet, or is the performance a bit too light? Let us see what we can dig up!
-----------------------------------------
The Tests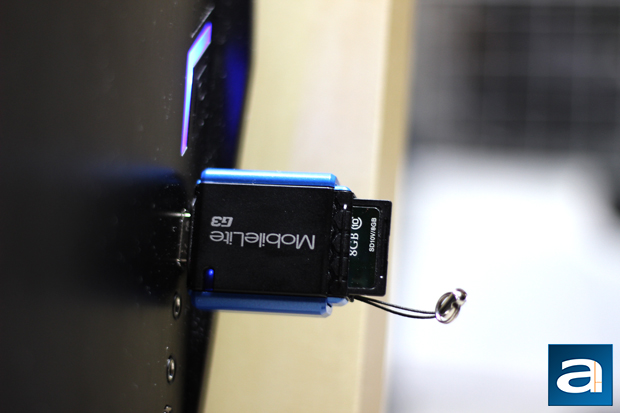 For the tests, the Kingston MobileLite G3 was benchmarked with the fastest SDXC UHS-I U3 card available at press time, the Kingston SDXC UHS-I U3 64GB, reviewed in April here at APH Networks. The rest of the system specifications are as follows:
CPU: Intel Core i7-3770K @ 4.6GHz
CPU Cooling: Noctua NH-U14S (2x Noctua NF-A15)
Motherboard: Intel Desktop Board DZ77GA-70K
RAM: Patriot Viper 3 Low Profile PC3-17000 4x8GB
Graphics: Gigabyte GeForce GTX 760 2GB
Chassis: SilverStone Temjin TJ04-E (Noctua NF-S12A PWM, Noctua NF-P12 PWM)
Storage: SanDisk Extreme II 240GB; OCZ Octane 512GB; Kingston HyperX 3K 240GB
Power: Seasonic Platinum 1000W
Sound: Auzentech X-Fi HomeTheater HD
Optical Drive: LiteOn iHAS224-06 24X DVD Writer
Operating System: Microsoft Windows 8.1 Professional
Compared Hardware:
- Kingston MobileLite G3 (USB 3.0)
- Kingston FCR-HS3 (USB 3.0)
- Dell UltraSharp U2413 (USB 3.0)
- Ricoh on Lenovo ThinkPad T420 (PCIe)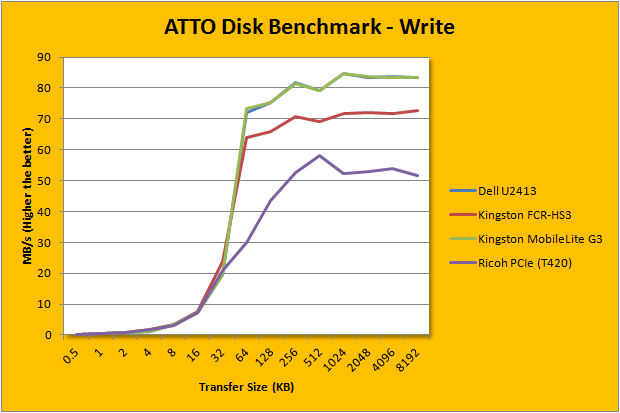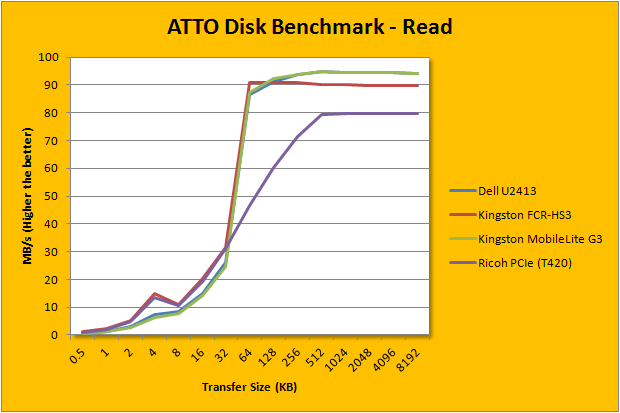 In our tests today, we will not get into detailed performance analysis using several different benchmarks, as we usually do in our storage reviews. The reason behind this is while its interface and controller has influence on the overall I/O performance, it is also very much related to the tested card itself, and not to the card reader. Since we are not reviewing the card itself today, we just want to know the maximum transfer rate the Kingston MobileLite G3 can provide. ATTO disk benchmark provides valuable insight into evaluating storage performance; it is especially held in high regard since it is not local disk limited like Windows File Copy, but rather the interface itself. This has been one of our favorite benchmarking programs since 2010, and as such, has been an integral part of our storage benchmarks. We have used it in everything ranging from network attached storage systems to solid state disks.
As you have already seen the results from last week's Kingston FCR-HS3 review, this is not really much of a surprise. While the aforementioned card reader is fast on its own, the Kingston MobileLite G3 edged out its bigger brother at almost all transfer sizes. From the graph, you can also see the curve of the MobileLite G3 follow the Dell UltraSharp U2413 to a tee, making us believe the same drive controller is inside both devices. With a maximum write speed of 84.55MB/s and a maximum read speed of 94.85MB/s, it is amazing such performance can come out of a device like this. Once again though, this card reader is limited by the number of different cards it can read, but these numbers are impressive nonetheless.
-----------------------------------------
While writing my review, I was asked whether or not the Kingston MobileLite G3 is really relevant, especially since majority of laptops having SD card readers in the first place. I think the performance of this card reader alone speaks volumes to answer this question. With speeds close to 95 MB/s read and 85 MB/s write, this card reader will not limit you in any way. The ability to read both regular size and microSD cards unfounded in most laptops, and is another bonus for the MobileLite G3. It is also light and portable enough to carrying around with your camera or other electronics without being a hassle. However, much like the Canon 50mm f/1.8, there are a few things Kingston had to forgo. For one, build quality is not the best, and could be much improved by making a full metal body design. While this will obviously add heft and raise the cost of the Kingston MobileLite G3, it would mean for a more durable design, and possibly a cleaner design. It is not compatible with every card out in the market today, but keep in mind the physical limitations of this product. Even with all that in mind, with a price tag as low as $10, this card reader offers great value. If you are a desktop user, I would consider the other Kingston option, the FCR-HS3, especially for those with all types of cards or for those looking at a more substantial solution. But for portability and performance, the Kingston MobileLite G3 should be at the top of your list.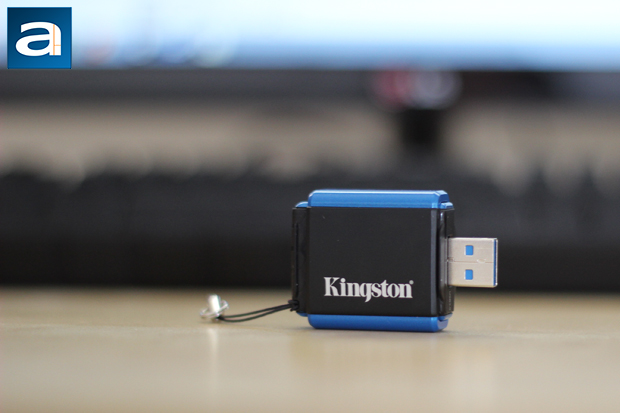 Kingston provided this product to APH Networks for the purpose of evaluation.
APH Review Focus Summary:
8/10 means Definitely a very good product with drawbacks that aren't likely going to matter to the end user.
7/10 means Great product with many advantages and certain insignificant drawbacks; but should be considered before purchasing.
-- Final APH Numeric Rating is 7.1/10
Please note that the APH Numeric Rating system is based off our proprietary guidelines in the Review Focus, and should not be compared to other sites.
Kingston has proved again and again to provide excellent products, and the portable, value-oriented, and speedy MobileLite G3 is no different.
Do you have any comments or questions about the Kingston MobileLite G3? Drop by our Forums. Registration is free, and it only takes a minute!