By: Jonathan Kwan
April 17, 2014
Are numbers important? The way I see it, sometimes, you will just have to go and ask her for it assertively. As Wayne Gretzky once said, "You miss one hundred percent of the shots you don't take." No wait... that is not the number I am talking about. So let's start this paragraph over again. Are numbers important? Of course they are. At the same time, we must understand numbers do not necessarily tell the whole story. Remember when people thought higher clock speeds always meant faster processors, more megapixels meant better camera picture quality, and more watts meant better sounding speakers? (Okay, maybe some of these still apply today to a limited extent, but you get the idea.) But just because numbers do not tell the whole story, does not mean they do not tell at least a part of the story. In the age where the cell phone in your pocket has the same resolution as the high definition TV in your living room, and the same device can capture videos at the same resolution as your high end dSLR from just a few years ago, sometimes, we must play the numbers game a little bit. Otherwise, we will still be watching "studio quality" shows captured in 640x480. As we begin to move from 1080p to 4K, it is absolutely crucial for us to realize in every evolutionary step we take in the technology world, it is never one thing that changes. Instead, it is a combination of many items that allow us to make progress. Imagine this: You have just bought a brand new 4K capable camera. You turn it on, and as soon as you start recording, the buffer runs out, and it stops. It was then you realize your SD card cannot write the data fast enough. Imagine the disappointment on your face! Therefore, to keep this hypothetical scenario from happening, today, we will take a look at the Kingston UHS-I U3 64GB SDXC card. Promising a whopping 90MB/s read and 80MB/s write, is this the card to buy for all your Ultra HD needs? Read on to find out!
Our review unit of the Kingston SDXC UHS-I U3 64GB flash memory card came in a FedEx Large Pak from California, USA, as usual from the company. To ensure everything arrives safely, the good people at Kingston provided extra protection by adding an extra layer of protection with a small, brown corrugated cardboard box inside. Using the International Economy service, everything arrived safely and quickly in excellent condition to us here in Calgary, Alberta, Canada for our review. Inside the package are two USB 3.0 card readers, namely the FCR-HS3 and MobileLite G3, in which we will cover in the next few weeks.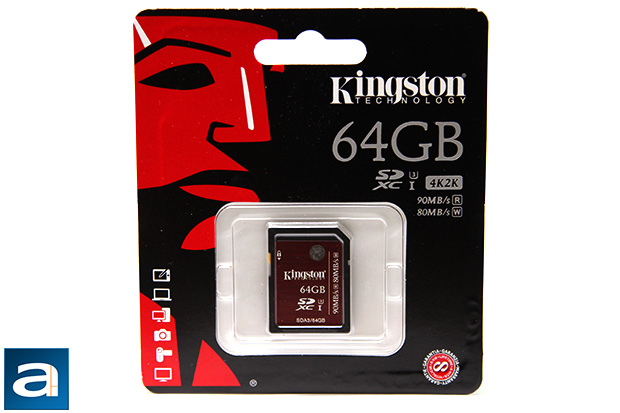 When I first laid my eyes upon the retail packaging of the Kingston SDXC UHS-I U3 64GB, my first impression was, "Where have I seen this before?" After a quick dig through my history of Kingston products, I came across the DataTraveler Ultimate 3.0 G3 32GB I have reviewed last year. Indeed, its packaging is quite similar, albeit with an inverted background color. As you can see in our photo above, it exhibits a much more consumer-like look than the enthusiast oriented HyperX 3.0 64GB and business oriented DataTraveler Locker+ G3 32GB. Its black background is interrupted by the prominent red Kingston logo along the western edge; creating a clean yet distinctive design for the end user. The model name, storage capacity, and rated read and write speed can be clearly seen as well. This is the same kind of packaging where you can hang it on a store shelf rail, but chances are that it will be locked up in the glass cabinet behind a counter, since they are quite easy to steal, haha.
Before we move on, let's take a look at the specifications of the Kingston SDXC UHS-I U3 64GB, as obtained from the manufacturer's website:
Performance: up to 90MB/s read and 80MB/s write, Ultra High-Speed Class 3 (UHS-I U3)
Compatible: with SDHC & SDXC host devices; not compatible with standard SD-enabled devices/readers; SDXC cards are not compatible with SDHC-enabled devices/readers
Secure: built-in write-protect switch prevents accidental data loss
File format: FAT32 (SDHC 16GB–32GB) exFAT (SDXC 64GB)
Compliant: with the SD Card Association specification
Guaranteed: lifetime warranty, free technical support
Dimensions: 24mm x 32mm x 2.1mm
Storage Temperature: -40°C to 85°C
Operating Temperature: -25°C to 85°C
Voltage: 3.3v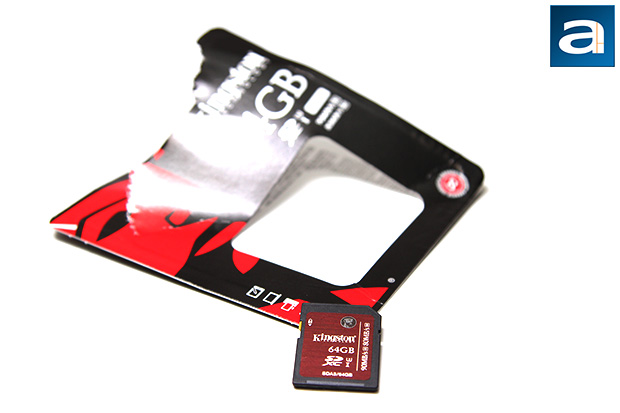 Although I am not entirely sure what is the right way to crack open the package, I am particular thankful that it is not a blister pack, so there is really little risk in cutting myself regardless of how I execute this task. With all the safety risks out of the way, and more experience from opening the same type of packaging thanks to the last few SD cards I have owned, the best way is to peel between the cardboard layers of the main flap. This is a lot cleaner than the "rip it apart like a kid on Christmas morning" approach I have first tried -- but somehow, it ended up looking sort of like that anyway. Out of the box, you will get a clear plastic shell that holds the Kingston SDXC UHS-I U3 64GB card, and the SDXC card itself inside. Yep, that's it. With regards to the Kingston UHS-I U3 64GB SDXC card, I can spend all day talking about the sticker design, but what good does that do if you can just look at our photo that came right before this paragraph? Other than that, it is just a normal looking, black colored flash memory card that carries the size and shape of any other member in the Secure Digital family, with a write protection switch on the left, and prints on the back indicating that it is made in Taiwan.
-----------------------------------------
The Tests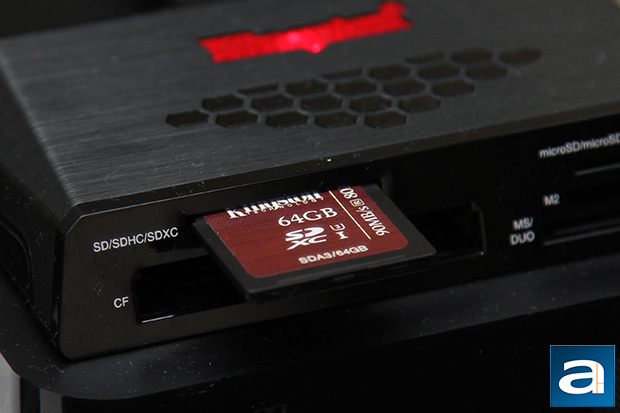 For real life testing, the Kingston SDXC UHS-I U3 64GB is used with a Canon EOS 60D and Canon Digital Rebel T2i dSLR camera. To ensure the card performance is not limited by the interface, we used Kingston's FCR-HS3 USB 3.0 card reader for benchmarking. This one of the fastest card readers available in the market today. The FCR-HS3 outperforms the PCI Express based Ricoh card reader in the Lenovo ThinkPad T420 we have used in our previous tests. The rest of our system specifications as follows:
CPU: Intel Core i7-3770K @ 4.6GHz
CPU Cooling: Noctua NH-U14S (2x Noctua NF-A15)
Motherboard: Intel Desktop Board DZ77GA-70K
RAM: Patriot Viper 3 Low Profile PC3-17000 4x8GB
Graphics: Gigabyte GeForce GTX 760 2GB
Chassis: SilverStone Temjin TJ04-E (Noctua NF-S12A PWM, Noctua NF-P12 PWM)
Storage: SanDisk Extreme II 240GB; OCZ Octane 512GB; Patriot Pyro SE 240GB
Power: Seasonic Platinum 1000W
Sound: Auzentech X-Fi HomeTheater HD
Optical Drive: LiteOn iHAS224-06 24X DVD Writer
Operating System: Microsoft Windows 8.1 Professional
Compared Hardware:
- Kingston SDXC UHS-I U3 64GB
- A-DATA SDHC Class 6 Eee PC Edition 8GB
- ATP ProMax II SD Class 6 2GB
- Patriot EP Pro SDHC 32GB
- Patriot LX Series SDXC 64GB
- Silicon Power Superior SDXC UHS-I U3 64GB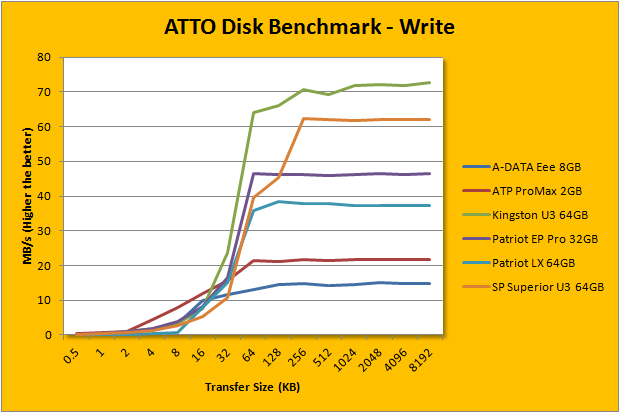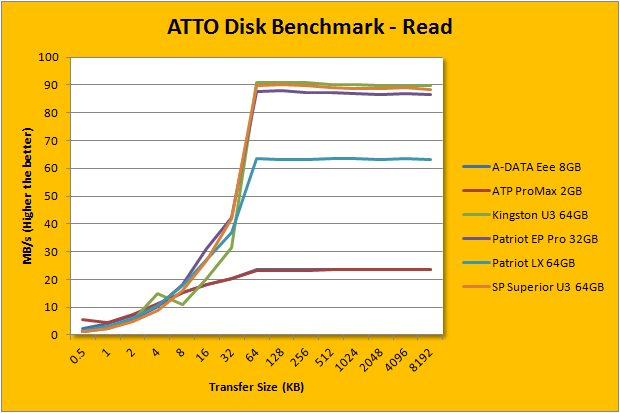 As always, I have included a few oldies on the chart to see how SD cards have evolved in performance over the years. Obviously, if you are looking for the latest and greatest SD card, I don't think a 2GB Class 6 and 8GB Class 10 card is going to be first and second on your list of compared items, so I will spend more time focusing on its closer competitor -- the UHS-I U3 Silicon Power SDXC 64GB. As you can see in our graphs above, the Kingston demonstrated a complete lead across the entire curve for both read and write. The peak write speed for the Kingston came in at 72.55MB/s according to our tests; not quite the 80MB/s rated figure, but close nonetheless. 90% peak write speed is reached at 64KB transfer size, which is the industry standard. Meanwhile, the Silicon Power SDXC peaked at 'only' 61.994MB/s, but that is still significantly faster than anything we have tested in the past. The next closest on the list, Patriot's EP Pro SDHC 32GB, has a peak write speed of 46.589MB/s. Do keep in mind Silicon Power rates the Superior SDXC UHS-I U3 64GB at 45MB/s write, so it is actually performing better than expected. Furthermore, the Silicon Power Superior is half the price of the Kingston at press time.
As far as the read speed is concerned, again, the Kingston SDXC UHS-I U3 64GB delivered, on average, better performance than the Silicon Power Superior SDXC UHS-I U3 64GB under the curve -- but this time, they were a lot closer than it was in the write benchmark. Kingston's flagship card peaked at 91.003MB/s, whereas Silicon Power's entry came in a hair below at 89.979MB/s. Once again, 90% peak read speed is reached at 64KB transfer size. Normally, if this was a USB flash drive, I would have criticized it for its low small file I/O performance. However, since you are going to be dealing with primarily large files anyway, the Kingston SDXC UHS-I U3 64GB is simply going to smoke everything in its way in real world usage. Based on my real life experiences using my Canon EOS 60D dSLR camera, shooting videos in 1080p, or firing off a burst of shots is not going to be a problem at all -- the Kingston SDXC UHS-I U3 64GB is a very fast card by all any standard. If you own a 4K capable camera, you really should not have any issues with either card. The Kingston is just a little bit faster overall.
Update May 28, 2014: Actually, the Kingston SDXC UHS-I U3 64GB can indeed meet and exceed its stated specifications. Using the company's own MobileLite G3 card reader, the maximum write speed we were able to obtain was 84.546MB/s, while the maximum read speed in the same test came out to be 94.853MB/s. This is very impressive!
-----------------------------------------
The beauty of engineering is not just about getting a product to roll off the assembly line, then sit back and relax with a cup of tea in your hand. The beauty of engineering is not to reinvent the wheel, but to look at a wheel and ask, "How can I make it better?" The beauty of engineering is to constantly work to the motto, "If it ain't broken, it ain't got enough features." It is about constantly exploring limits, pushing the envelope, and innovate new techniques to create something that ellipses the last in every iteration. In this never ending cycle of making things, breaking things, and improving things, today, we are witnessing another evolution in the digital storage world. The Kingston SDXC UHS-I U3 64GB is a seriously fast card that you can pop in at almost any retail store right, and buy one without worrying about whether or not it is good enough for the next big thing. The next big thing is already here, and with every new thing in the market comes a slew of others that complements it, the Kingston SDXC UHS-I U3 64GB is more than ready to take on 4K without breaking a sweat. Delivering just over 72MB/s in our write benchmark and 90MB/s in our read benchmarks, you can always ask for more, but at this point in time, why would you do that? Retailing for about $100 at press time, sure, it does not come cheap. But if you are asking the question, "Is this the card to buy for all my Ultra HD needs?" Then I would say, with complete confidence, "This is the one." Imagine the smile of satisfaction on your face.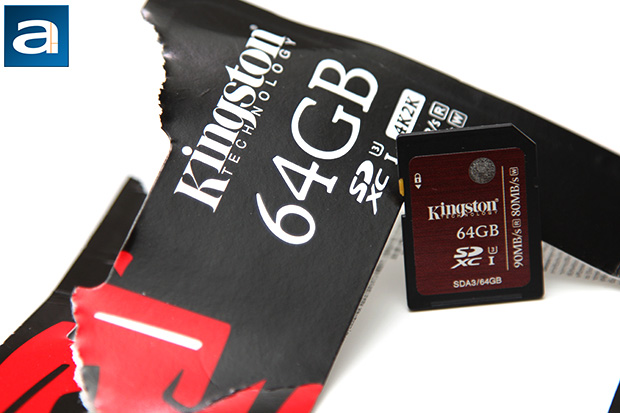 Kingston provided this product to APH Networks for the purpose of evaluation.

APH Recommended Award | APH Review Focus Summary:
8/10 means Definitely a very good product with drawbacks that aren't likely going to matter to the end user.
-- Final APH Numeric Rating is 8.0/10
Please note that the APH Numeric Rating system is based off our proprietary guidelines in the Review Focus, and should not be compared to other sites.
The Kingston SDXC UHS-I U3 64GB is a card that delivers performance without compromise today for all your Ultra HD needs.
Do you have any comments or questions about the Kingston SDXC UHS-I U3 64GB? Drop by our Forums. Registration is free, and it only takes a minute!