By: Jonathan Kwan
February 14, 2014
What exactly is computer security? From an engineering perspective, encrypting your data with a strong key and a complicated algorithm ought to keep anyone away from your sensitive information. After all, if it takes a supercomputer a billion years to crack a 128-bit AES key, imagine what it takes to defeat something done with 256-bit AES encryption. In reality, as much as this sounds great on paper, this is certainly not the case. Regardless of how strong your security is, if someone comes up to me with a knife, and threatens me to give up my password, I would have done it in a heartbeat. But does this mean we should just leave everything out in the open? Probably not. In the same way we keep the front door of our houses locked, despite the fact someone can just break a window and get inside in about two minutes, sometimes we still take steps to prevent unintended audiences from getting a hold of your information. This is why my entire laptop is encrypted, just in case it gets stolen. The way I see it, this is just about being responsible with my data. Earlier last month, my colleague Aaron Lai tested out the Kingston DataTraveler Vault Privacy 3.0 32GB, an excellent hardware encrypted USB flash drive that delivers in both security an encryption for business users. Today, we will take a look at yet another hardware encrypted USB flash drive from the company, the DataTraveler Locker+ G3 32GB. Rather than focusing on business users, this sleek looking drive is made for consumers looking to be a little bit more responsible with the files they carry around. Being an update to the DataTraveler Locker+ G2 32GB I have reviewed last year, how much of a performance gain can we expect? We fired up our usual battery of benchmarks to find out.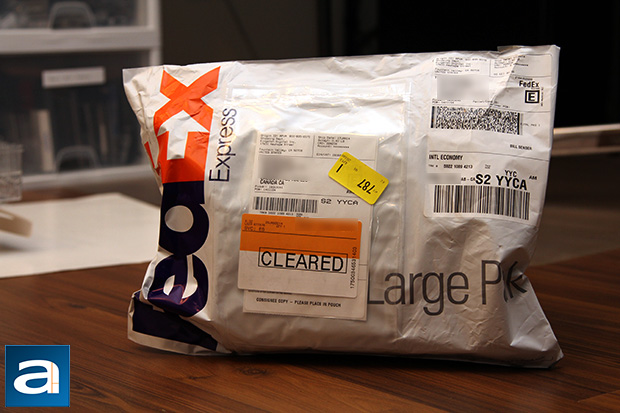 Just like its predecessor, our review unit of the Kingston DataTraveler Locker+ G3 32GB USB flash drive arrived in a plastic FedEx Large Pak from the company's American offices in California, USA. As usual, to ensure everything arrives in perfect condition, the good people at Kingston inserted a small, brown corrugated cardboard box inside to provide addition protection for the USB flash drive. Using the International Economy service, everything arrived safely and quickly in excellent condition for our review today.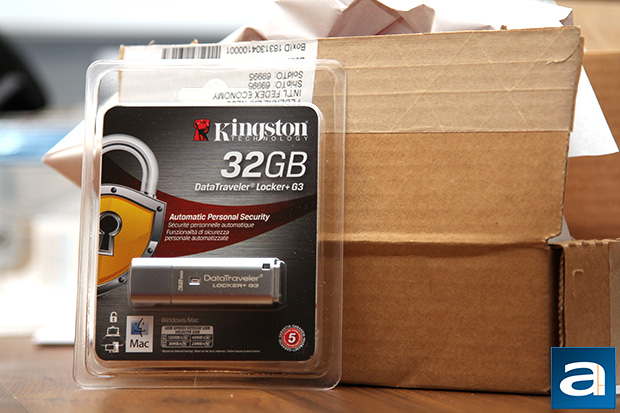 As we have seen in the Kingston DataTraveler Locker+ G2 32GB last year, the retail packaging for the Locker+ G3 is almost identical, other than all the name changes and updated speed ratings, of course. It carries a more down to business look compared to the company's enthusiast offerings, but not as plain as the DataTraveler Vault Privacy 3.0 32GB. The large padlock in the foreground is complemented nicely by its brushed metal textured background; alluding to its rigidity and security. While I am certainly not a big fan of blister packs, it is hard to argue against the company's choice of packaging, because it is quite fitting, especially if you are going to pick this up at your favorite local retail store. At the bottom, the company highlights its Windows and Mac compatibility. Being a self encrypted drive, the speed rating is raised to 135MB/s read and 40MB/s write from 10MB/s and 5MB/s, respectively, of its predecessor, as indicated on the packaging. We will see how it really compares in our benchmarks in just a moment. But before we move on, let's take a look at the specifications of this product, as obtained from the manufacturer's website:
Capacities: 8GB, 16GB, 32GB, 64GB
Speed: 135MB/s read, 40MB/s write
Dimensions: 60.56mm x 18.6 mm x 9.75 mm
Minimum System Requirements: USB 3.0 compliant and 2.0 compatible; Two (2) free consecutive drive letters required for use
Operating Temperature: 0°C to 60°C
Storage Temperature: -20°C to 85°C
Warranty/support: 5-year warranty with free technical support
Compatible with: Windows® 8.1, Windows 8, Windows 7 (SP1), Windows Vista® (SP2), Windows XP (SP3), Mac OS v.10.6.x–10.9.x (USB 3.0 connectivity requires a USB 3.0 port)
---
Page Index
1. Introduction and Specifications
2.
A Closer Look, Test System
3.
Benchmark: AIDA64 Disk Benchmark
4.
Benchmark: ATTO Disk Benchmark
5.
Benchmark: Crystal Disk Mark 3.0
6.
Benchmark: HD Tach 3.0.1.0
7.
Benchmark: HD Tune Pro 4.60
8.
Conclusion