By: Jonathan Kwan
June 8, 2012
Recently, one of the malls nearby the University of Calgary hired a team of new security guards, and began a hardcore crackdown on students parking on their property and going to school. One time, a friend of mine who lives in the houses behind the mall was approached by one of the security guards as he was cutting through it. "You better move your truck," he told my friend. "Or else we are towing it." Of course, that truck was not my friend's, so I said to him, "You should have been like, 'I can park wherever I want. What are you going to do?'" Yep -- trolling can be a lot of fun sometimes, especially if you are in the right place at the right time. (Don't worry, this did not actually happen, haha. On a side note, I know exactly which security guard he was talking about, and he is a real jerk.) In the computer storage world, now is the right time to troll your HDD owning friends, and build an HDD-free computer that can actually store a moderately large amount of data. With OCZ's Indilinx Everest controller based Octane SSD, higher capacity units no longer carry the price tag of a used car, although your credit card bill certainly won't be low next month. This is definitely something you cannot do a year ago, considering 240GB SSDs were pretty much the largest available, and costs more than an arm and a leg. Cool. Are you ready to troll roll? Let's check out our brand-spanking-new OCZ Octane 512GB we have here at APH Networks this morning.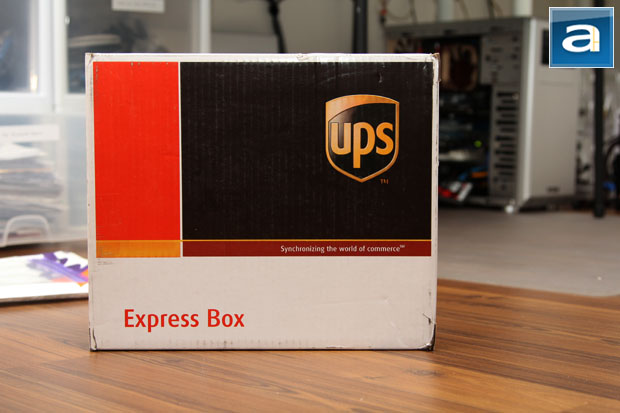 As always, our review unit of the OCZ Octane 512GB came in a medium sized, UPS branded corrugated cardboard box from the company's American offices in Sunnyvale, California, USA. A large abundance of bubble wrap was included to ensure everything arrived intact for our evaluation today. While the shipping box is really the usual, I took a look at the enclosed contents list attached to the outside of the box -- that was when I discovered we were getting the 512GB version. No "that's what she said" here, but man, it sure is big. After all, it is an SSD. Unfortunately, our first unit we got back in February was dead on arrival, so we had to wait quite a while before we could finish our review today... which is now June.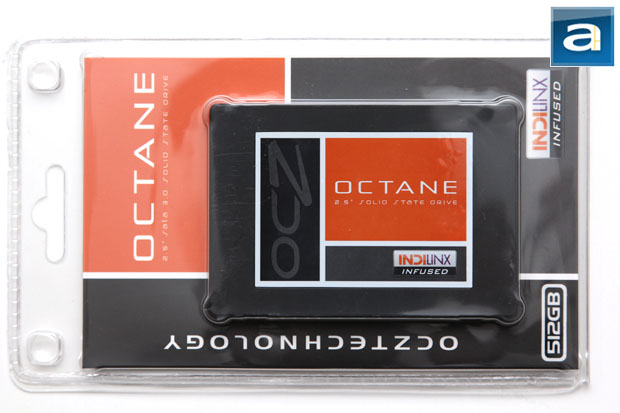 The second surprise I received is the rather simplistic packaging the OCZ Octane 512GB arrives in. While the company's SandForce based SSDs always came in cool looking boxes of the same design theme, the Indilinx Everest based Octane is clearly from a different line (Actually, I noticed OCZ switched to this new packaging in quite a number of their new products). Enclosed by what that appears to be a blister pack -- thank goodness it's actually plastic shell with two button clips at the top -- it is hard to believe this product retails for almost $900 at press time. For something that costs almost four-figures at popular online retailers, I would rather not have it look like it could have came off a rack at the local dollar store, haha. That aside, I don't think you will have any problems grabbing all the information you need at first glance; the OCZ Octane 512GB SSD itself is shown prominently in front, capacity at the bottom left, and an "Indilinx Infused" logo in place of the ever-so-popular "SandForce Driven" logo at the bottom right corner. Detailed specifications is not found on the outside, but we have them here, as taken from the manufacturer's website:
Max Read: up to 480MB/s
Max Write: up to 330MB/s
Random Write 4KB: 26,000 IOPS
Random Read 4KB: 35,000 IOPS
Interface: SATA 6Gbps / Backwards Compatible 3Gbps
512MB Onboard Cache
Indilinx Infused™
TRIM Support
Background Garbage Collection Support
Boot Time Reduction Optimization
AES and Automatic Encryption
SMART Support
Proprietary Indilinx Ndurance™ Technology
Low-Latency Seek Time: 0.06ms Read; 0.09ms Write
Slim 2.5" Design
99.8 (L) x 69.63 (W) x 9.3 mm (H)
Lightweight: 83g
Operating Temp: 0°C ~ 70°C
Ambient Temp: 0°C ~ 55°C
Storage Temp: -45°C ~ +85°C
Low Power Consumption: 1.98W active,1.15W standby
Shock Resistant up to 1500G
RAID Support
MTBF: 1,250,000 hours
3-Year Warranty
Compatible with Windows XP, Vista, 7 (32/64 bit), Linux, Mac OSX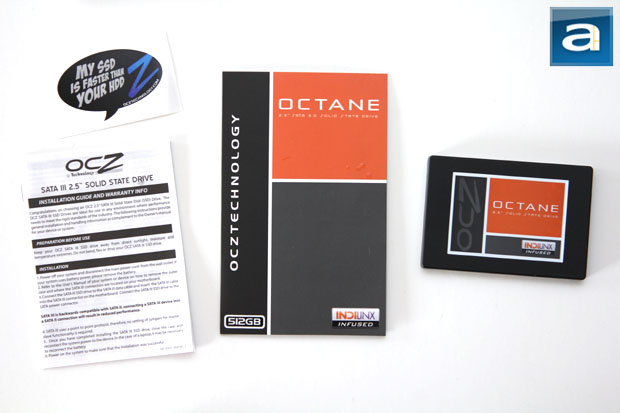 Popping the packaging open, there isn't a whole lot of stuff included. Other than the SSD itself, clipped inside the background insert is an installation/warranty guide, and the smug-as-always "My SSD is faster than your HDD" sticker from OCZ. No cables, no adapter brackets, just pure Octane. With that in mind, let's take a closer look at the solid state drive itself.
---
Page Index
1. Introduction and Specifications
2.
A Closer Look, Installation, Test System
3.
Benchmark: AIDA64 Disk Benchmark
4.
Benchmark: ATTO Disk Benchmark
5.
Benchmark: Crystal Disk Mark 3.0
6.
Benchmark: HD Tach 3.0.1.0
7.
Benchmark: HD Tune Pro 4.60
8.
Benchmark: PassMark PerformanceTest 7.0
9.
Benchmark: PCMark Vantage
10.
Conclusion