By: Aaron Lai
December 5, 2014
One thing I have learned recently is no matter how true a stereotype may be, there will always be some outliers or people who do not fit this description. Case in point, last Friday I went Black Friday shopping, hoping to find some good deals. In the morning I went with a group of guys, including Editor-in-Chief Jonathan Kwan and frequent guest writer Brian Cheung. We did our usual thing, and headed to several local electronics stores to check out the deals. On an aside, when I shop, I generally follow the stereotypical guy-like shopping. This means I will head directly to where I want to find the product I am looking for, and then proceed to the checkout. However, as a group, we actually walked around the entire mall, taking our time instead of rushing from one place to the next. I did not really have an exact product I was looking for, but this was not the norm. Later on, in the afternoon, I headed to a larger mall with a group of my friends, most of whom were girls. Thankfully, there was at least one more guy, so I split off with him and left the girls to do their thing. Later on, we met up with the girls group again, and one of them rushed over. Thinking she was ecstatic with the deals, I was surprised when she said, "I do not understand!" She then proceeded to lament about how she could not comprehend how the other girls could spend so long shopping at a certain store. As you can see in both cases, stereotypes, while they can be true for majority of the time, are not absolute whatsoever. A guy can easily shop like a girl, and vice versa. This is the same for products, like today's review of the Kingston HyperX Fury 64GB. For one, being labeled in the HyperX line infers some sort of higher performance. However the Fury lineup is known for its mid-range performance. So which does this USB 3.0 flash drive fall into? Hopefully this question, and more will be answered in today's review!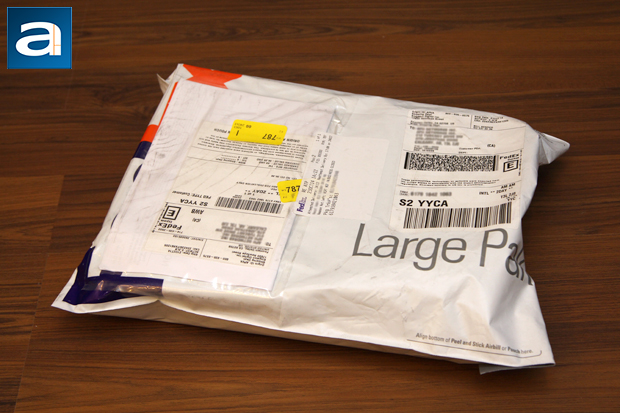 Much like every other Kingston product we have received in the past, the HyperX Fury 64GB arrived via FedEx, this time through the International Economy service. As with most of our FedEx deliveries, there are no rips or holes in the parcel, and FedEx has done a great job in bringing our beloved review products over to our APH Networks location here in Calgary, Alberta. Traveling over 1900km or over 1200 miles from Fountain Valley, California, this package shows no signs of wear or tear.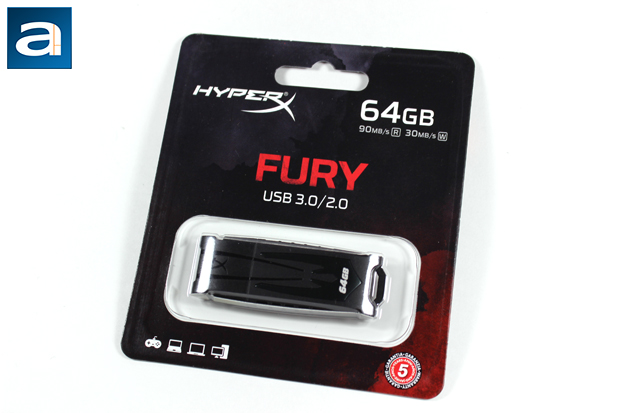 Pulling the Kingston HyperX Fury 64GB out of the FedEx Large Pak, and we are greeted with the retail packaging of the product. If you think you have heard of another Kingston HyperX Fury product before, you would be correct. Kingston also has lines of HyperX Fury RAM and solid state drives. This retail container is quite similar to other drives we have seen, including most recently the Silicon Power Jewel J80 32GB with its cardboard frame, and a clear hard plastic shell to display the USB drive itself. Surprisingly, the brand Kingston is not located on the front at all, with the gaming brand HyperX being the closest thing to the company itself. In addition, gone is the "DataTraveler" moniker placed on all of Kingston's other drives. Whether this is a permanent change or only for this specific product, I cannot see Kingston dropping this name anytime soon, especially with the brand recognition it has for USB drives. Listed on the right top corner is the capacity, 64GB, and underneath is the rated read and write speeds of 90MB/s and 30MB/s respectively. While our review unit is the 64GB model, the Kingston HyperX Fury also comes in 16 and 32GB capacities. The only other thing to note on the front is a small number five in the bottom right-hand side, which signifies this product has a five year warranty included with the product. On the back is quite a bit of small fine print, of which I am not interested in any of it.
Before we move on though, let us pull up the specifications from the manufacturer's website for your perusal:
Specifications
- Capacities: 16GB, 32GB, 64GB
- Speed: 90MB/s read and 30MB/s write
- Dimensions: 60.23 mm x 21.40mm x 9.80mm
- Weight: Channel 8.76g
- Operating Temperature: 0°C to 60°C
- Storage Temperature: -20°C to 85°C
- Guaranteed: Five-year warranty with free technical support
- Compatible with: Windows® 8.1, Windows 8, Windows 7 (SP1), Windows Vista® (SP1, SP2), Mac OS X (v.10.6.x+), Linux (v. 2.6.x+), PS4, PS3, Xbox360
---
Page Index
1. Introduction, Packaging, Specifications
2.
A Closer Look, Test System
3.
Benchmark: AIDA64 Disk Benchmark
4.
Benchmark: ATTO Disk Benchmark
5.
Benchmark: Crystal Disk Mark 3.0
6.
Benchmark: HD Tach 3.0.1.0
7.
Benchmark: HD Tune Pro 4.60
8.
Conclusion