By: Aaron Lai
November 28, 2014
I was recently talking within my group of friends about my sister's favorite topic: Shoes. In my opinion, shoes are more about getting the wearer from one place to another. Personally, I only have two pairs of shoes: One formal pair for all the fancier events I attend, and a pair of runners. I would possibly add one or two more pairs, which would consist of a pair of boots for the deep winter snows we get in Calgary, and another casual pair of shoes for variety's sake, but that would be it. On the other hand, I am pretty sure I am the odd one out, as there are many people with a lot more shoes than me. For example, I have a friend who owns fifty pairs of shoes, and is still in the hunt to get more. (Editor's note: The reason why she "only" has fifty pairs? "Poor student.") Another one of my friends - who owns a much more conservative number of shoes at eleven -- told me about her pair of "boots" she bought that went only as high as her ankles. The first question in response was, "Why?". I have always imagined boots to be worn in rougher weather, but with these shoes, snow or rain can easily get in, which would make for an uncomfortable experience. While I was reassured these boots could somehow still function well, I could tell she mainly purchased it for the looks. One thing I can agree on is I would never buy ugly shoes, even if they are to function better than anything else available. The fact of the matter is there needs to be a balance between form and function. These two go hand in hand when it comes to product design. When I received the Silicon Power Jewel J80 32GB, this was the first thing I wondered. It is clear to say the Jewel J80 brings the form, but does it play functionally too? And will it blend? Hopefully, this review will clear these issues and more things up.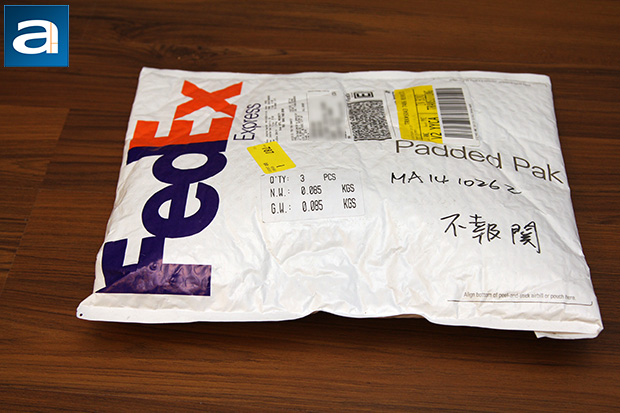 Our review unit of the Silicon Power Jewel J80 32GB arrived via FedEx International Priority, from Silicon Power's American offices down in Fremont, California, United States. Traveling to our APH Networks Calgary location, this unit arrived with two other USB flash drives, the Silicon Power Blaze B05 64GB and the Mobile X31 32GB, which will be reviewed by Brian Cheung. Once again, FedEx has done an excellent job at keeping our package arriving without any noticeable holes or scratches in and around the padded envelope. We quickly tore open this envelope and poured out the products inside.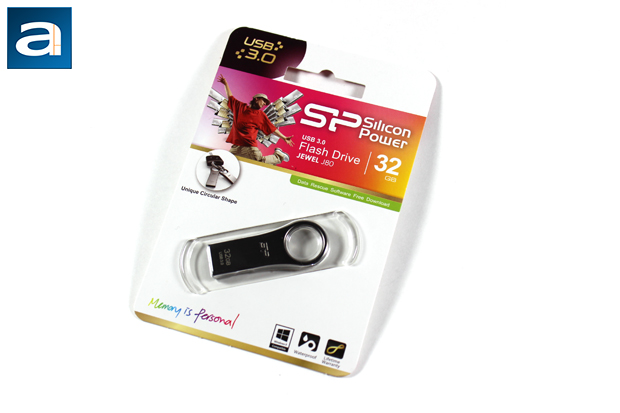 I pulled out the Silicon Power Jewel J80 32GB, and was greeted with its retail packaging. This slim but effective packaging is actually quite colorful for a flash drive, with a white-pink to yellow gradient banner at the top. Silicon Power's logo and branding can be found on the top right hand side of the banner. Our review unit itself is underneath a plastic shell, which allows potential users to see the product clearly. Silicon Power has noted a few features of the Jewel J80 32GB, such as it being Windows 8 compatible, waterproof, and coming with a lifetime warranty. Otherwise, the front is of nothing else exciting to note. Flipping the cardboard over reveals a lot of different languages of some features, as well as other fine print and certifications. The unit we received today is the 32GB model, but 8GB, 16GB, and 64GB versions are also available as we speak.
Before we continue on to the flash drive itself, let us take a look at the features and specifications, as provided from the manufacturer's website:
Features:
- SuperSpeed USB 3.0 data transferring interface
- Ergonomic design, easier to use, grasp
- Exclusive circular shape, can be perfectly fitted on a keychain
- Exquisite metallic design as a fashion accessory
- Stylish and sturdy zinc alloy exterior
- COB (Chip-on-board) technology, water, dust, shock and vibration proof
- Cap-less design, no more worries about cap loss
- Recuva File Recovery, allowing recovery of erased files, such as digital photos, documents, music and videos
Specifications:
- Size:44.0 x 18.0 x 4.5 mm (minimum 12.3mm)
- Weight:5.9 g
- Capacity:8GB, 16GB, 32GB, 64GB
- Color:Titanium
- Material:Zinc alloy
- Interface:USB 3.0 / USB 2.0 Compatible
- Operating temperature: 0° C ~ 70° C
- Supported OS Operation Systems:Windows XP/Vista/7/8, Mac OS 10.3.x, Linux 2.6.x
- Certification:CE/FCC/BSMI/Green dot/WEEE/RoHS/KCC
- Patent:TW Patent No.M449339
- Warranty:Lifetime warranty
---
Page Index
1. Introduction, Packaging, Specifications
2.
A Closer Look, Test System
3.
Benchmark: AIDA64 Disk Benchmark
4.
Benchmark: ATTO Disk Benchmark
5.
Benchmark: Crystal Disk Mark 3.0
6.
Benchmark: HD Tach 3.0.1.0
7.
Benchmark: HD Tune Pro 4.60
8.
Conclusion