By: Preston Yuen
November 7, 2014
Pink is one of the many traditions here at APH Networks. Starting off with the FSP NB Q90 laptop power adapter reviewed by Jeremy To back in 2011 and the SilverStone Air Penetrator SST-AP121-USB by my colleague Kenneth in 2012, both products added a hint of pink in some way or another. This is not to mention we talk about how our Editor-in-Chief Jonathan Kwan is a fan of the color pink; judging by his T-shirt collection and Windows Live Messenger font color back in the day. It is no doubt that pink is the new trend around here. The staff here at APH Networks -- myself included -- sometimes joke that each member will have their chance in reviewing a pink product sooner or later. I am sure there are many pink consumer electronics out on the market, as we have reviewed a couple of them already. Yet, we have not gotten bored of this color yet. Lately, we have been covering a bunch of products from Silicon Power. Namely, we have the Marvel M70 64GB and Diamond D06 1TB. In the next few weeks, we will review the Jewel J80 32GB and Mobile X31 32GB. But let us not get too far ahead of ourselves. What we have here today is -- you have guessed it -- another pink product in our hands. Shipped with the Jewel J80 and the Mobile X31, let me introduce you to the Silicon Power Blaze B05 64GB. Being we still are a fan of pink, you may be thinking we have grown tired of reviewing USB drives. Fear not, because as long as the Blaze B05 is glowingly pink, we will still see how well newly released products perform. Read on to see the Blaze B05's pinkness awesomeness!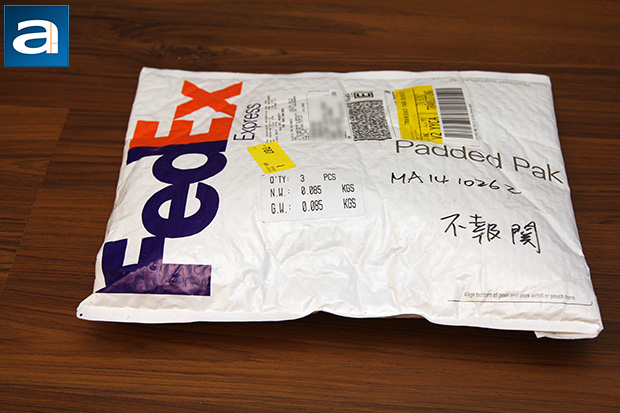 Our review unit of the Silicon Power Blaze B05 64GB came in a well padded envelope along with the Silicon Power Jewel J80 32GB and Mobile X31 32GB as aforementioned, which will be reviewed by my colleague Aaron Lai and guest writer Brian Cheung, perspectively, in the near future. Everything arrived safe and sound via FedEx International Priority with next to no bumps, bruises, or scratches, which is a relief, as nobody likes damaged goods, whatever they may be. Ripping the packaging apart, we pulled out our Silicon Power products and got straight to reviewing.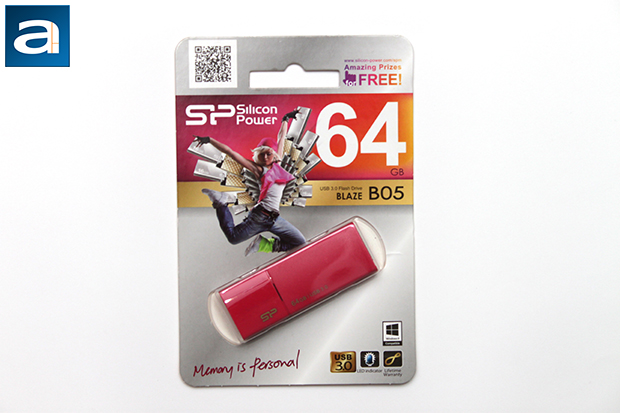 Pulling the Silicon Power Blaze B05 64GB out of the packaging, we can see Silicon Power has used very slim and simple packaging to save space on store shelves. Of course, you will see the manufacturer and model labeled clearly on the front with some simple graphics and icons to display its features. Our review unit hides behind a piece of plastic, and can easily be removed once the cardboard packaging is broken open. Our particular unit came in pink, but for other consumers out there that are a fan of other colors, it also comes in blue and black. Besides these, there is nothing too special about the packaging or the USB itself from this angle, so let us keep moving to see what Silicon Power has to offer.
Before we dive further into our review of the Silicon Power Blaze B05 64GB USB, let us take a closer look at the features and specifications, as obtained from the manufacturer's website:
Features:
- One-handed operation with the intelligent design of retractable USB connector
- Special cap-less design, no more worries about the loss of drive caps
- LED indicator, easier for users to recognize the transferring status
- Matte surface, able to avoid scratches, fingerprint and dirt
- SP Widget free download software, providing 7 major back-up and Secure functions
- TW Patent: D160058
Specifications:
- Size: 53.9 x 20.0 x 10.0 mm
- Weight: 9.2g
- Capacity: 4GB, 8GB, 16GB, 32GB, 64GB, 128GB
- Color:Classic Black, Navy Blue, Sweet Pink
- Operating temperature: 0°C ~ 70°C
- Interface: USB 3.0 / USB 2.0 / USB 1.1 Compatible
- Supported OS: Windows 8 / 7 / Vista / XP / 2000, Mac OS 10.3.x, Linux 2.6.x
- Warranty: Lifetime warranty
---
Page Index
1. Introduction, Packaging, Specifications
2.
A Closer Look, Test System
3.
Benchmark: AIDA64 Disk Benchmark
4.
Benchmark: ATTO Disk Benchmark
5.
Benchmark: Crystal Disk Mark 3.0
6.
Benchmark: HD Tach 3.0.1.0
7.
Benchmark: HD Tune Pro 4.60
8.
Conclusion