By: Jonathan Kwan
October 31, 2014
Is there any objective measurement to the quality of art? To illustrate this point, one of my professors displayed a piece of painting on the projector screen a few weeks ago, and asked the class if it was beautiful. Unsurprisingly, in this graduate-level engineering course, most students shouted "no". I was no exception -- I said I would pay $5 if it came with a frame. As it turned out, that piece of painting in question was sold for $150 million dollars a few years ago. Who knew? This is why, a lot of times, when it comes to evaluating appearance, we will use the line, "Beauty is in the eyes of its beholder". However, I would like to challenge this statement just a little bit. While I will agree "beauty is in the eyes of its beholder" to an extent, in most cases, our appreciation for beauty also has some degree of universal agreement. For example, an overwhelming majority of people will not deny that the modern PC looks significantly better than the beige boxes we had in the late nineties. Today, we will take a look at the Silicon Power Diamond D06 1TB USB 3.0 external hard drive. With a luxurious classic diamond-check pattern exterior design in a slim and lightweight package, while no one could say this is objectively the "best looking hard drive in the world", I think it is definitely one of the best looking ones I have encountered in the last little while. Will it perform as well as it looks? Here at APH Networks, you got questions, we got answers.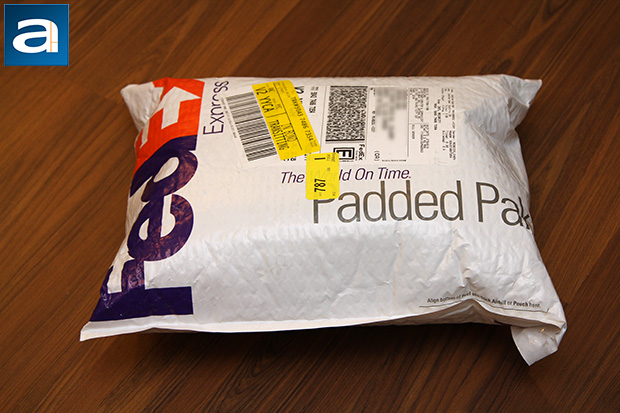 Our review unit of the Silicon Power Diamond D06 1TB USB 3.0 external hard drive arrived to us here in Calgary, Alberta, Canada in a big, puffy FedEx bubble padded envelope. It came all the way from the company's headquarters in Taiwan, but thanks to speedy modern logistics using the International Priority service, it traveled roughly ten thousand kilometers in just about a day. As always, the courier ensured everything arrived in excellent condition for our review. One thing to note: The Silicon Power Diamond D06 1TB is actually not available for sale here in North America, so I may be one of the few on this continent who own one of these drives. One could say it may be rarer than diamonds around here, haha.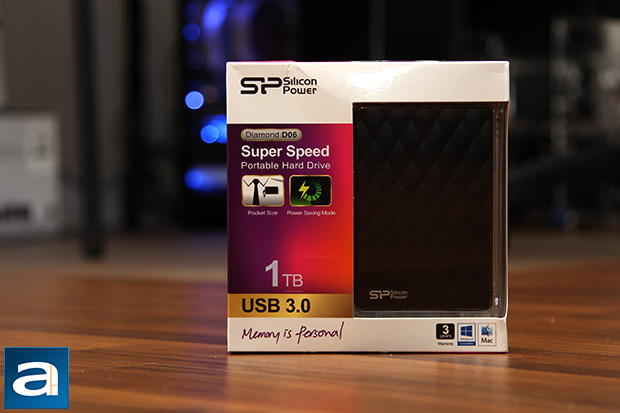 The Silicon Power Diamond D06 1TB's retail packaging demonstrates remarkable similarity to the Silicon Power Armor A30 1TB and ADATA DashDrive HV620 1TB; in fact, the format is practically identical. As you can see in our photo above, Silicon Power's logo is placed at the top left corner, with the product type, model name, capacity, and connection interface in varying font sizes are printed below it. A couple of icons slotted in between highlights its pocket size form factor and automatic power saving mode. To make the retail package's appearance a little more visually exciting, a color gradient band is present to spice things up. The external hard drive can be physically seen behind a plastic window on the right. Features and specifications are printed on the remaining sides of the box.
Before we move on, let us take a look at the features and specifications of the Silicon Power Diamond D06 1TB, as obtained from the manufacturer's website:
- Dimension:116 x 78 x 13mm
- Weight: 138g~174g (by capacity)
- Capacity: 500GB, 1TB, 2TB
- Material: Plastic
- Color: Black
- Interface: USB 3.0 / USB 2.0 compatible
- Data transfer rates: Max. 5 Gbps (USB 3.0 Mode)
- Power supply: DC5V (Power supplied through USB)
- Supported operating systems: Windows 8/7/Vista/XP, Linux 2.6.31 or later, Mac OS 10.5 or later
- Operating temperature: 5℃~ 55℃
- Storage temperature: -40℃~ 70℃
- Warranty: 3-year warranty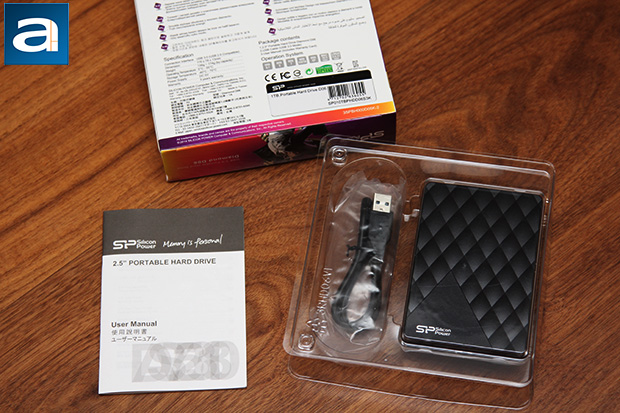 Out of the box, everything is neatly laid out, thanks to a clear plastic tray, and the fact there is not a whole lot of stuff to begin with. You will receive the Silicon Power Diamond D06 1TB itself, short USB 3.0 cable, and a user manual. Should 1TB not fit your needs, the Diamond D06 is also available in 500GB and 2TB capacity as well.
---
Page Index
1. Introduction, Packaging, Specifications
2.
A Closer Look, Test System
3.
Benchmark: AIDA64 Disk Benchmark
4.
Benchmark: ATTO Disk Benchmark
5.
Benchmark: Crystal Disk Mark 3.0
6.
Benchmark: HD Tach 3.0.1.0
7.
Benchmark: HD Tune Pro 4.60
8.
Conclusion