By: Jonathan Kwan
January 31, 2014
My Engineering Economics professor once said people are basically illogical when it comes to the value of money. For example, while most people will be willing to go half a mile to a nearby store to save $5 on a $10 box of chocolate, the same person will not bother heading next door to save $5 on a $2000 piece of furniture. Yes, the first scenario indicates a massive 50% variance, while the latter represents a miniscule 0.25% savings -- but what difference does it make, considering the fact you are saving $5 in both cases regardless? Five dollars is five dollars, no matter what it is relative to. In my opinion, this logical fallacy not only applies to money, but to many other things as well. Recently, I got down to 350GB of free space on my file server, and immediately began to panic. "I'm running out of space!", I thought to myself. But how about the time when my entire hard drive was only 320GB? As we become bigger and bigger consumers of digital storage, the significance of each gigabyte becomes smaller and smaller. Back in 2006, having a 5GB pocket USB hard drive was simply jaw dropping, and a 100GB 2.5" external HDD is something you can impress girls with... kind of. In today's world, with 64GB USB flash drives like the ADATA DashDrive Elite UE700 we have reviewed a few months ago hitting the mainstream, how does 2.5" USB 3.0 hard drives such as ADATA's DashDrive HV620 1TB stack up for people who want to strike a balance between portability and capacity? Count on us here at APH Networks to do the dirty work for you.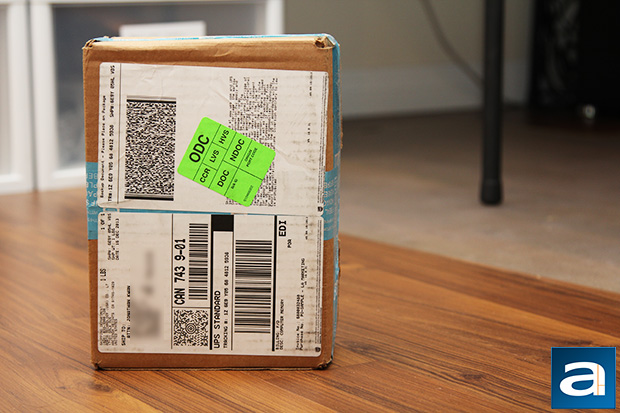 Our review unit of the ADATA DashDrive HV620 1TB came in a relative compact, brown corrugated cardboard box from the company's American offices in California, USA. Using UPS Standard, the external hard drive landed on our doorstep about a week after it left its origin. Inside the box, additional space was filled up with packing material to prevent its contents from moving around inside during transport. With everything handled well and packaged properly, nothing was damaged upon arrival. I cracked open the box, took out my camera, and got straight to work.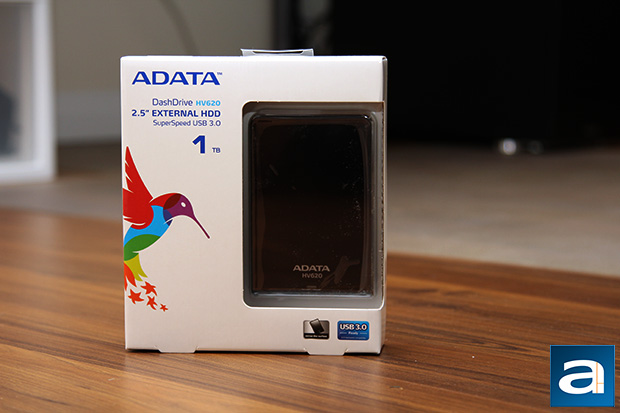 The DashDrive HV620 1TB's retail packaging is everything you can expect from an ADATA product. It carries the company's image through and through. So what makes ADATA's company image? For me, it has to be the clean white background, simple text, and of course, the bird in the background. On the other hand, unlike the DashDrive Elite UE700 I have reviewed a few months ago, the bird is now in color. As you can see in our photo above, the ADATA's logo is placed at the top left corner, with the drive model name and capacity in varying font sizes printed right below it. The external hard drive itself can be seen behind a plastic window. Meanwhile, stuff at the bottom is kept to a minimum; all you have is a USB 3.0 badge, and a logo that highlights its mirror finish. Is its mirror finishing such a big deal? Well, we will have to look at that on the next page.
Before we move on, let's take a look at the specifications of the ADATA DashDrive HV620 1TB, as obtained from the manufacturer's website:
Capacity: 500GB, 750GB / 1TB, 1.5TB, 2TB
Color: Black
Dimensions (L x W x H): 500GB - 1TB:115 x 78mm x 15mm ( 4.5 x 3.1 x 0.6 in ); 1.5TB - 2TB: 115 x 78mm x 21mm ( 4.5 x 3.1 x 0.8 in )
Weight: 165g (5.8oz)
Interface: USB 3.0
Warranty: 3 years
Operating Temperature: 5°C (41°F) to 50°C (121°F)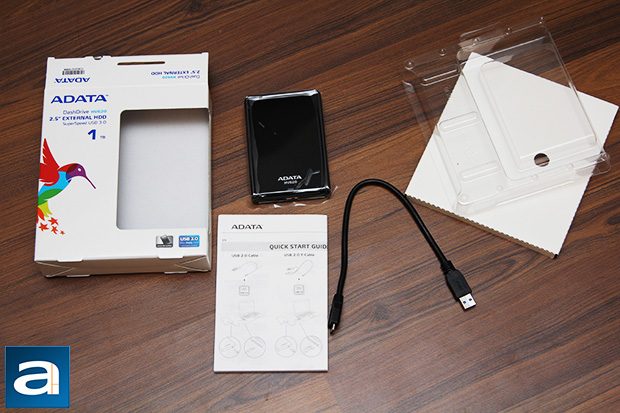 Out of the box, everything is neatly laid out, thanks to a clear plastic tray. You will receive the ADATA DashDrive HV620 1TB itself, a short USB 3.0 cable, and a quick start guide. Should 1TB not fit your needs, the HV620 is also available in 500GB, 750GB, 1.5TB, and 2TB capacity. If black enclosures are not your thing, you can buy one in white. Do keep in mind the 1.5TB and 2TB versions of this external hard drive is 6mm thicker than the one we are reviewing today.
---
Page Index
1. Introduction and Specifications
2.
A Closer Look, Test System
3.
Benchmark: AIDA64 Disk Benchmark
4.
Benchmark: ATTO Disk Benchmark
5.
Benchmark: Crystal Disk Mark 3.0
6.
Benchmark: HD Tach 3.0.1.0
7.
Benchmark: HD Tune Pro 4.60
8.
Conclusion