Page 2 - A Closer Look, Test System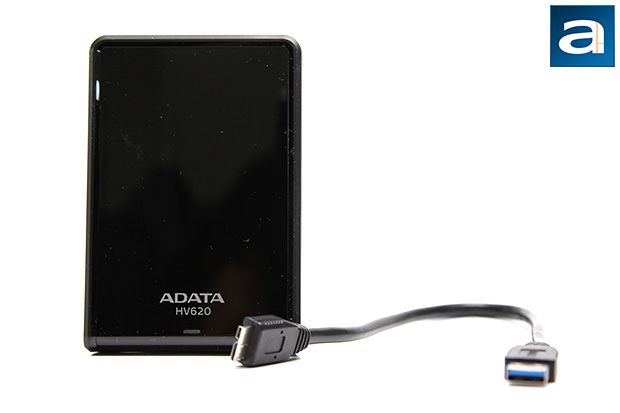 ADATA is a company that seems to always take pride in the design of their products, and never afraid of taking risks. While they do have their share of stuff that is way out there in my personal opinion, I have to say the DashDrive HV620 series is definitely one of the best looking external hard drives I have seen in a while. Our photo above shows the front face of its enclosure. With rounded corners and a modern, clean design, I found its sleek, glossy piano black finish to be particularly outstanding to behold. Of course, if you have ever owned a black car before, you will know while anything of this finish is a sophisticated and attractive to look at, this only happens when it is new and clean. The moment you put it to use, fingerprint marks, scratches, and dust will show up, and show up prominently. If you are paranoid about the appearance of your electronics, I highly recommend you to grab the white colored version instead.
With that in mind, ADATA has graciously implemented a raised edge lip to prevent the DashDrive HV620's front face from ever making contact with your desk, should you decide to buy the black colored one and put It on its resting surface upside down for some reason. Small bits of sand between your desk and a glossy finish do not bode well; at the end of the day, your desk will most likely turn out to be the winner, your precious electronics the loser, and you the sad person.
A blue activity LED resides between the ADATA branding and HV620 designator and the bottom edge of the drive. It stays lit when powered, and blinks when there is disk activity. Meanwhile, a short USB 3.0 cable is included. It connects to a port located at the bottom of the drive, which you can spot in the next photo.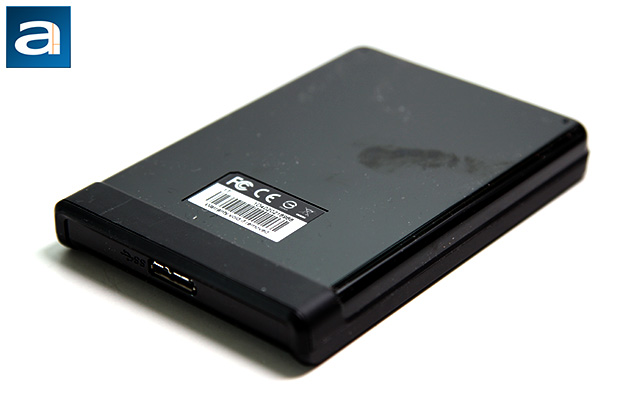 The raised edge lip is made out of flat black plastic, which extends to the back of the drive, as you can see in our photo above. If you are paying attention, you will notice the raised edge lip does not surround the perimeter of the back of the ADATA DashDrive HV620. This is slightly counter intuitive, because the back is composed of the same shiny piano black finish as the front of the HV620. Fortunately, not all is lost. The back is slightly raised by the same flat black plastic used for the front lip; two tiny nubs are placed on the opposite end to ensure the external hard drive's face does not make contact with a completely flat surface. Of course, the big asterisk here is a completely flat surface, because these components provide barely any additional clearance. In fact, after a day of using the DashDrive HV620, I have already found quite a number of tiny scratch marks on the back of the drive. As far as fingerprint marks are concerned, I took the photo above mere minutes I have taken it out of the package, which tells you something. This, my friend, is reality. I expect swirl marks to show up in no time.
At the bottom, you will find a USB 3.0 SuperSpeed connector. It is labeled by a "SS" designator next to a USB logo, just to make sure Hitler would not be confused if it was still 1939. Measuring in at 115mm deep, 78mm wide, and 15mm thick, the ADATA DashDrive HV620 1TB is pretty compact and slim. Its 165g weight specification is also very acceptable. As I have mentioned on the previous page, stepping up to the 1.5TB or 2TB version will increase its thickness 6mm to 21mm. Because the HV620 has a 2.5" hard drive inside, and uses the USB 3.0 interface, the port already provides all the power it needs; no external AC adapter is required.
The HV620's enclosure is held together in the center. I did not disassemble the drive to take a look at its internal components, but a quick check using AIDA64 Engineer reveals a Toshiba MQ01ABD100 residing beneath its shiny surface. The Toshiba MQ01ABD100 is a 1TB 5400RPM SATA 3.0Gb/s laptop hard drive with 8MB cache. With 500GB per platter, it is fairly high density, which should translate to pretty decent speed in the benchmarks -- which we will find out now.
Our test configuration as follows:
CPU: Intel Core i5-2500K @ 4.50GHz
CPU Cooling: Thermaltake WATER2.0 Pro (Noctua NF-F12)
Motherboard: ASUS P8P67 WS Revolution
RAM: G.Skill Ripjaws-X F3-14900CL9D-8GBXL 4x4GB
Graphics: Gigabyte Radeon HD 7870 2GB OC
Chassis: Lian Li PC-B12
Storage: OCZ Vertex 3 Max IOPS 240GB; Western Digital Caviar Blue AAKS 500GB
Power: PC Power & Cooling Silencer Mk III 1200W
Sound: Auzentech X-Fi Bravura
Operating System: Microsoft Windows 7 Professional x64 SP1
Compared Hardware:
- ADATA DashDrive HV620 1TB (USB 3.0)
- ADATA DashDrive Elite UE700 64GB (USB 3.0)
- Kingston DataTraveler Locker+ G2 32GB (USB 2.0)
- Kingston DataTraveler HyperX 3.0 64GB (USB 3.0)
- Kingston DataTraveler Ultimate 3.0 G2 32GB (USB 3.0)
- Kingston DataTraveler Ultimate 3.0 G3 32GB (USB 3.0)
- OCZ Rally2 Turbo 4GB (USB 2.0)
- OCZ Vertex 2 60GB 34nm (SATA 3Gb/s)
- Patriot Supersonic Magnum 64GB (USB 3.0)
- Patriot Supersonic Rage XT 32GB (USB 3.0)
---
Page Index
1.
Introduction and Specifications
2. A Closer Look, Test System
3.
Benchmark: AIDA64 Disk Benchmark
4.
Benchmark: ATTO Disk Benchmark
5.
Benchmark: Crystal Disk Mark 3.0
6.
Benchmark: HD Tach 3.0.1.0
7.
Benchmark: HD Tune Pro 4.60
8.
Conclusion