By: Aaron Lai
January 30, 2015
You probably have heard the saying "good things come in small packages" before. I have heard this a lot, as they generally say this to make shorter people feel better. However, I can say it can be very true. In the winter of 2010, I was going to have my wisdom teeth extracted. When my sister had nothing to do for the weeks following she lost her wisdom teeth, I realized I should find something to occupy my time with. Thus, I decided to learn an instrument. This was not the first instrument I had picked up, as I knew how to play the electric bass and the trombone already, but I was determined to expand my musical experience. I had tried guitar in the past, and to actually pick it up would be easy, considering I already had two lying around the house. However, with my smaller fingers, barring and playing chords like B or F is difficult, so I chose the ukulele. Even though there are still barred chords, the nylon strings are much easier on the fingers. The smaller number of strings also make it easy to pick up quickly. The day of the surgery, I was excited, but not for the tooth extraction, but rather for the instrument to come afterwards. Looking back on the time, I am more than glad I chose the ukulele. The instrument, like many things, has its positives and negatives. For one, it is much more travel-friendly, especially with its smaller size in comparison to the guitar. The ukulele may not get as loud, or sound as full or rich as an acoustic guitar due to its smaller size, but it definitely works well for playing on your own. As for an overall package, it still delivers on the enjoyment level, despite its relatively tiny figure. If we look at today's Noctua NH-U9S, you can wonder if it too can deliver on the performance, while remaining small. There are larger and better options for CPU cooling, especially if you have the space. But with size being a limitation in smaller builds, users are pushed towards these options. So can it perform, and how does it compete with last week's cute cooler of the Noctua NH-D9L? Hopefully all of these questions will be answered in the review!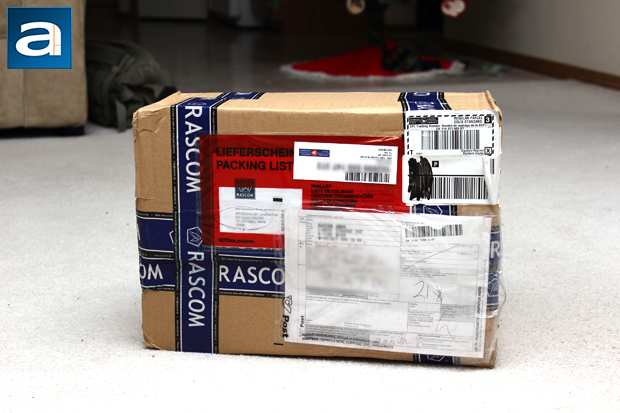 Today's unit of the Noctua NH-U9S arrived directly from the manufacturer's headquarters in Austria. Once it hit Canadian soil, Canada Post was responsible for bringing us the package to the APH Networks Calgary location. There were a few dents and scratches in the box, but considering how far it has traveled, this is not too surprising. Luckily, all of the damage seen is cosmetic, and there is nothing to stir fear into our minds. The blue "RASCOM" packing tape is also found wrapped multiple times around the box, as we have seen so from past Noctua shipments. Otherwise, nothing is out of the ordinary, so I continued to open the box.
If you are thinking, "Hey I think I have seen these photos before", you would be correct. Last week's review of the Noctua NH-D9L arrived with today's unit of the Noctua NH-U9S. They look quite similar when comparing the retail packaging, with a burgundy and white coloring scheme, and specifications listed around the box. The only differentiation between the two are the model numbers, for obvious reasons, as well as a box size difference. Both of the coolers use the NF-A9 fan, which Noctua has provided to us for our testing, as you will see soon enough. If you are interested in the specifications itself, we have provided the details below, as obtained from the manufacturer's website:
Heatsink Specifications
Socket compatibility: Intel LGA2011-0 & LGA2011-3(Square ILM), LGA1156, LGA1155, LGA1150 & AMD AM2, AM2+, AM3, AM3+, FM1, FM2, FM2+ (backplate required)
Height (without fan): 125 mm
Width (without fan): 95 mm
Depth (without fan): 68 mm
Height (with fan): 125 mm
Width (with fan): 95 mm
Depth (with fan): 95 mm
Weight (without fan): 524g
Weight (with fan): 618g
Material: Copper (base and heat-pipes), aluminium (cooling fins), soldered joints & nickel plating
Fan compatibility: 92x92x25
Scope of Delivery:
NF-A9 PWM premium fan
Low-Noise Adaptor (L.N.A.)
NT-H1 high-grade thermal compound
SecuFirm2™ Mounting Kit
Fan-clips for second NF-A9
Noctua Metal Case-Badge
Warranty: 6 Years
Fan Specifications
Model: Noctua NF-A9 PWM
Bearing: SSO2
Max. Rotational Speed (+/- 10%): 2000 RPM
Max. Rotational Speed with L.N.A. (+/- 10%): 1550 RPM
Min. Rotational Speed (PWM, +/-20%): 400 RPM
Max. Airflow: 78,9 m³/h
Max. Airflow with L.N.A.: 62,6 m³/h
Max. Acoustical Noise: 22,8 dB(A)
Max. Acoustical Noise with L.N.A.: 16,3 dB(A)
Input Power: 1,2 W
Voltage Range: 12 V
MTBF: > 150.000 h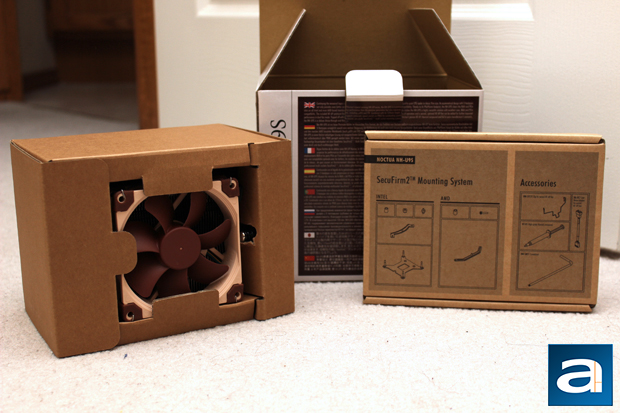 It would have been funny to put the same picture of the NH-D9L unpacking above to see who would actually notice, but thankfully I have not. Out of the box are two more cardboard boxes. One of them contains the accessories, which include the SecuFirm2 mounting kits. This kit compatible with Intel's LGA2011 and LGA 115x, as well as AMD's AM2+, AM3, AM3+, FM1, FM2, and FM2+ sockets. Other accessories like a low noise adapter, screwdriver, second set of fan clips, fan corner rubber dampeners, case fan screws, and a case badge can also be found inside this box. The NH-U9S also ships with a full sized tube of Noctua's excellent NT-H1 thermal compound, which we have reviewed back in our August 2008 shootout. The NH-U9S heatsink and pre-attached NF-A9 fan are stored in the other cardboard container, as you can see by the exposed fan. While the NH-D9L was surrounded by cardboard on all sides, the NH-U9S is exposed at one side, but it is nothing to be concerned about. Noctua has done a superb job at keeping the packaging tidy, organized, and protective for the contents inside. Speaking of which, let us remove all the cardboard and get down to the actual cooler itself.
---
Page Index
1. Introduction, Packaging, Specifications
2.
Physical Look - Hardware; Installation
3.
Test Results
4.
Conclusion