By: Aaron Lai
January 23, 2015
It is amazing how quickly people seem to be discontent with the sizes of technology products. For one, smartphones are getting larger and larger, as more people are buying into the phablet motion. In fact, three years ago, standard flagship phones like the LG Nexus 4, Samsung Galaxy S III, and HTC One X were all around 4.7". In comparison, the iPhone 5 launched in 2012 had only a 4" screen, up from the previous generation of 3.5". Nowadays, flagship phones are at least five inches, if not larger. Obviously, one of the reasons behind this is the fact there is demand for larger phones. As such, it seems the Sony are one of the few companies still putting high end specs in small phones like the Xperia Z3 Compact, which features a "tiny" 4.6" screen (Heck, even the regular iPhone 6 is bigger). On the flip side, things like custom computers seem to be slimming down. The ATX motherboard has been the de facto for most custom computer owners, with mATX found in pre-built desktops. However, people are now pushing for ITX-sized builds and HTPCs, where building their computers with the smallest physical footprint possible is important. This is also apparent in OEM desktops, with computers like the HP Stream and Pavilion Mini. While these can be expected to perform relatively similarly to the nettops from back in 2008, it is still amazing how tiny these computers have shrunken to. With sizes changing back and forth, electronic and component manufacturers have to find ways to adapt their current products to these constraints. Today's review of the Noctua NH-D9L is one prime example. This 95mm cooler is intended for media PCs, and can fit in HTPC builds quite nicely. We have seen Noctua CPU coolers before, as they have always been great with their quality and performance, so how will the NH-D9L fit in? Will it be the Xperia Z3 Compact of fans, with performance at a small size? Let us read on to find out!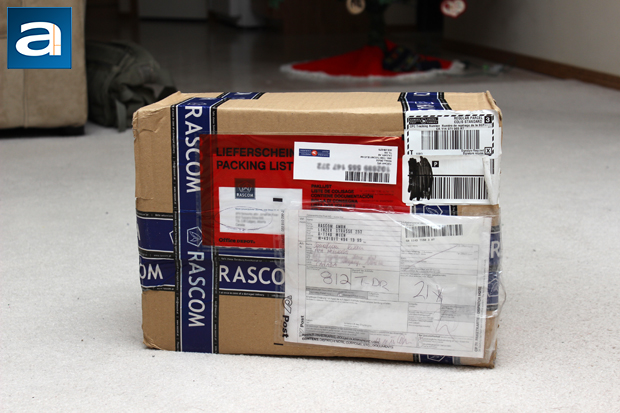 Today's unit of the Noctua NH-D9L arrived directly from the manufacturer's headquarters in Austria. Much like past Noctua products we have received, this arrived to Canada's doorstep, and then was transferred to our APH Networks Calgary location via Canada Post. As you can see in the picture above, there are a few dents and scratches in the box, but nothing too serious. The blue "RASCOM" packing tape is also found wrapped multiple times around the box, as we have seen so from past Noctua shipments. Otherwise, this is everything as I expect, so I continued in my quest to open the box.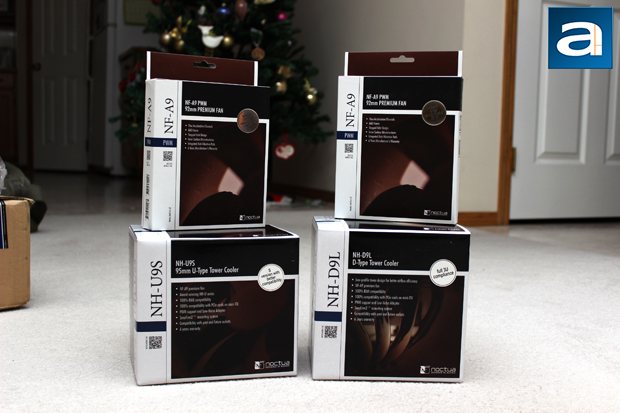 Wedged and fitted into the shipping box, I was able to find the products in question between some brown packing paper. In addition to the NH-D9L, Noctua also sent us the Noctua NH-U9S, another CPU cooler I will be reviewing in the coming week. They have also included two Noctua NF-A9 fans for testing purposes. As you can see, Noctua has generally maintained a similar styling when it comes to the retail box. The brown and burgundy color scheme is as you have seen from more recent Noctua coolers, like the Noctua NH-D15. The only difference besides the product name is primarily the size of the box, but of course we will get into this more later. Otherwise we have some features written on the front panel of the box, with a QR code on the left side. More features and specifications can be found regarding the heatsink and the fans, but majority of it is English. To save you the hassle, we have posted these specifications below, as obtained from the manufacturer's website.
Heatsink Specifications
Socket compatibility: Intel LGA2011-0 & LGA2011-3(Square ILM), LGA1156, LGA1155, LGA1150 & AMD AM2, AM2+, AM3, AM3+, FM1, FM2, FM2+ (backplate required)
Height (without fan): 110 mm
Width (without fan): 95 mm
Depth (without fan): 95 mm
Height (with fan): 110 mm
Width (with fan): 95 mm
Depth (with fan): 95 mm
Weight (without fan): 428 g
Weight (with fan): 531 g
Material: Copper (base and heat-pipes), aluminium (cooling fins), soldered joints & nickel plating
Fan compatibility: 92x92x25
Scope of Delivery:
NF-A9 PWM premium fan
Low-Noise Adaptor (L.N.A.)
NT-H1 high-grade thermal compound
SecuFirm2™ Mounting Kit
Fan-clips for second NF-A9
Noctua Metal Case-Badge
Warranty: 6 Years
Fan Specifications
Model: Noctua NF-A9 PWM
Bearing: SSO2
Max. Rotational Speed (+/- 10%): 2000 RPM
Max. Rotational Speed with L.N.A. (+/- 10%): 1550 RPM
Min. Rotational Speed (PWM, +/-20%): 400 RPM
Max. Airflow: 78,9 m³/h
Max. Airflow with L.N.A.: 62,6 m³/h
Max. Acoustical Noise: 22,8 dB(A)
Max. Acoustical Noise with L.N.A.: 16,3 dB(A)
Input Power: 1,2 W
Voltage Range: 12 V
MTBF: > 150.000 h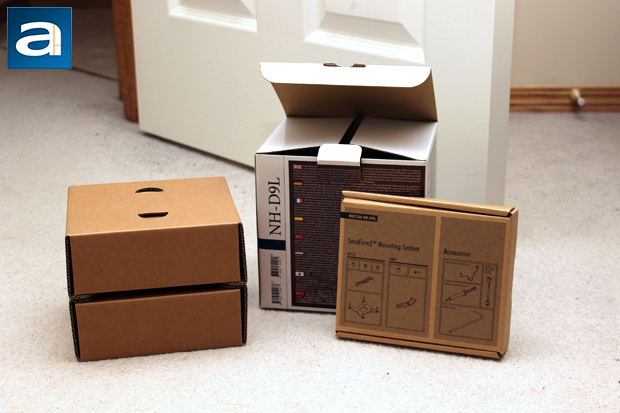 Out of the box, you will find two more boxes, which is a convention Noctua seems to love. If I have ranted enough in my past reviews about amazing packaging, I have to say Noctua takes top marks, but for an entirely different reason. Noctua's approach to packaging is exceptional for being functional. All of the accessories and parts included are in separate boxes and sealed bags, so users know exactly where to find the part they are looking for. Intel parts are kept away from AMD parts with separate labeled bags, and even inside the cardboard container they are split off. Even more so, the accessories box is labeled with everything you will find inside, so users know exactly what they have from the get-go. Whether it is a Noctua philosophy, or an Austrian ideal to be neat and tidy, this is just excellent. Included in the accessories box are the SecuFirm2 mounting kits, which are compatible with Intel's LGA2011 and LGA 115x sockets, as well as AMD's AM2+, AM3, AM3+, FM1, FM2, and FM2+ sockets. Other accessories include a low noise adapter, screwdriver, second set of fan clips, fan corner rubber dampeners, case fan screws, and a case badge. The NH-D9L also ships with a full sized tube of Noctua's excellent NT-H1 thermal compound, which we had reviewed back in our August 2008 shootout. The NH-D9L heatsink and pre-attached NF-A9 fan are stored in the other cardboard container as you can see. But enough with this packaging, let us take a dive into the cooler itself.
---
Page Index
1. Introduction, Packaging, Specifications
2.
Physical Look - Hardware; Installation
3.
Test Results
4.
Conclusion