Page 4 - Conclusion
When we look at the broad picture, Noctua seems to know CPU cooling well, both big and small. The Noctua NH-U9S is again a similar story, demonstrating excellent build quality and aesthetics. All of the design choices were optimized for a low noise and high performance balance, and it shows in our tests. As for performance, much like the ukulele, the NH-U9S is very capable when considering its size, and performs on par with what we expect. We never expected it to perform close to its larger sized heatsinks, but these numbers from our performance tests are still quite good. It is also more capable than the Intel stock cooler, and keeps your processor cool where it otherwise would be fried. The NF-A9 fans fitted to the NH-U9S are also superb, and provide cooling without sacrificing the quietness. Under load, you will hear the whirring a bit more, but during everyday use, the NF-A9 spins quietly in the background. Installation is again very easy and this is, without a doubt, one of the best mounting system implementations out on the market at this time. All of these positives make the NH-U9S again excellent for HTPCs and other compact systems, which are limited in their height space. In fact, the Noctua NH-U9S on its own has nothing really to complain about at all. The only "problem" is if you have more space in your computer. As I said in the NH-D9L review, there are better offerings which provide more capable cooling if your computer is not too cozy. But for those that are in a bit more of a space constraint, the Noctua NH-U9S is more than able to meet and exceed your needs. At review time, this CPU cooler is listed for around $60 USD, around the same price as the NH-D9L. Performance does come at a price, but those eyeing a new CPU cooler for their small PC should definitely keep the NH-U9S on their list, which offers a great solution without making a ruckus.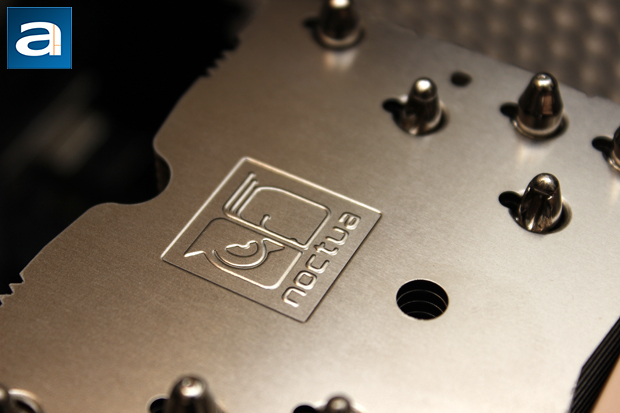 Noctua provided this product to APH Networks for the purpose of evaluation.
APH Review Focus Summary:
8/10 means Definitely a very good product with drawbacks that aren't likely going to matter to the end user.
7/10 means Great product with many advantages and certain insignificant drawbacks; but should be considered before purchasing.
-- Final APH Numeric Rating is 7.7/10
Please note that the APH Numeric Rating system is based off our proprietary guidelines in the Review Focus, and should not be compared to other sites.
When it comes to computer cooling, good things come in Noctua packaging, and the NH-U9S is no different.
Do you have any comments or questions about the Noctua NH-U9S? Drop by our Forums. Registration is free, and it only takes a minute!
---
Page Index
1.
Introduction, Packaging, Specifications
2.
Physical Look - Hardware; Installation
3.
Test Results
4. Conclusion