By: Jonathan Kwan
June 10, 2014
"When it comes to buying cars," I explained to my friend, "it is actually quite similar to relationship choices we make. For example, I love BMWs. I rave about their attractive looks, desirable specifications, charming personality, and outstanding performance, but I would never buy one. It is like the girl you would not mind dating, but when it comes to marriage, it is wise to look elsewhere." Why is that? Well, for me, it will have to be the long term implications. Three or four years down the road, all the emotional factors I first had will soon be overshadowed by many practical considerations, like reliability and maintenance costs. Therefore, despite my frequent public profession of my admiration for BMWs, I always end up buying a Honda. Sure, emotional appeal is important. My Honda's looks, features, personality, and performance may not win over the BMW every time, but its well rounded package, in conjunction with affordability, low maintenance costs, great fuel economy, and top notch reliability will almost guarantee an excellent relationship for years to come. It is simply a choice that makes sense. As I have said in my SilverStone Strider Essential Gold 700W report last month, sometimes, practical considerations win over pure emotional desirability. In the storage world, it is no different. Obviously, you can slap several SSDs in RAID in your NAS with a 10GbE card and rip 500MB/s over your network, but how practical is that? If I am building a file server, what I want is a balance of speed, capacity, reliability, and affordability. When it comes to reliability, there is one brand that always pops up in the dictionary: Western Digital. And when it comes to speed, capacity, and affordability, the name for reliability has a color for you: Red. Designed specifically for network attached storage systems, the Western Digital Red WD40EFRX 4TB drives promises to excel in all four factors. Will it live up to all these promises? To find out, we took in not one, but four, to see how they perform in our synthetic and real life tests today. Read on to find out what we have found!
Our review units -- yes, that is a plural -- of the Western Digital Red WD40EFRX 4TB drives came in a medium sized, brown corrugated cardboard box from the company's American headquarters in California, USA. Using neither UPS, FedEx, DHL, nor Canada Post via USPS transfer, how the heck did these drives arrive at our door? If you are out of ideas right now, I am rather not surprised. Actually, it came shipped using CEVA Logistics via Air Canada Cargo. A big truck showed up at our door one day, and dropped the package off to us here in Calgary, Alberta, Canada. In this day and age, I actually had to sign off some papers to get it delivered. Well, with four ballin' hard drives in our hands, it is now time to get started.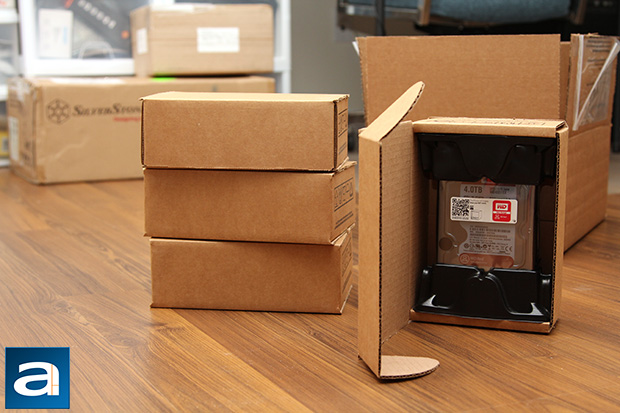 Inside the medium sized, brown corrugated cardboard box are four smaller boxes inside. If you have ever sent Western Digital products back for warranty return, then these packages should be quite familiar to you. These flap top boxes open via two tabs on the side, and the meat of it is clipped between two black plastic shells to ensure they travel safely and securely inside. Each Western Digital Red WD40EFRX 4TB units are placed inside a sealed anti-static bag for additional protection. To be honest, I have never purchased a hard drive that is not in OEM packaging in the past, so this should be nothing new to most people.
Before we move on, let us take a look at the features and specifications of the Western Digital Red WD40EFRX 4TB, as obtained from the manufacturer's website:
Product Specifications
Interface - SATA 6 Gb/s
Performance Specifications
Rotational Speed - IntelliPower *
Buffer Size - 64 MB
Transfer Rates
Buffer To Host (Serial ATA) - 6 Gb/s (Max)
Physical Specifications
Formatted Capacity - 4,000,787 MB
Capacity - 4 TB
Form Factor - 3.5 Inch
User Sectors Per Drive - 7,814,037,168
Performance Specifications
Target Performance
MTBF - 1,000,000 hours
Physical Dimensions
English
Height - 1.028 Inches
Depth - 5.787 Inches
Width - 4.00 Inches
Weight - 1.50 Pounds
Metric
Height - 26.1 mm
Depth - 147 mm
Width - 101.6 mm
Weight - 0.68 kg
Environmental Specifications
Shock
Operating Shock (Read) - 65G, 2 ms
Non-operating Shock - 250G, 2 ms
Acoustics
Idle Mode - 25 dBA (average)
Seek Mode 0 - 28 dBA (average)
Temperature (English)
Operating - 32° F to 158° F
Non-operating - -40° F to 158° F
Temperature (Metric)
Operating - -0° C to 70° C
Non-operating - -40° C to 70° C
Humidity
Operating - 5-95% RH non-condensing
Vibration
Operating - 0.004 g²/Hz (10 to 300 Hz)
Non-operating - 0.05 g²/Hz (10 to 300 Hz)
Operating
Linear - 20-300 Hz, 0.75G (0 to peak)
Electrical Specifications
Current Requirements
12 VDC
Read/Write - 250 mA
Idle - 230 mA
Standby - 7 mA
Sleep - 7 mA
5 VDC
Read/Write - 280 mA
Idle - 260 mA
Standby - 105 mA
Sleep - 105 mA
Power Dissipation
Read/Write - 4.50 Watts
Idle - 3.30 Watts
Standby - 0.40 Watts
Sleep - 0.40 Watts
Compatibility
Operating System
Compatibility - Windows/Mac/Linux
---
Page Index
1. Introduction and Specifications
2.
A Closer Look, Installation, Test System
3.
Benchmark: AIDA64 Disk Benchmark
4.
Benchmark: ATTO Disk Benchmark
5.
Benchmark: Crystal Disk Mark 3.0
6.
Benchmark: HD Tach 3.0.1.0
7.
Benchmark: HD Tune Pro 4.60
8.
Benchmark: PassMark PerformanceTest 8.0
9.
Benchmark: PCMark 7
10.
NAS Performance, Power Consumption
11.
Conclusion