By: Jonathan Kwan
July 5, 2013
Unless you have been living under a rock lately, you probably have heard of the massive flood in here southern Alberta a couple of weeks ago. With most of the staff here at APH Networks located in the beautiful city of Calgary, we have been asked this question several times an hour when the rain was still pouring towards the end of June, "Are you still alive?" Thankfully, we are fortunate enough not to be affected by the flood, so yes, we are still alive! Actually, even though parts of the city were hit hard, and our hearts go out to those who were affected, the fact is, quite literally 90% of the population in Calgary is unaffected. But from what I have seen on the news, one international station said the flood was so bad, Calgary is now a "ghost town". Wait... what? Yes, the flood is serious, and there is extensive damage to parts of the city. However, I promise Calgary is far from being a ghost town. Yet another case of something blew up by the media. A couple of years ago, we have reviewed the Fractal Design Define XL. Not going to lie; this full tower chassis is really a big deal. It is well designed. It screams quality at every corner. It is supremely quiet. It is inexpensive. Now, the second iteration is out. Is it still a big deal like its predecessor? Or is it just another big deal blown by the media, like calling the entire city of Calgary a ghost town? We will compare the differences in today's review. Read on to find out more!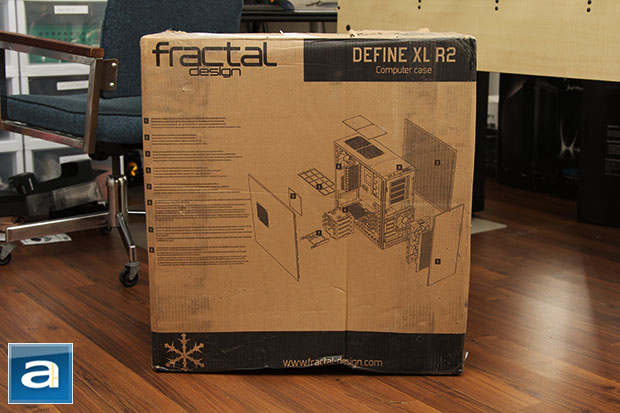 Our review unit of the Fractal Design Define XL R2 came in its retail box from the company's American offices in Texas, USA. Using FedEx International Economy, I think they shot the box a few times before it left the Lone Star State. Okay, maybe not exactly, but the package did not come in perfect shape. With a few rips along the way, it was quite a relief to see everything inside is still in perfect shape. As you can see in our photo above, Fractal Design took a completely different approach in designing their Define XL R2's retail packaging, as compared to the Define XL we have reviewed in 2011. The latest iteration features an environmentally friendly (Or economically friendly) -- depending on your perspective -- brown corrugated cardboard box with classic black ink, as we have first seen in the Define R4. It is certainly not as pretty as what we have seen in the past, but no one spends that much time looking at the surface anyway. After all, it is what inside that counts, right?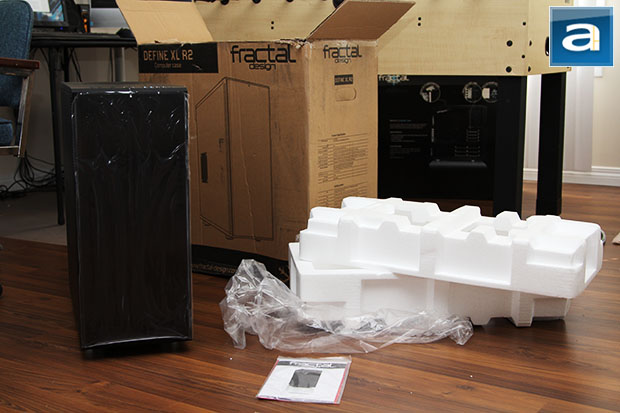 Nope, no bullet holes. Cracking open the box reveals the Fractal Design Define XL R2 full tower computer chassis sandwiched between two large Styrofoam brackets. I think Styrofoam brackets are better for absorbing shocks compared to the more eco-friendly cardboard wrapped Styrofoam brackets, as we have experienced from a year and a half ago. We specifically wanted our Define XL R2 in Black Pearl, but Fractal Design also sells the case in Titanium Grey. Like its predecessors, my first impression of this case is that it looks like a mini refrigerator -- if we backtrack a bit, I probably won't be surprised to see similar packaging for a regular fridge at Home Depot, haha. We will discuss its external design on its subsequent page. My second impression of this case is... isn't this the exact same thing as the Define XL? More on this later. Meanwhile, we can see the entire chassis is wrapped in a large plastic bag to protect its panels during transit. For those surfaces that may be more prone to being scratched, additional layers of protective plastic tape is present for the end user to peel off. It is clear to us Fractal Design has taken great care in ensuring their product arrives to the hands of the end user in pristine condition.
Before we move on, let's take a look at the specifications of the Fractal Design Define XL R2, as obtained from the manufacturer's website:
Specifications
- ATX, Micro ATX, mini-ITX, E-ATX and XL-ATX motherboard compatibility
- 4 - 5.25" bays
- 8 - 3.5" HDD trays - all compatible with SSDs
- A total of 9 expansion slots
- 3 - ModuVent™ plates – two in the top and one in the side
- 7 - Fan positions (3 fans included)
- Filtered fan slots in front and bottom
- CPU coolers up to 170 mm tall (when no fan is installed in the side panel)
- PSU compatibility: ATX PSUs up to 190 mm deep when using the bottom fan location; when not using this fan location longer PSUs (up to 345 mm deep) can be used
- Graphics card compatibility: Graphics cards up to 330mm in length with the top HDD cage installed - With the top cage removed, graphics cards up to 480mm in length may be installed
- 26 mm of space for cable routing behind the motherboard plate
- Thick rubber grommets on all holes on the motherboard plate
- Colors available: Black Pearl, Titanium Grey
- Case dimensions (WxHxD): 232 x 559 x 560mm
- Net weight: 16.4kg
- Package dimensions (WxHxD): 322 x 637 x 655mm
- Package weight: 19kg
Cooling system
- Front: 1 - hydraulic bearing 140mm Silent Series R2 fan, 1000 RPM speed (included); 1 - 120/140mm fan (not included)
- Rear: 1 - hydraulic bearing 140mm Silent Series R2 fan, 1000 RPM speed (included)
- Top: 2 - 120/140mm fans (not included) – positions also support 240/280mm slim radiators
- Bottom: 1 - hydraulic bearing 140mm Silent Series R2 fan, 1000 RPM speed (included)
- Side: 1 - 140mm fan (not included)
- Fan controller: 1 - integrated fan controller for up to 3 fans (included)
- Water cooling compatibility:
- - Front – 240mm radiator when HDD cages are removed or repositioned
- - Top – 240 and 280mm when using slim radiators
- - Bottom – 120mm radiators
- - Rear – 120 and 140mm radiators
Front Interface
- 2 - USB 3.0, 2 - USB 2.0
- Audio in/out
- Power button with LED (blue)
- Reset button
- Fan controller (behind door)
---
Page Index
1. Introduction, Packaging, Specifications
2.
Physical Look - Outside
3.
Physical Look - Inside
4.
Installation and Conclusion