By: Jonathan Kwan
April 1, 2016
Before we begin, let me just make it clear there are no April Fools jokes in this article. Now that we have all that cleared up, let me ask you a quick question: How much does presentation affect the perception of quality? In 2007, a man spent a cold January morning playing six classical pieces for 45 minutes at the entrance to a subway station in Washington DC. During this time, thousands of people went through the station. Among all the people who passed by, only seven people stopped by to listen, and just one person recognized the man playing was none other than renowned musician Joshua Bell, using his handcrafted 1713 Stradivarius violin reportedly worth $3.5 million dollars. Ironically, three days earlier, Joshua Bell played to a full house at Boston's Symphony Hall, with preferred seating tickets running as high as $100 each. How could there be such a big contrast? At its core, it is still the same person with the same music. The difference, of course, came down to presentation. At the concert hall, people knew who Joshua Bell was, and they were in the right setting to be ready to listen. However, at the subway station, no one knew who he was, and nobody was expecting his performance, nor were they ready to appreciate the music. Clearly, presentation has a huge effect on the perception of quality. Even if you were a world class violinist, if not marketed accordingly, will not give you the attention you deserve. Earlier on this year, I reviewed the Patriot Viper 4 PC4-22400 2x8GB, a great performing memory kit with good looks to boot. Today, we will take a look at a model from Patriot's new Viper Elite lineup. One could say, at its core, the Viper Elite series is the same as the Viper 4 series with a different heatspreader. If you look at the specifications for DDR4-3000 kits in both lineups, you will notice they even operate at the same latencies and voltage. What kind of change will a heatspreader bring? Read on to find out!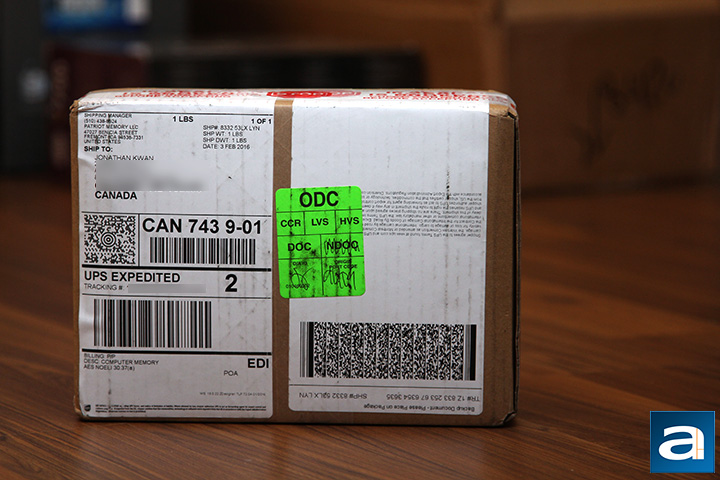 Our review unit of the Patriot Viper Elite PC4-24000 2x8GB came in a small, brown corrugated cardboard box from the company's American headquarters in Fremont, California, USA, just like it has been for the last few times. UPS was the carrier, and it only took a day to get to us here in Calgary, Alberta, Canada via their Expedited service. This packaging is quite familiar to us here at APH Networks; the last time I have seen this was when the Patriot Viper 4 PC4-22400 2x8GB landed on our doorstep in October of last year. I was waiting for another kit to arrive, and since I only have one system to test DDR4 memory on, I did have it on hand for quite a while before firing it up for testing.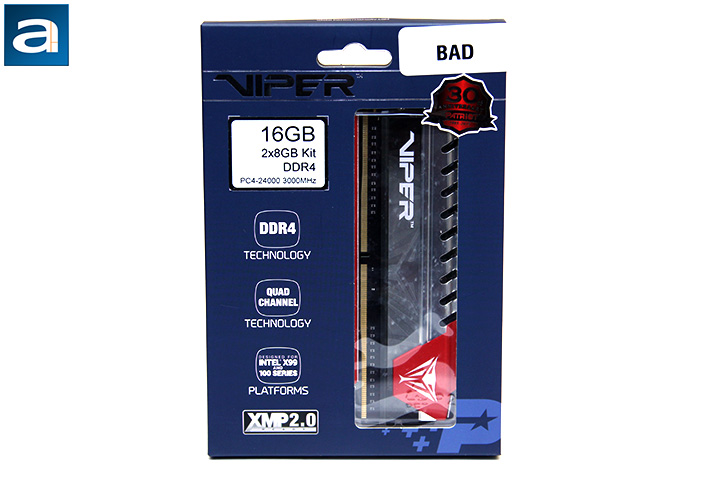 The first thing that caught my eye was the "BAD" label at the top right corner of the box. Exactly why it is "bad", I am not too sure about; our kit turns on and benchmarks with no issues, haha. That aside, I found Patriot's retail memory packaging to be classy, and the latest Viper Elite is no exception. As you can see in our photo above, the Patriot Viper Elite's retail box design is identical in nature to the Patriot Viper 4 PC4-22400 2x8GB I reviewed in October last year. I am a big fan of products that come in an actual retail box, and not a blister pack. The navy blue background is certainly very appealing to my tastes; a vertical window on the right side shows off the memory module itself with aluminum heatspreaders in red. The company's logo is located at the upper right hand corner with a 30th anniversary badge underneath it. Meanwhile, on the left half portion of the box, you will find a label indicating its speed, configuration, and capacity, followed by three feature highlight icons below. I am not sure why they advertise quad channel technology, since there are only two modules inside. Inside the box is a clear plastic clamshell package to hold the memory in place.
Before we move on, let us take a look at the features and specifications of the Patriot Viper Elite PC4-24000 2x8GB, as obtained from the manufacturer's website:
Dimensions: 1.37 x 12.24 x 17.78 cm
Capacity: 16GB
Memory Speed: 3000MHz
DRAM Memory Technology: DDR4
DRAM Memory Timings: 16-16-16-36
Color: Black/Red
Memory Type: Non-ECC Unbuffered
Voltage: 1.35V
Memory Configuration: Dual Channel Kit
Warranty: Limited Lifetime
Certifications: RoHS
Country of Origin: Taiwan
Unit Dimension Width: 13.3 cm
Unit Dimension Height: 4.3 cm
Unit Dimension Length: 0.68 cm
Unit Weight: 63 gm
UPC: 0814914020944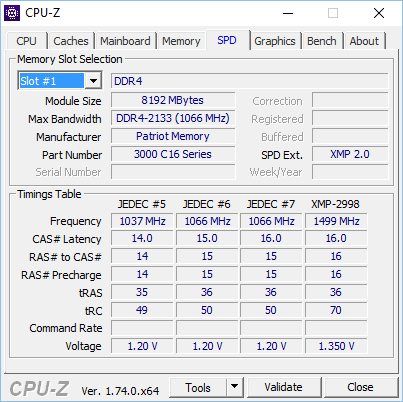 A screenshot of the memory tab in CPU-Z with Patriot's Viper Elite PC4-24000 2x8GB installed. The SPD timings table in CPU-Z reads standard JEDEC specifications programmed into the memory, as well as Intel XMP data for running the memory at various speeds. Using the latest BIOS revision, our Gigabyte GA-Z170X-UD5 motherboard used for testing had no issues detecting and working with the Patriot RAM right out of the box. The Patriot Viper Elite PC4-24000 2x8GB retails for approximately $100 at press time.
---
Page Index
1. Introduction, Packaging, Specifications
2.
A Closer Look, Test System
3.
Benchmark: AIDA64 CPU
4.
Benchmark: AIDA64 FPU
5.
Benchmark: AIDA64 Memory
6.
Benchmark: PCMark 8
7.
Benchmark: 3DMark
8.
Benchmark: PassMark PerformanceTest 8.0
9.
Benchmark: SuperPI 1M, Cinebench R15
10.
Overclocking and Conclusion