By: Jonathan Kwan
January 2, 2015
Happy New Year! When it comes to being a position of great importance, it is easy to think being the first in command is the most desirable job. However, I would like to propose today that, while being at the top does have its perks and benefits, being second-to-one may actually be better than being second-to-none in many ways. For example, in US politics, it seems to me that no matter who the President is, or what he does, at least half the country will disagree with him; and in this endless cycle of vote-and-regret, the President gets blamed for pretty much everything that goes wrong. Recession? Blame Obama. ISIS? Blame Obama. Ebola? Blame Obama. Hurricanes? Blame Obama. The list goes on. While I am not here to debate the merits of President Obama, or are even remotely interested in debating US politics (I am not even American), the point I am trying to get across today is, the President gets blamed for everything, whether it is within his control or not, while nobody really cares about the Vice President. As such, I personally think it is much better to be the Vice President than the President. You still get more power than you would ever need, important enough to make a difference, yet you can slip under the blame-radar of most people if anything goes wrong. Simply put, the price for being the President of the United States is exponentially higher than being the Vice President. Similarly, the price you pay to buy the fastest video card in the market is usually quite high. But if you are willing to sacrifice 10-15% of the performance and go for the second best, how much money can you save? For about 40% less cash than the GTX 980, the Gigabyte G1 Gaming GeForce GTX 970 4GB promises to deliver near-flagship performance at a fraction of the cost. Combined with Gigabyte's factory overclock, WindForce 3X cooler, and Ultra Durable components, have we found a good Vice President of video cards today? We have one in for nomination here at APH Networks.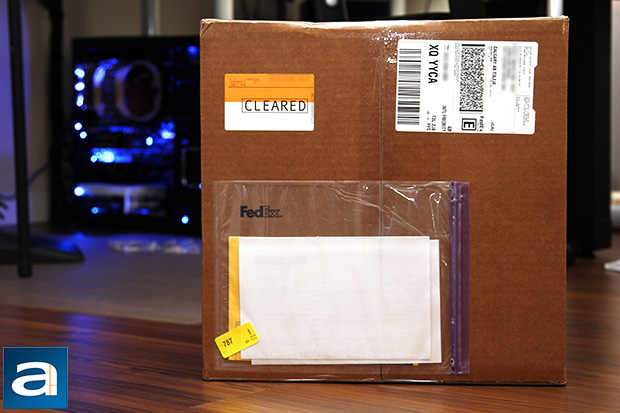 Our review unit of Gigabyte's G1 Gaming GeForce GTX 970 4GB came in a medium-sized, brown corrugated cardboard box from the company's American headquarters at California, USA. Using FedEx International Priority, it arrived safely to us here in Calgary, Alberta, Canada in almost no time. I was particular excited about getting my hands on this graphics card. Since it arrived just before Christmas, I actually had quite a bit more time on my hands to actually open and test the product right away. Inside the same box was the Gigabyte Force M63 gaming mouse as well, in which my colleague Aaron Lai covered here at APH Networks.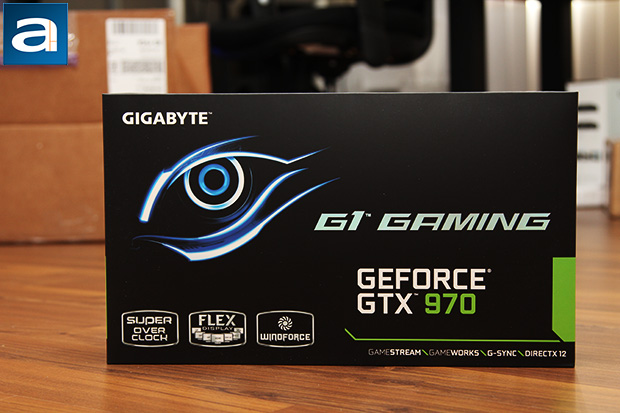 Gigabyte's G1 Gaming series is an evolution of the Super Overclock series, which we have covered some models in the past, such as the Gigabyte GeForce GTX 570 1280MB SOC and Gigabyte Radeon HD 6870 1GB SOC back in 2011. What you will get are stuff like the WindForce 3X cooler, GPU Gauntlet, and high factory overclocks; all of which video cards from the G1 Gaming series offer. The Gigabyte G1 Gaming GeForce GTX 970 4GB we are reviewing today is no different. As you can see in our photo above, the retail box of Gigabyte's G1 Gaming GeForce GTX 970 4GB comes in a pretty clean design. It was created by a fusion of Gigabyte-ness, and an essence of NVIDIA green. Gigabyte's logo can be found at the top left corner, while a stylized eye is printed right below it on a completely black background. Adjacent to it is the text "G1 GAMING" proclaimed proudly in front, while the model name is found just below. Feature highlights are displayed all along the bottom by an array of icons; including Super Overclock, Flex Display, and WindForce. At the back, a lot of fancy pictures and diagrams expand on these three things, but we will touch on every one of them throughout this review anyway. Since we are not reviewing the box, I will just go ahead and move on. But before we go too far, let us take a look at the specifications of the GV-N970G1 GAMING-4GD, as obtained from the manufacturer's website:
Chipset: GeForce GTX 970
Core Clock: Base / Boost clock:1178 / 1329 MHz
Process Technology: 28 nm
Memory Clock: 7Gbps
Memory Size: 4 GB
Memory Bus: 256 bit
Memory Type: GDDR5
Card Bus: PCI-E 3.0
DirectX: 12
OpenGL: 4.4
PCB Form: ATX
Digital max resolution: 4096 X 2160
Analog max resolution: 2048 x 1536
Multi-view: 4
I/O: Dual-link DVI-I / DVI-D / DisplayPort*3 / HDMI*1
Card size: L=312mm, W=129mm, H=43mm
Power requirement: 550W(with one 6-pin and one 8-pin external power connectors)
Inside the outer packaging is a thick, black cardboard flap box to protect and accommodate the actual contents. Opening the box with a glossy black "G1 GAMING" text in front, a large Styrofoam block can be found with a custom shaped pit accommodates the graphics card, along with a compartment underneath that holds the accessories. Everything is carefully packaged and ensured to be in the right order when the Gigabyte G1 Gaming GeForce GTX 970 arrives in the hands of the consumer. Out of the box, you will receive the following contents:
1x Gigabyte G1 Gaming GeForce GTX 970 4GB
1x Molex to 8-pin PCIe adapter
1x Molex to 6-pin PCIe adapter
1x Quick start guide
1x Driver/Software CD
Not a whole lot is included from the factory. Personally, I would have preferred an HDMI cable in place of those Molex to PCI Express adapters. The likelihood of anyone looking to purchase a $370 graphics card and does not own a power supply with the right connectors is pretty low in my personal opinion, haha. I am pretty sure every respectable PSU made in the last five or six years or so will have at least one PCIe 8-pin and one PCIe 6-pin.
---
Page Index
1. Introduction, Packaging, Specifications
2.
NVIDIA GeForce GTX 970 Architecture
3.
A Closer Look, Installation, Test System
4.
Benchmark: 3DMark
5.
Benchmark: Battlefield 4
6.
Benchmark: BioShock Infinite
7.
Benchmark: Crysis 3
8.
Benchmark: GRID 2
9.
Benchmark: Metro: Last Light
10.
Benchmark: Thief
11.
Benchmark: Unigine: Heaven 4.0
12.
Power Usage, Temperature, Noise
13.
Overclocking and Conclusion