Page 13 - Overclocking and Conclusion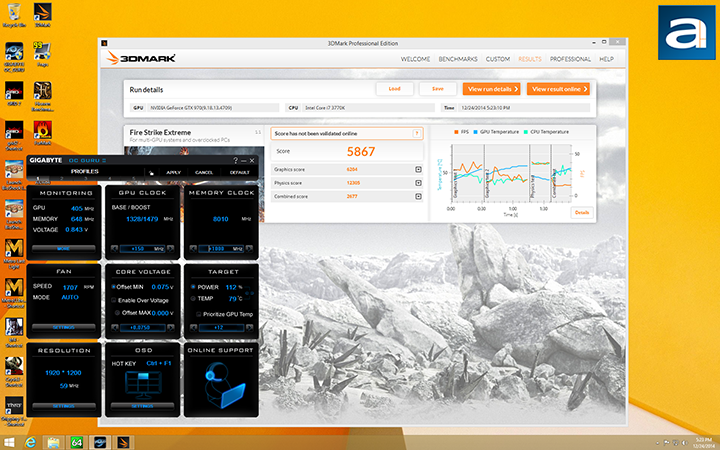 Gigabyte supplies a utility for tuning their graphics cards, called OC Guru II. As its name suggests, it is a utility used for tuning the performance of your video card. It allows the voltage of your GPU and memory to be adjusted for overclocking and fan speed control. On a side note, Gigabyte's OC Guru II has one of the best fan speed control features I have ever seen; it allows a six step fan speed adjustment based on temperature. You really cannot ask for more. Just for comparison, MSI Afterburner only allows four. My only complaint is OC Guru II has problems starting with Windows 8.1 at press time, whereas MSI Afterburner, which also works perfectly with this card, is flawless in this regard.
With the latest software revision, I got it installed on my test platform, and immediately got to work. I bumped up the core voltage 75mV, and went as far as I could go. As you can see in our screenshot above, the GTX 970 core did exceptionally well in this area -- Gigabyte already has a 128MHz core overclock from the factory, and I managed to squeeze an extra 150MHz out of that. The net figure is 1328MHz GPU with 1479MHz boost, which translates to an impressive 26.4% over NVIDIA specifications, or 12.7% over Gigabyte specifications. To verify stability, I ran a burn in test using Furmark. I also scanned for artifacts in in addition to testing for stability using this program. Since Gigabyte neglected to overclock the memory from the factory, here is where our work comes in handy. Starting from 7010MHz effective, our SK Hynix H5GQ4H24MFR memory ICs reached 8010MHz without any problems, a commendable 14.3% over NVIDIA specifications.
In the end, our Gigabyte G1 Gaming GeForce GTX 970 4GB was able to clock 26.4% over NVIDIA base clocks for core and 14.3% for memory. To see how it performed, I ran Fire Strike Extreme in 3DMark, and got a score of 5867. The Gigabyte G1 Gaming GeForce GTX 970 4GB (Which is overclocked slightly from the factory) delivered a score of 5287 in base form, which represents an improvement of roughly 10%.
-----------------------------------------
In the beginning of this review, I have proposed while it is no doubt great to be the one to be in charge of everything, this position usually comes at a rather hefty price tag. As such, being the second in command is actually quite a desirable job, as you will still get more power than you would ever need, important enough to make a difference, yet you can slip under the blame-radar of most people if anything goes wrong. Equipped with NVIDIA's GeForce GTX 970 graphics processor, the Gigabyte G1 Gaming GeForce GTX 970 4GB is set to be a Vice President rather than the President straight from the beginning. However, there is a difference between being just a Vice President and being a good Vice President. Sure, the GTX 970 will never outperform a GTX 980, but throughout our set of benchmarks today, the Gigabyte G1 Gaming interpretation of NVIDIA's second-to-one chip delivered consistently solid performance across the board. So, to put it in perspective, on what platform does the GV-N970G1 GAMING-4GD campaign on? From the same formula that has brought the company tremendous success in the past, the latest offering from Gigabyte is a sweet video card built on a slick custom black PCB, with top notch components, and a powerful 600W WindForce 3X cooler. From the factory, it is already one of the higher clocked models compared to other brands, and with a bit of tuning, we were able to take our G1 Gaming GeForce GTX 970 to a speedy 1328MHz GPU with 1479MHz boost and 8010MHz memory. Performance? We got it. How about features? I looked around a popular online retailer, and I was unable to find another model from another board partner that has three DisplayPort, one HDMI, and two DVI connectors all at the same time. Score another one for Gigabyte. I only have two minor complaints about the G1 Gaming GeForce GTX 970 4GB. Firstly, the card is little longer than the competition. Secondly, if the fan speed can be reduced below 34% at idle, it will be perfect for the uber noise picky users. This all comes down to the question, will the Gigabyte G1 Gaming GeForce GTX 970 4GB make a good Vice President? Let me put it this way: If today was Election Day, this candidate is worth voting for.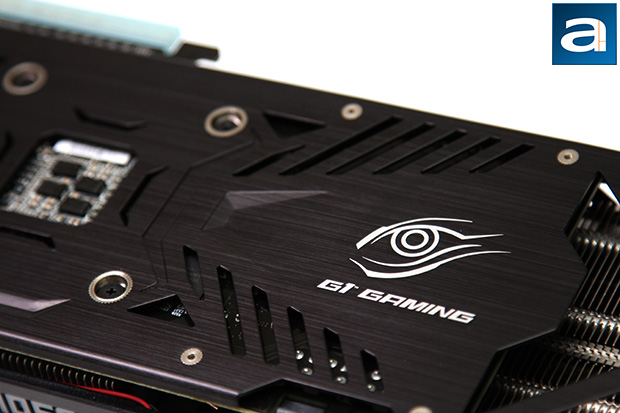 Gigabyte provided this product to APH Networks for the purpose of evaluation.

APH:Renewal Award
Since April 30, 2007, Number Ratings have been dropped for all CPUs, motherboards, RAM, SSD/HDDs, and graphics cards. This is to ensure the most appropriate ratings reflected without the inherent limits of using numbers. Everything else will continue using the Number Rating System.
More information in our Review Focus.
For about $360 at press time, the Gigabyte G1 Gaming GeForce GTX 970 4GB is a feature loaded graphics card that delivers serious performance for the buck.
Do you have any comments or questions about the Gigabyte G1 Gaming GeForce GTX 970 4GB? Drop by our Forums. Registration is free, and it only takes a minute!
---
Page Index
1.
Introduction, Packaging, Specifications
2.
NVIDIA GeForce GTX 970 Architecture
3.
A Closer Look, Installation, Test System
4.
Benchmark: 3DMark
5.
Benchmark: Battlefield 4
6.
Benchmark: BioShock Infinite
7.
Benchmark: Crysis 3
8.
Benchmark: GRID 2
9.
Benchmark: Metro: Last Light
10.
Benchmark: Thief
11.
Benchmark: Unigine: Heaven 4.0
12.
Power Usage, Temperature, Noise
13. Overclocking and Conclusion