Page 10 - Benchmark: Thief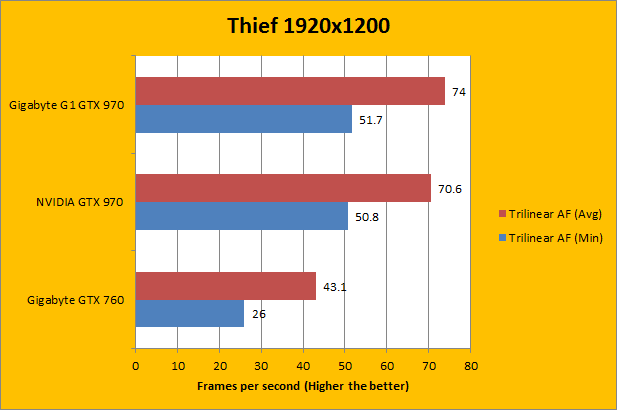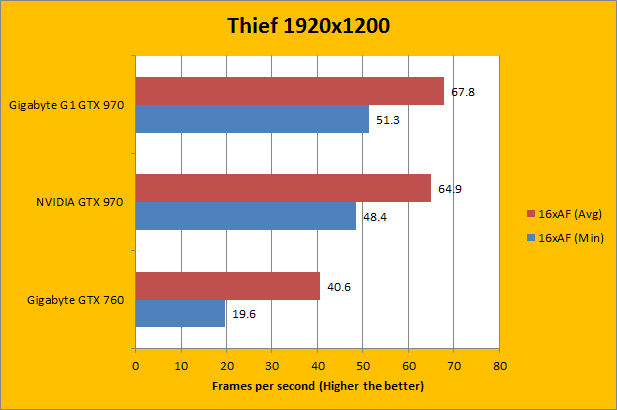 Thief is one of the three changes to our standard graphics benchmarking set here at APH Networks since last year. The Thief series has a pretty long history in the video game world, dating back to 1998. I would not be surprised if the first game is older than some of the readers on this website, haha. The latest release is also the newest game in the set; developed by Eidos Montreal, and published by Square Enix on February 25, 2014. It runs on a modified Unreal Engine 3 with DirectX 11 support. It is reasonably taxing on our hardware, and it also feature a decent in-game benchmarking tool for easy results comparison. Run at 1920x1200 and adjusting only the anisotropic filtering setting, the Gigabyte G1 Gaming GeForce GTX 970 4GB once again delivered very good results. At maximum settings, it is not exactly the smoothest of all, but it shows how much processing power it offers compared to the last generation midrange card. Our factory overclocked unit from Gigabyte also managed to produce an improved score of 5.5% and 6% for each respective configuration runs compared to NVIDIA specifications.
---
Page Index
1.
Introduction, Packaging, Specifications
2.
NVIDIA GeForce GTX 970 Architecture
3.
A Closer Look, Installation, Test System
4.
Benchmark: 3DMark
5.
Benchmark: Battlefield 4
6.
Benchmark: BioShock Infinite
7.
Benchmark: Crysis 3
8.
Benchmark: GRID 2
9.
Benchmark: Metro: Last Light
10. Benchmark: Thief
11.
Benchmark: Unigine: Heaven 4.0
12.
Power Usage, Temperature, Noise
13.
Overclocking and Conclusion