Page 2 - NVIDIA GeForce GTX 970 Architecture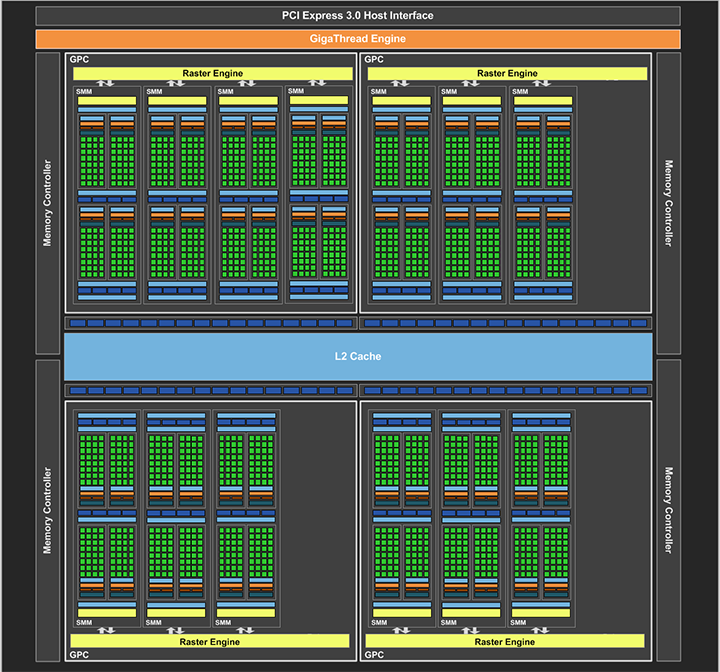 The NVIDIA GeForce GTX 970 is based off the company's high performance variant of the "Maxwell" architecture first introduced in the company's GTX 750 and GTX 750 Ti. The midrange GTX 750 series are made to show off NVIDIA's engineering prowess in producing chips that can deliver very high performance per watt. However, for enthusiasts looking for maximum performance, the flagship GTX 980 and the second tier GTX 970 we are reviewing today promises to deliver market leading speed in conjunction with unheard efficiency for a flagship series product.
The GM204 core implemented in this graphics card aims for the competitive mainstream performance segment $329 segment. The GTX 980 is NVIDIA's flagship card with a MSRP of $549. For a 40% discount, this is the first time we have seen such a large price difference between the best card and the second best card the company has to offer. Compared to AMD's line, the NVIDIA GeForce GTX 970 aims to be a serious threat to the Radeon R9 290X, but with significantly lower power consumption.
Specification speaking, only thirteen streaming multiprocessors (SMM) are enabled, whereas the GTX 980 has sixteen. Each SMM has four partitioned blocks inside, as shown in our diagram above; with 128 CUDA cores, eight texture units, 32 load/store units, and one PolyMorph engine. Each SMM has 48KB of L1 cache. As such, the NVIDIA GeForce GTX 970 features 1664 CUDA cores and 104 texture units in aggregate. The company left the memory and raster operations untouched compared to the GTX 980, so it retains 64 ROPs and a full 256-bit memory interface. At 224GB/s, this is not a lot of memory bandwidth for a performance card, but it features a large 2MB shared L2 cache, which promises to reduce memory bandwidth usage by about 25%. The GTX 970 built on the TSMC 28nm fabrication process, with a transistor count of 5.2 billion.
The NVIDIA GeForce GTX 970 has native support for HDMI 2.0, which means it is capable of driving 4K displays at 60Hz. There are also three DisplayPort 1.2 and dual link DVI-I connectors; of course, this configuration depends on the board manufacturer. Both the GTX 970 and GTX 980 has support for NVIDIA's latest graphics processing technologies, including Dynamic Super Resolution, Multi-Frame Sampled Anti-Aliasing, Multi-Pixel Programming Sampling, Multi-Projection Acceleration, Real-Time-Voxel-Global Illumination, Third Generation Delta Color Compression, and VR Direct. Of course, there is DirectX 12 support, too.
NVIDIA pits the GeForce GTX 970's TDP at 145W, which shows quite a bit of success in the company's efforts to improve power efficiency in their enthusiast grade cards. It is even lower than the GTX 760, a midrange card of the last generation, at 170W; even the GTX 970's bigger brother -- the GTX 980 -- is rated at only 165W. Compared to the card it replaces, the GTX 770, it shows a whopping 85W improvement. We will take a look into the Gigabyte G1 Gaming GeForce GTX 970's power consumption and idle/load temperatures later on in this review to see how it fares in real life.
Brushing the technical data aside, let us take a closer look at the more consumer friendly specifications. The stock clock speed configuration of a standard GTX 970 is 1050MHz core, 1178MHz boost, and 7010MHz memory. A reference GTX 970 board from NVIDIA does not exist, and the company has left it up to their board partners to design their own PCBs and adjust their factory overclocks accordingly. As such, the Gigabyte G1 Gaming GeForce GTX 970 4GB is no exception. The company's interpretation of the video card is built on a custom PCB with a WindForce 3X cooler configured at 1178MHz core, 1329MHz boost, and 7010MHz memory. The GPU is clocked 12% above stock -- but we are actually quite surprised to see its completely stock memory configuration. So exactly how much overclocking potential do we have under the hood? We will have that answered in Page 13 of this review.
With that in mind, we will take a close look at the Gigabyte GV-N970G1 GAMING-4GD G1 Gaming GeForce GTX 970 in detail on the next page, followed by our usual battery of benchmarks, before moving onto the power usage, temperature, noise, and overclocking tidbits. Stay tuned for all the juicy details in the rest of this review!
---
Page Index
1.
Introduction, Packaging, Specifications
2. NVIDIA GeForce GTX 970 Architecture
3.
A Closer Look, Installation, Test System
4.
Benchmark: 3DMark
5.
Benchmark: Battlefield 4
6.
Benchmark: BioShock Infinite
7.
Benchmark: Crysis 3
8.
Benchmark: GRID 2
9.
Benchmark: Metro: Last Light
10.
Benchmark: Thief
11.
Benchmark: Unigine: Heaven 4.0
12.
Power Usage, Temperature, Noise
13.
Overclocking and Conclusion