By: Jonathan Kwan
October 5, 2018
A few months ago, I was at Home Depot to buy a new external vent cover to replace an old cracked unit on the side of my house. As I was walking by the store to look for a rather economical $5 part, I passed through the appliances section and could not help but to pay attention to the stainless steel French door GE fridge with a "clearance" tag on it. I have been unofficially looking for a new fridge in a while; not that there was anything wrong with my current one, I just wanted a stainless steel French door fridge that was 33 inches in width. The price was right, too: For $1300 Canadian dollars, it was not long before I found myself handing over my American Express to the friendly man at the counter. Did I just spend $1300 on a fridge when all I was planning to do was to spend the change I had in my pocket? As I reflect on this 26,000% over budget trip to Home Depot, I was also reminded of another scenario where we started with one thing and ended up with another. It all started with someone putting a side window in a computer case. Cold cathode lights soon came along. Before long, more and more parts became illuminated, and people began to think one color was not enough. It did not take long until RGB LEDs started appearing in everything from case fans to mousepads to RAM. Long gone were the days memory was on a plain green PCB as we hail the RGB LED equipped RAM. With more and more manufacturers jumping into the list, Crucial is not going to be left out. The Ballistix Tactical Tracer RGB PC4-24000 4x8GB promises advanced performance along with some eye candy. What is it like in real life? Read on to find out!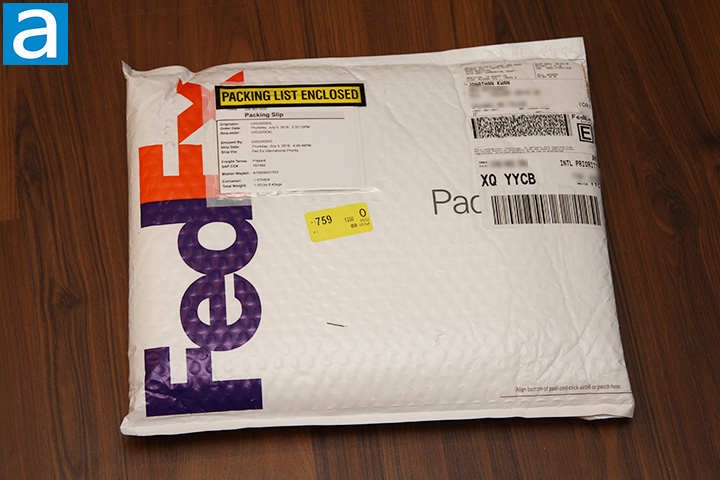 Our review unit of the Ballistix Tactical Tracer RGB PC4-24000 4x8GB memory kit arrived in a FedEx branded bubble envelope from the company's American headquarters in Meridian, Idaho, USA. The trip was made with the Crucial MX500 500GB (M.2) solid state drive I reviewed a few weeks ago. Crucial remains the only company to send us products from that part of our southern neighbors. Using the speedy International Priority service, it only took a day to get to us here in Calgary, Alberta, Canada. As always, everything arrived in excellent condition for our review today.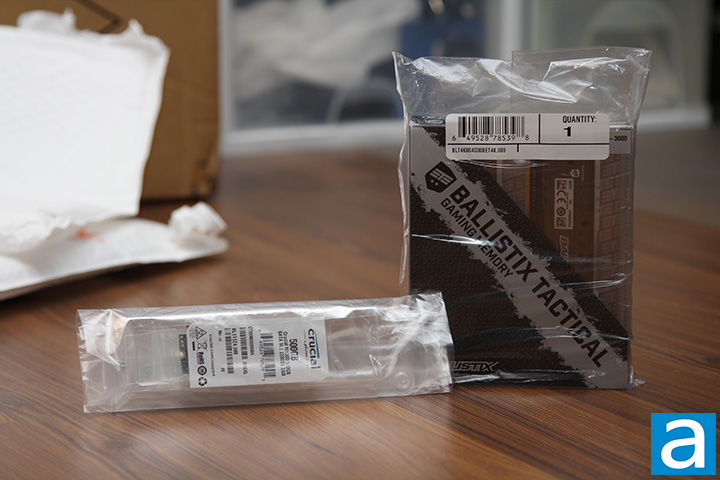 This is the first time I have ever reviewed a memory kit from Micron. As you can see in our photo above, the Ballistix Tactical Tracer RGB's retail box design is quite compact for a memory kit. The clear plastic box is decorated by the "Ballistix Tactical Gaming Memory" branding next to a shield at a forty-five degree angle in front of a steel plate texture background. The Ballistix by Micron logo can be found at the bottom left corner, while a label at the top right corner indicates this is a DDR4-3000 32GB kit with four modules inside. The modules themselves can be seen behind an undecorated part of the box. Feature highlights and company information can be seen at the back. Inside the box is are two clear plastic clamshell packages to hold the memory in place.
Before we move on, let us take a look at the features and specifications of the Ballistix Tactical Tracer RGB PC4-24000 4x8GB, as obtained from the manufacturer's website:
Brand: Ballistix
Form Factor: UDIMM
Total Capacity: 32GB kit (8GBx4)
Warranty: Limited Lifetime
Specs: DDR4 PC4-24000 • 16-18-18 • Unbuffered • NON-ECC • DDR4-3000 • 1.35V • 1024Meg x 64 •
Series: Ballistix Tactical
ECC: NON-ECC
Kit Qty: 4
Speed: 3000 MT/S
Tracer: True
Voltage: 1.35V
Out of the box, you will receive each pair of memory modules in the Ballistix Tactical Tracer RGB kit packaged in its own clear plastic shell. There is nothing else included, but I am not sure what else you can expect from a DDR4 kit either, haha.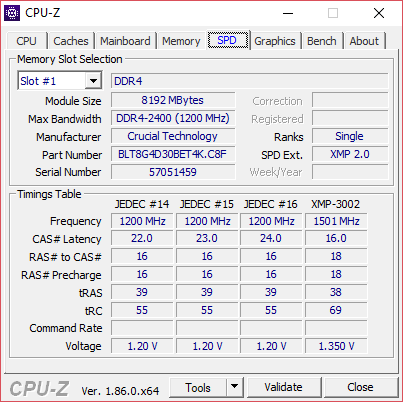 A screenshot of the memory tab in CPU-Z with Micron's Ballistix Tactical Tracer RGB PC4-24000 4x8GB installed. The SPD timings table in CPU-Z reads standard JEDEC specifications programmed into the memory as well as Intel XMP data for running the memory at various speeds. Using the latest BIOS revision, our Gigabyte GA-Z170X-UD5 motherboard used for testing had no issues detecting and working with the Crucial RAM right out of the box. The Ballistix Tactical Tracer RGB PC4-24000 4x8GB retails for approximately $360 at press time.
---
Page Index
1. Introduction, Packaging, Specifications
2.
A Closer Look, Test System
3.
Benchmark: AIDA64 CPU
4.
Benchmark: AIDA64 FPU
5.
Benchmark: AIDA64 Memory
6.
Benchmark: PCMark 8
7.
Benchmark: 3DMark
8.
Benchmark: PassMark PerformanceTest 9.0
9.
Benchmark: SuperPI 1M, Cinebench R15
10.
Overclocking and Conclusion