By: Jonathan Kwan
May 11, 2018
A few months ago, I was walking in downtown Banff with a moderately large group of friends. For some unknown reason, one of them started to sing The Star-Spangled Banner, and slowly but surely, many others began to join in spontaneously. I was a little bit aware that we were still in Canada, so I cautiously reminded them to avoid singing the American national anthem in public. My friends did not heed my advice; instead, they suggested that maybe other people thought we were American tourists and continued with the next line. As people on the streets started to look at us, I decided if I could not get them to stop, I might as well play along. "We are from AMERICA!" I said. "I love guns and we are the best country in the world!" All I could say is people did not look at us any less weird as a result, but my friends were all too embarrassed to continue. With all due respect for my American friends -- I love the USA -- sometimes it is still a lot of fun to play on stereotypes. And why not? Singing the Star-Spangled Banner and claiming to be a stereotypical American in Canada is a combination that is no less strange, than say, adding RGB LEDs to your mousepad or power supply. In fact, sometimes these combinations do work out. Today, we have something slightly more conservative in our lab, the Patriot Viper LED PC4-24000 2x8GB DDR4 RAM. It features only red LEDs, which comes in right between the RGB GeIL EVO X GEX416GB3200C16DC 2x8GB I reviewed back in 2016 and pretty much every other memory kit without LED lighting. Read on to see if this is the RAM to buy!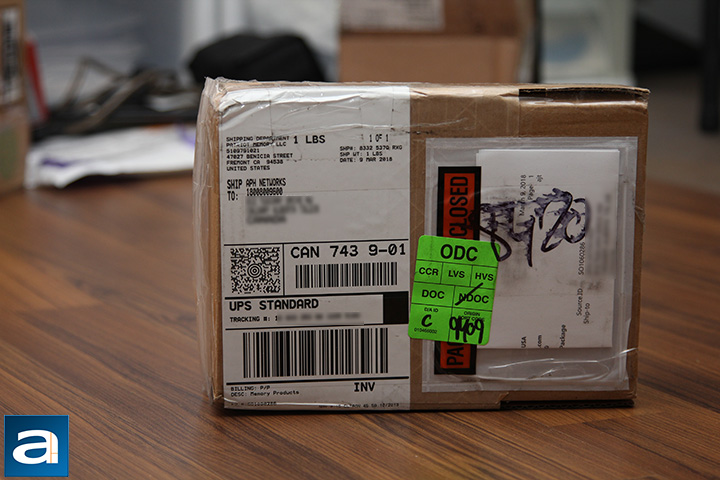 Our review unit of the Patriot Viper LED PC4-24000 2x8GB came in a small, brown corrugated cardboard box from the no other country than America in Fremont, California, just like it has been for the last few times. Using the UPS Standard service, everything arrived in excellent condition from Patriot's headquarters to us here in Calgary, Alberta, Canada for our review today. It has not been all too long since we have last reviewed a product from the company, which was the Patriot Viper V570 Blackout Edition. Memory kits, on the other hand, was a good two years -- with the last one being the Patriot Viper Elite PC4-24000 2x8GB that now resides in my colleague's Aaron PC.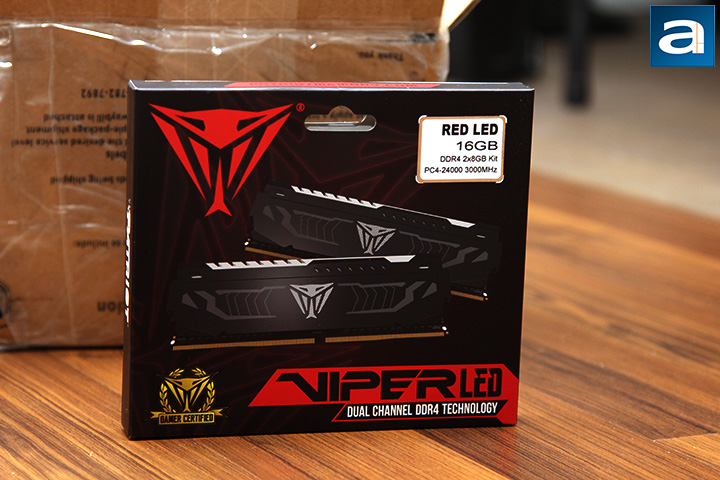 I have always found Patriot's retail memory packaging to be interesting, and the latest Viper LED is no exception. As you can see in our photo above, the Patriot Viper LED's retail box design is quite large for a memory kit. I am a big fan of products that come in an actual retail box and not a blister pack. The red background is very attention grabbing and aggressive. A photo of the memory modules is shown proudly in the foreground. The Viper logo is located at the upper left hand corner. Meanwhile, on the upper right corner of the box, you will find a label indicating its model, speed, configuration, and capacity. Lastly, the Viper LED branding and Gamer Certified badge -- whatever that means -- is found along the bottom. Inside the box is a clear plastic clamshell package to hold the memory in place.
Before we move on, let us take a look at the features and specifications of the Patriot Viper LED PC4-24000 2x8GB, as obtained from the manufacturer's website:
- Capacity: 16GB (2 x 8GB)
- Base Frequency: PC4-17000 (2133MHz)
- Base Timings: 15-15-15-36
- Tested Frequency: PC4-24000 (3000MHz)
- Tested Timings: 15-17-17-35
- Voltage: 1.35V
- Format: NON-ECC Unbuffered DIMM
- Pin Out: 288-Pin
- High quality aluminum heat spreader
- Bright LED color to add some flare to your PC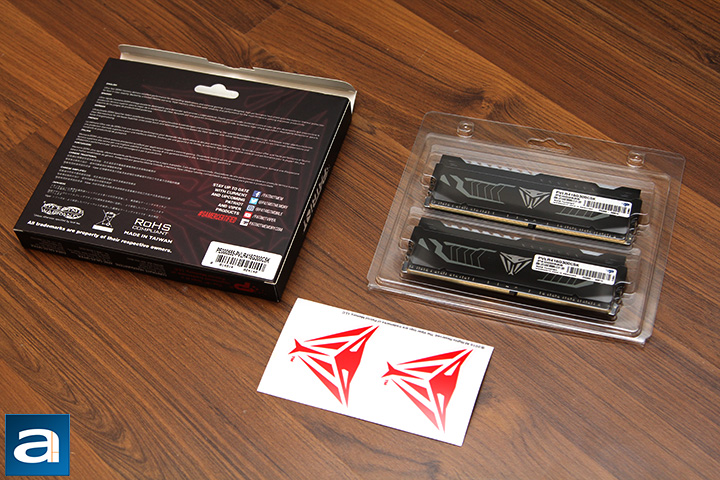 Out of the box, you will receive each memory module in the Patriot Viper LED kit packaged in its own compartment in the clear plastic shell. Besides that, two Viper stickers are included for you to show off your RAM. There is nothing else included, but I am not sure what else you can expect from a DDR4 kit either, haha.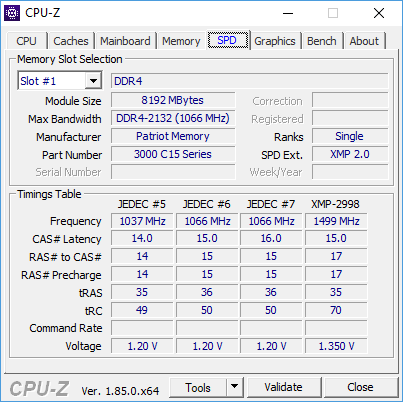 A screenshot of the memory tab in CPU-Z with Patriot's Viper LED PC4-24000 2x8GB installed. The SPD timings table in CPU-Z reads standard JEDEC specifications programmed into the memory as well as Intel XMP data for running the memory at various speeds. Using the latest BIOS revision, our Gigabyte GA-Z170X-UD5 motherboard used for testing had no issues detecting and working with the Patriot RAM right out of the box. The Patriot Viper LED PC4-24000 2x8GB retails for approximately $180 at press time.
---
Page Index
1. Introduction, Packaging, Specifications
2.
A Closer Look, Test System
3.
Benchmark: AIDA64 CPU
4.
Benchmark: AIDA64 FPU
5.
Benchmark: AIDA64 Memory
6.
Benchmark: PCMark 8
7.
Benchmark: 3DMark
8.
Benchmark: PassMark PerformanceTest 9.0
9.
Benchmark: SuperPI 1M, Cinebench R15
10.
Overclocking and Conclusion