Page 4 - Installation and Conclusion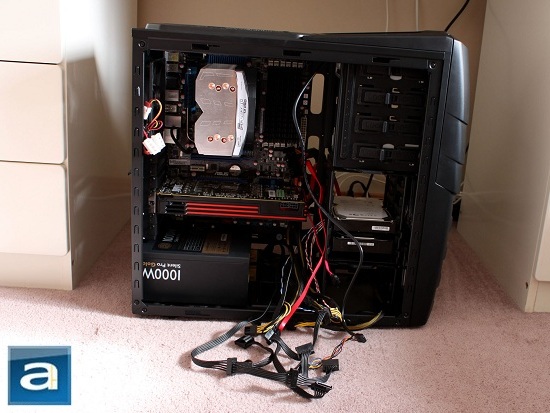 Although the Cooler Master Storm Enforcer is a mostly standard mid-tower case, there is enough room for 99% of the people out there to play around with cables and installation. With that being said, you can install your components in any order you prefer. As for myself, I planned out exactly where most of the permanent chassis cables went, then installed the motherboard and other components, so I would know where they are, and how I should manage my power supply cables. Then came in my video card and CPU cooler. The power supply came last. Unlike other front panel USB 3.0 implementations we have seen in the past, the Enforcer actually has an internal header rather than a USB A connector.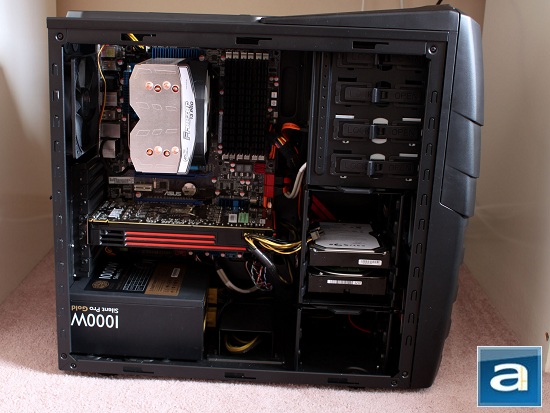 Once everything is in place, the real wiring job begins. I know some people like to go by the plug-and-play mindset, where you simply stick in the component and the cabling job does not really matter. For enthusiasts like me, clean cabling and cable management is a huge deal, because you will need to know where the cables lead to as well as presenting your computer in a fashionable manner. The cable management holes to the right and bottom side of the motherboard tray handles everything quite nicely, allowing you to run cables to the back side and stay out of view, giving you a nice and clean outlook. In the photo above, the cabling job is one of the better ones I have done. For demonstration purposes, that is generally how effective you can make your cable management in the Enforcer. Installation of optical drives and other accessories in this bay is extremely easy with the tool-free locks. Simply unlock them by flipping the switch, align the holes, and flip the lock back into place. Installation of hard drives are also easy as pie. Instead of using hard drive trays, Cooler Master provides you with two hard drive rails for each hard drive. There are two knobs in each of these rails for you to fit into the screw holes standard 3.5" disks. In addition to this, there is a screw hole on the rails if you want a more secure attachment. With the exception of the few thumbscrews, installation is not completely tool-free, so a screwdriver would definitely come in handy. It's not that I have anything against this though, as it is more secure to have certain components screwed in directly. Furthermore, I don't think many people would be taking apart and putting back their computer regularly anyways (Unless you are part of the APH Networks staff reviewing several cases per month).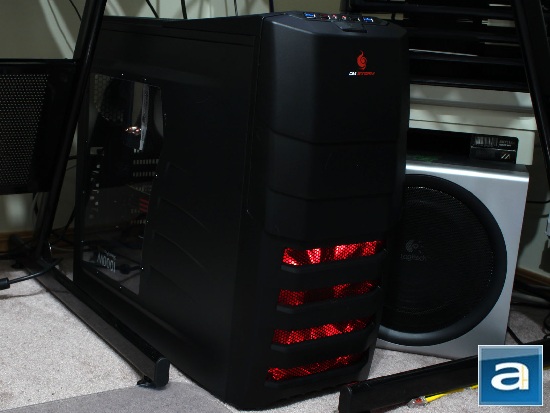 After everything is set and plugged in, our Cooler Master Storm Enforcer is ready to rumble as I hit the power button, bringing the system to life. Your finished system should look something like the photo above. There are not many changes you can make to your system now other than where you want to position and situate it.
On a scale from 0.0 to 10.0, where 0.0 is silent and 10.0 is loudest, I would rate stock fan noise to approximately 4.0 subjective sound rating at full blast. This is not actually too bad, as the fan motor does not generate annoying, high-pitched noises. Rather, it gives out a pleasantly smooth low humming sound similar to the humming sound that comes from heavier machinery. Slowing down the fan speeds, I find the noise level of the fans will drop down to approximately 2.0 on my personal scale.
-----------------------------------------
Unlike other computer cases I have taken a look at in the past, Cooler Master's Storm Enforcer is really quite unique and different. The overall design and appearance is definitely appealing to me. I also like how Cooler Master provides a fairly large and clean side panel window for a nice view of your internal components. In my opinion, the design of the side and front grooves as well as the air intake design looks very likeable, plus a touch of simplicity in midst of its aggressiveness. Construction quality is also very commendable for the price tag it commands. Of course, with all these nice features, I just have a few things I would like to see improvement on. First off, although the front door is a nice thing to have, it would be optimal of Cooler Master had reinforced the hinges of the door, so that it will be sturdier. Better quality plastic would also be nice. As well, flexibility in which way the door opens could be implemented. Last but not least, I would much prefer an open fan grille was not included on the top for the extra fan, simply because I don't want dust getting into my system. If this design is a must, then I would recommend putting at least a dust filter on it so that there is something there to keep those buggers out -- or have it sealed off for those who don't want a top fan. One minor flaw, but not necessarily a bad thing, is Cooler Master could have provided slightly more room between the right side panel and motherboard tray for those who are hardcore cabling managers such as myself. Other than that, I find that the Cooler Master Storm Enforcer is a well built chassis for the masses.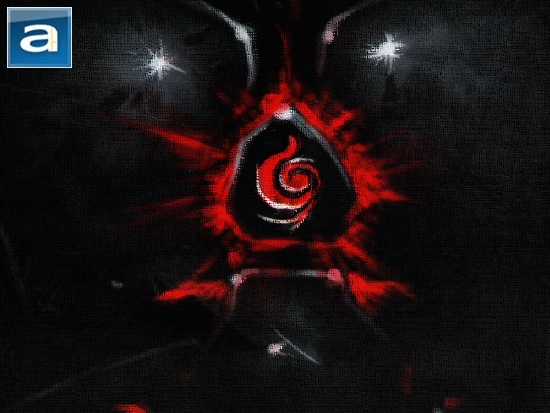 Cooler Master provided this product to APH Networks for the purpose of evaluation.
APH Review Focus Summary:
8/10 means Definitely a very good product with drawbacks that aren't likely going to matter to the end user.
7/10 means Great product with many advantages and certain insignificant drawbacks; but should be considered before purchasing.
-- Final APH Numeric Rating is 7.5/10
Please note that the APH Numeric Rating system is based off our proprietary guidelines in the Review Focus, and should not be compared to other sites.
The Cooler Master Storm Enforcer is a great chassis -- a 100% legitimate gaming case that is 0% overdone -- with a affordable price tag to boot.
Do you have any comments or questions about the Cooler Master Storm Enforcer? Drop by our Forums. Registration is free, and it only takes a minute!
---
Page Index
1.
Introduction, Packaging, Specifications
2.
Physical Look - Outside
3.
Physical Look - Inside
4. Installation and Conclusion