By: Preston Yuen
April 13, 2011
Let me start off by asking you this question: What did you want to be when you were growing up as a child? I have heard many answers from various different people. Some wanted to be teachers, others wanted to be policemen, and still others wanted to be programmers working for Microsoft. Being slightly stereotypical here, but by far the most common includes musician, doctor, lawyer, engineer, and other "Asian" responses along these lines (No offense to anyone, being Chinese myself, haha). For myself, I have always wanted the best of all of these, but of course, it was near impossible to be all of them at the same time. As I grew older, having the dream of being the best in the world faded out as reality came into view. As an engineer would put it, these two factors are inversely related. One of my very first choices, and it still holds today, is dreaming to be a policeman. Yes, being in an Asian family, this is certainly not high up on the list, or at least, in my family anyways. But of course, you always had to choose one out of the many, and at that time, I still wasn't sure what I wanted to be, so I chose computer science and anything related to IT. Let's be realistic here, who doesn't need an IT guy in this day and age? With the growing interest in both the police force and the field of technology, I recently came across something that seems to combine the best of both worlds. With the NDA lifting today, Cooler Master unveils the Storm Enforcer to the world. Implementing a very police-like theme in the case -- or at least in its packaging -- it offers an aggressive gaming design that is restrained to a clean model all the same time. Is this one product that would at last turn my dreams to reality? Well, you will have to read on to find out!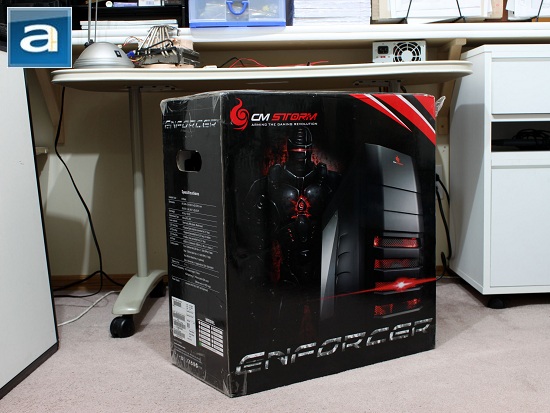 Unlike the Fractal Design Define XL reviewed by my colleague Jonathan recently, our Cooler Master Storm Enforcer came without any extra packaging from our good neighbors down south in California via UPS Standard to our APH Networks offices here in Calgary, Alberta, Canada. Shipped in its retail package, everything arrived safely without any problems. The box has a simple solid black background layout with a futuristic warrior-like figure on the left side, and an image of the Storm Enforcer itself on the right. Its name is split into both a top and bottom half, and misaligned in an italicized format with a tint of white and grey on the lower portion of the packaging. The way the word 'ENFORCER' is printed evokes a very strong air of police-ness, and Cooler Master did a very good job in giving the overall package a police-like theme to it. The company and logo with its sub-brand is printed boldly at the top left corner, along with streaks of red and white on the top right corner. Clearly, Cooler Master has kept a very slick design of the packaging while promoting the Enforcer dominantly on the front. If you are curious, its main features and specifications are printed on the left and backside of the packaging, and if you are already thinking of going to their website, let me warn you that I have already taken their features and specifications and have listed them in the next little section for your convenience.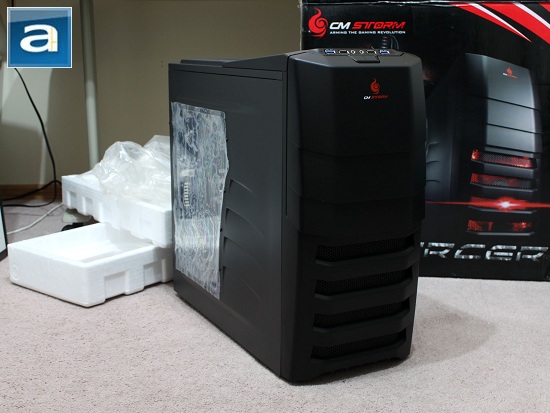 Cracking it open, we find the Cooler Master Storm Enforcer in a large plastic bag clipped between two foam brackets. The left side window is covered with protective plastic tape on both the outside and inside to prevent accidental scratches. This plastic tape can be easily peeled off at your convenience. The Storm Enforcer is painted fully black. My first impressions of this case is that it looks like a mix between a hardcore enthusiast's tastes and a taste of simplicity and elegance in my opinion, and I will get into further detail of this later on the next page.
Before we move on, let's take a look at the specifications of the Cooler Master Storm Enforcer, as obtained from the manufacturer's website:
Specifications
- Available Color: All Black
- Dimensions (WxHxD): 229 x 484.5 x 523.5 mm; 9.0" x 19.0" x 20.6"
- Net Weight: 8.9kg / 19.5lb
- Motherboard Type: Micro-ATX, ATX
- Case Materials: Steel body, ABS plastic, Mesh bezel
- 5.25" Drive Bay: 4 Exposed (once could be converted to 3.5" bay)
- 3.5" Drive Bay: 1 Exposed (converted from 5.25" bay) / 6 hidden
- 2.5" Drive Bay: 4 Hidden (two converted from 3.5" bay)
- I/O Panel: 2x USB 3.0 (internal), 2x USB 2.0, 1x Mic, 1x Audio
- Cooling System: 1x front 200mm Red LED fan, 1000 RPM, 19 dBA; 1x rear 120mm fan, 1200 RPM, 17 dBA; 1x top 200mm fan (optional); 1x 120mm fan (optional) for SGC-1000-KKN1
- Expansion Slot: 7+1
- Maximum Compatibility: 175mm CPU cooler height; 270mm VGA card length with HDD cage, 390 mm without HDD cage
- Power Supply: Standard ATX PS2/EPS 12V (optional)
Features
- One top 200mm fan (optional) provides excellent cooling performance
- Supports rear internal 120mm water cooling radiator
- Cable management for better cable routing
- Tool-free for 5.25" device
- Storm Guard™ for safeguarding your gaming peripherals
- 7+1 expansion slots for increased expandability
- Removable 2.5" HDD cage
- Dust filters on bottom and front intakes
- Front 200mm red LED fan provides superior HDD cooling
- Removable & Rotatable HDD cage for convenient installation
- Support for USB 3.0 (internal)
- Reinforced front door protects your vital devices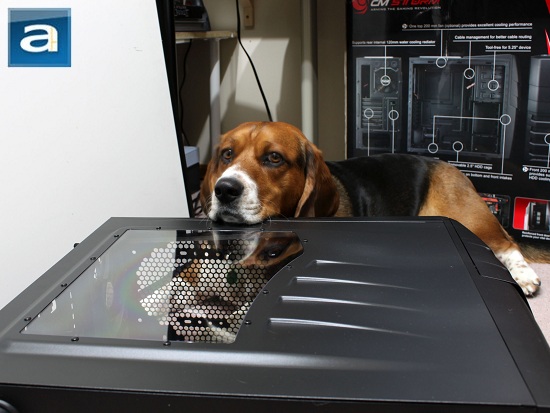 Before I even got a chance to continue further with this review, my pet Beagle has already taken a look at my case and called it for its own! The next computer I will be building in this chassis will now be officially his, as he is now my new assistant in entertaining me when I feel bored staring at my computer screen all day. Disclaimer: No pets or animals have been injured, harmed, or used in any way in the process of this review other than being cute and friendly while taking pictures. I can also assure you there is absolutely no drool left behind on the case after my dog has left.
---
Page Index
1. Introduction, Packaging, Specifications
2.
Physical Look - Outside
3.
Physical Look - Inside
4.
Installation and Conclusion