By: Aaron Lai
December 6, 2013
As a diehard Calgary Flames fan, I have been following this hockey team since they made the Stanley Cup Finals in 2003. Even after the more recent blowup and rebuild of the organization, I have not wavered in my adoration. But ask me what makes me boil about the Flames, and I would say that Calgary's team lacks any finish. Every game I watch, I see an amazing beginning followed by an even more amazing fall in the third period. They would come out of the gate, sticks swinging and skates speeding down the ice. With decent goaltending, the Flames would head into the first intermission with a feeling of safety, and all of a sudden, like a light switch, they stop trying. They just seem to give up the best of leads. Watching more and more, you can tell the root cause of this issue is the Flames think they have already won. This kind of "foot off the pedal" mentality has plagued the Flames, placing them near the bottom of the Western Conference. Of course, this is supposed to be their reconstructing year, but if they just played badly the entire year, I would have nothing to say of this (And I also would need to find another introduction topic, haha). The fact they give an impression that they cannot hold steady throughout gives an early false sense of security for the team, making it really hard to be a fan. Likewise, if computing products were like the Calgary Flames, where they do not have the ability to finish the job, they would come under the ire of reviewers like me. No one wants a product that has one or two features that stand out, but fails in other areas. Rather, the best product would be something that impresses from the beginning to the end. When I see the Cooler Master Storm SF-15, do I see a product with a pretty face, or something with more substance? Is it something that stays consistent, whether good or bad? Read on to find out!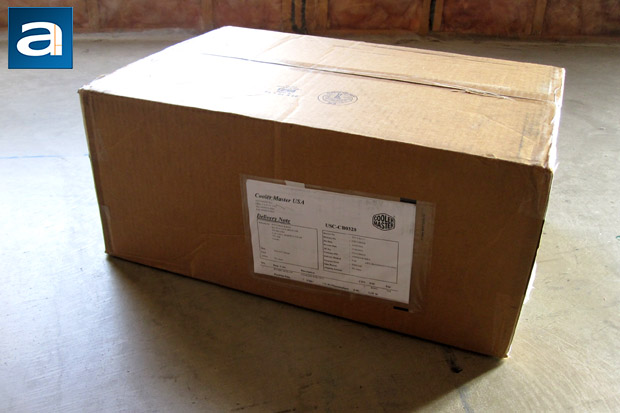 Our review package arrived in an oversized brown corrugated box, courtesy of UPS Standard. From their headquarters in Chino, California, the parcel arrived in relatively good condition, free from dents or holes. Inside the package was the Cooler Master Storm SF-15, along with lots of brown packing paper. Both the delivery from UPS and the protective paper meant the SF-15 arrived to our headquarters here in Calgary, Alberta, Canada without any blemishes to the box.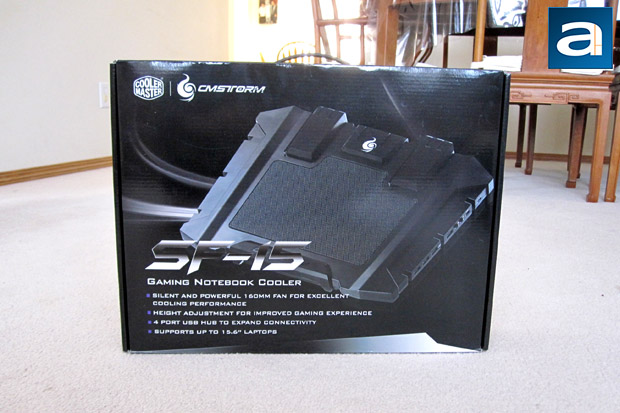 Unlike the Cooler Master Storm SF-19 Strike Force, which was previously reviewed by coworker Preston Yuen over three years ago, this laptop cooler's retail packaging is rather plain. Cooler Master must have been low on color ink that day, because the box is practically black, gray, and white. Other than some small amounts of purple used sparingly for fonts and bullet points, this packaging is something that some activists groups would not be proud of, haha. Other than that, the box will catch the eye of a more conservative gamer. The laptop cooler emerges from the black background, taking up majority of the front panel. Its name is boldly printed on the bottom left area, with several main features bulleted underneath. On the top left corner, both the Cooler Master and CM Storm logos are pasted there, a constant reminder that this peripheral is from the gaming division of Cooler Master, aka CM Storm. For your information, there are other versions of this laptop cooler, including the SF-17, the SF-19, and the aforementioned SF-19 Strike Force. Each of these models have a few different specifications; main difference being in sizes. The number in the name however, does not necessarily correspond to the size of the laptop (Ie., SF-15 fits up to 15.6" laptops, but the SF-17 can fit up to 19" laptops). Flipping the box over to the back reveals a list of specifications and features that can be found online. Since not everyone has the box in front of them, let's pull up this list from the manufacturer's website:
Features
- Silent and Powerful 160mm Fan: The massive metal mesh surface is accompanied by a powerful 160mm turbine fan to provide unprecedented airflow and keep laptop components running at optimal temperatures.
- Expanded Connectivity: SF-15 has a 4 port USB hub to provide extra connectivity for accessories or tablet/phone charging. The power on/ off toggle for the LED light sets the mood for gaming
- Cable management with grooved top side for cable routing
- Comfortable Rubber Handle designed to be easy to carry
- Intuitive Ergonomic Design for Gamers: Simple one button press height adjustment settings provide a more ergonomic gaming experience.
- LED Lighting Accents: Stylish LED lighting strips provide a unique ambient atmosphere for battle stations.
- Perfect fit for laptops up to 15.6"
Specifications
- Model Number: R9-NBC-SF5K-GP
- Compatibility: Supports up to 15.6" laptops
- Available Color: Black
- Materials: Mesh + Plastic + Rubber
- Dimension: 384.6 x 291.9 x 50.8-69.8mm / 15.2 x 11.5 x 2-2.8inch (LxWxH)
- Weight: 1.1 kg / 2.42 lbs
- Power: USB 5V DC
- USB Port: USB2.0 x 4 / MiniUSB x 1 / MicroUSB x 1
- Fan Speed: 700 ~ 1200RPM +/- 10%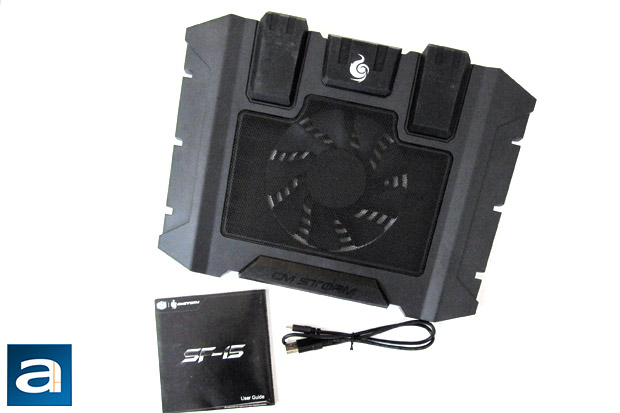 Open up the retail packaging, and we can pull out the Cooler Master Storm SF-15, wrapped in a plastic bag, and lined by foam inserts to prevent any damage to the cooler while moving it around. In addition to this is included a single 65 cm USB 2.0/Mini-B cable, and a small user guide. The user guide has very little information and repeats the specifications and features. However, it is rare that users even look at user guides for peripherals like this. When I first opened the box, the laptop cooler felt rather small, even for a 15.6" model, but more on this later.
---
Page Index
1. Introduction, Packaging, Specification
2.
A Closer Look, Usage
3.
Testing and Conclusion