By: Devin Chollak
November 25, 2011
After losing many countless hours to a particular Elder Scrolls game, it is time to review another computer chassis. The Cooler Master Storm Trooper isn't a case that should be taken 'lightly'. First thing that comes to mind when I hear the words 'Storm Trooper' is Star Wars, but I guess that is what you would expect in this modern age. However, a quick history lesson would reveal that the term comes from Germany in World War I. Also known as a "shock troop", they are special solders that were trained specifically for breaching enemy defenses by skipping enemy strong points. While this might sound pretty logical to us, it was a revolutionary idea at the time. In fact, using infiltration tactics became a standard tactic towards the end of the First World War. Of course, like any tactic, the enemies learned how to defend against this type of attack as it became more common. Then, to top it all off, you have trench warfare, where the gains of an attack were typically minimal, and even successful attacks were not always truly successful. This is because newly acquired locations were often very difficult to defend from rear-facing attacks by the second enemy line. Got that? Meanwhile on my desk, the Cooler Master Storm Trooper is not what I would call a small, lightly equipped computer case. Considering it is a full tower chassis, supports quad SLI/CrossFire and XL-ATX motherboards, this case is what I would call heavy duty. The real question is whether or not it is effective enough for modern day hardware? Read on to find out.
This shock trooper's mission briefing started in California, and after a week's trip with UPS Standard, it dropped in at our Calgary office. Like many skilled troops, it traveled light with the only protection being its retail box. Naturally, being such a powerful warrior, it suffered no noticeable damage during its trip. As you can see in the above image, the front of the retail box features a striking image with the Cooler Master Storm Trooper and a few soldiers adjacent to it. A bold theme with a relatively simplistic look, it seems to provide a satisfactory amount of eye candy for those who purchase this full tower. While none of the specifications are listed on the front of the box, it does give you a pretty good impression from the image alone. Now let's get some armored gloves on and take a look inside the box.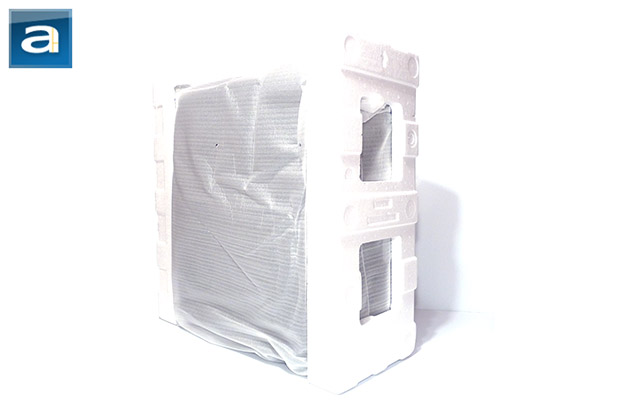 Pulling the beast out of its box, I was very pleased to see some quality packaging. This is great news, as it ensures a good quality product when the consumer opens the box. Utilizing two identical Styrofoam brackets, the CM Strom Trooper is well armed against the dangers of transport. Typically, a computer chassis is put inside of a plastic bag, but Cooler Master decided to instead put this monster inside a foam bag. This essentially does the same job of preventing dust and scratches to the chassis while in transit; however, the foam allows an additional level of protection against any impacts by providing an extra layer of absorption. This reassuring padding offered by the foam bag really emphasizes quality when it comes to the presentation of this chassis. Well, as many are probably wondering about the features and specifications, here is a copy of them from the manufacturer's website for you to drool on. (Please clean up any drool that may pool on your table/desk/chair/keyboard afterwards.)
Features
The first full tower chassis with two 90 degree rotatable 4-in-3 HDD modules
The first with an easy-to-carry handle, and hidden tool box for storing private goods
Removable dust filters on bottom and top intakes
A built in fan controller for cool and quiet operation
Supports up to 14 hard-drives for future upgrades
Convenient external 2.5" HDD/SSD X-dock
Supports high-end hardware, XL-ATX Mainboards and Quad SLI/CF with dual slot VGAs
Specifications
Model Number: SGC-5000-KKN1
Available Color: All Black
Material: Steel body, Front Mesh / Plastic bezel
Dimensions: (W) 250 x (H) 605.6 x (D) 578.5 mm
(W) 9.8 x (H) 23.8 x (D) 22.8 inch
Net Weight: 13.7 KG / 30.2 lbs
M/B Type: Micro-ATX, ATX, XL-ATX
5.25" Drive Bay: 9
3.5" Drive Bay: 8 (converted from 5.25" bay by two 4-in 3 HDD modules)
2.5" Drive Bay: 13 (converted from 5.25" bay by two 4-in 3 HDD modules)
Cooling System:
Front: 120 mm LED fan x2 (1200 RPM, 17dBA)
Top: 200 mm fan x 1 (1000 RPM, 23 dBA)
Rear: 140 mm fan x1 (1200 RPM, 19 dBA) (converted to 120 mm fan)
Bottom: 120 mm fan x 2 (optional)
Side: 120 mm fan x 2 (optional)
Expansion Slots: 9+1
I/O Panel: USB 3.0 x 2 (internal), USB 2.0 x 2, e-SATA x 1, Audio In and Out (Supports HD audio)
Power Supply Type: Standard ATX PS2 / EPS 12V
Maximum Compatibility: CPU cooler height: 186 mm / 7.3 in
GPU card length: 322 mm / 12.7 in
---
Page Index
1. Introduction, Packaging, Specifications
2.
Physical Look - Outside
3.
Physical Look - Inside
4.
Installation and Conclusion