Page 3 - Physical Look - Inside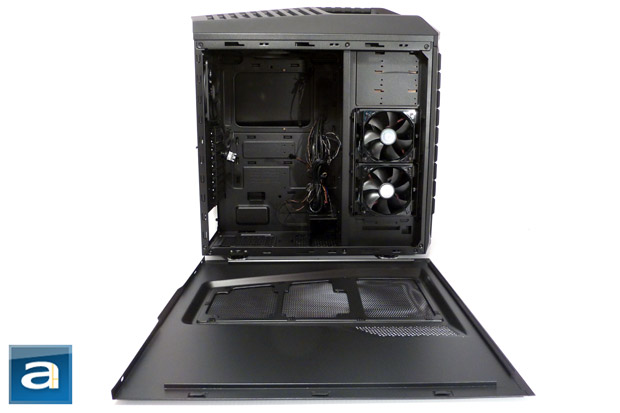 As one would hope, the side panel is extremely easy to remove. The thumbscrews come off without any struggle, and the panel seems to slide off effortlessly, kind of like Janet Jackson's clothes during the Super Bowl halftime show back in 2004. With the side panel down, it is time to see what the Cooler Master Storm Trooper is really all about. One of the first features to be noted is the side mounted fans are attached to the inside of the chassis instead of the side panel. The flexibility to remove the side panel without having to ever worry about disconnecting the fans is a great feature to have. While this is expected on a high end case, it is always lacking on value cases. Of course, being a full tower chassis, it is easy to see how much room there is on the inside of the Storm Trooper. Supporting up to XL-ATX sized motherboards allows for tons of extra room when using a standard ATX or mATX board. With the internal space accommodating up to 322 mm length for graphics cards, it will be difficult to find an add-in card too long for this combatant.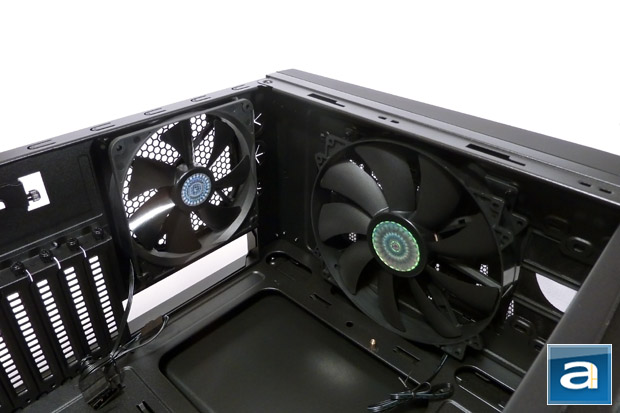 Typically, in recent years, it has become a theme to have a large top mounted fan near the processor. The Cooler Master Storm Trooper features a large 200mm fan at the top, and a 140mm rear exhaust fan. Together, you shouldn't ever have to worry about there not having enough air flow around the CPU. In addition to the large fans, this soldier is designed to handle large aftermarket coolers with a height of up to 186mm. My Thermaltake Frio OCK fits inside of the chassis effortlessly. Simply sneak a peek on the next page if you want to take a look it. While the Frio OCK isn't the largest aftermarket cooler in the world, this Trooper certainly won't have any issues with larger coolers. The other great feature about this chassis is the large opening on the tray for CPU backplates. This opening will easily accommodate the installation of any aftermarket coolers you happen to own.
One of the most common characteristics of value cases is the complete lack of absorbing material for the power supply on the frame. This means that any vibrations will easily propagate across the entire chassis, and make lots of noise. Cooler Master has done it right with the Storm Trooper, as there are rubber pads along the bottom and back side of the power supply bay. Together, this will almost eliminate any vibration noise generated by the PSU. Another excellent feature here is the separate dust filter for the power supply vent. This allows you to selectively clean this filter with minimal effort. I tend to find my power supply collecting the most dust in my system, so having a separate filter that I can easily clean more often is a wonderful addition. Immediately above the power supply bay ,you can see a small opening. I am always excited to see convenience features like that, because I usually have a number of cables to plug in at the bottom of my motherboard. This opening lets me to connect them up without having to run cables over my power supply, and in front of the motherboard. Well done, Cooler Master, well done.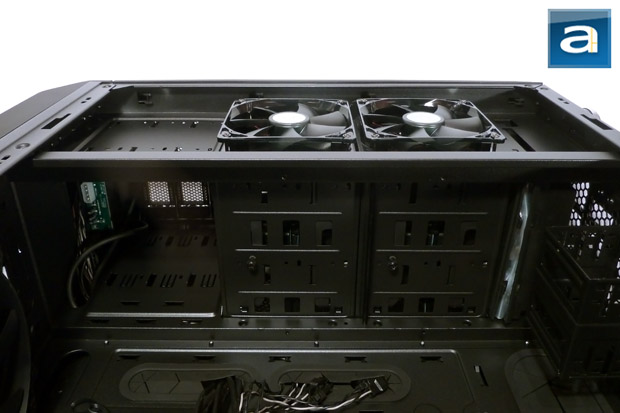 When I first looked at this part of the chassis, the only thing running through my mind was that I need more hard drives. However, with the current state of hard drive prices, I might just have to wait till next year before considering that as an option. Then again, I could always cave in and finally buy myself an SSD, since the price per gigabyte is getting pretty decent. Cooler Master has provided the end user with a number of options for drive bays. A mix between 5.25", 3.5" and 2.5" bays allows for maximum flexibility. As well, you can easily change the configuration to suit your needs. If you have nine 5.25" drives, feel free to set them up all the way down the front. Or if you are like me and happen to only have a single 5.25" drive, the rest of the bays can be used for other drives, which is exactly how Cooler Master set up the default configuration. I would say this feature is just like the hideaway seats that put in the back seat of SUVs and vans. When you need it for more people, not a problem, but when you want to haul some big stuff, just a few minutes and you are ready to go.
I do have a complaint around this particular area. While I find it great to allow for parts to be stored inside of the chassis, I don't like how much space it occupies. I could almost fit in another two 5.25" drives on the bottom if Cooler Master actually gave me the room. The reason I mention this is for cable management. I would have preferred removable parts tray at the top of the chassis, and make it easier to route cables to the bottom. Considering the size of a full tower, the distance between my power supply and the top drive bay is almost too large for a simple cabling job. Also, by having the parts tray on top means if my computer is sitting on the ground (Typical LAN situation), it is much easier to pull out my spare parts. Not that it is likely you'll even find yourself needing to pull out spare parts frequently, but it is a lot more convenient to have it at the top.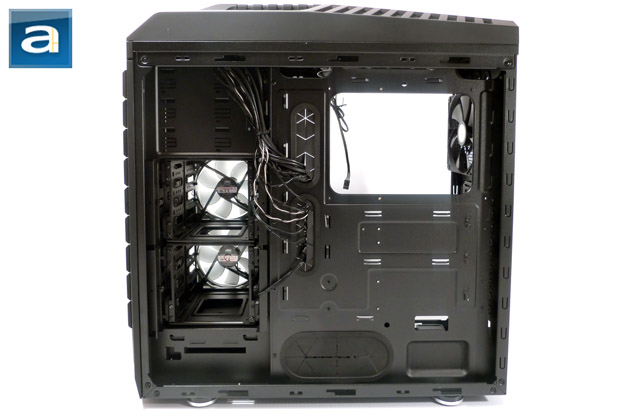 Naturally, I couldn't resist showing the massive collection of wires at the back of the motherboard tray. It is certainly an impressive number of wires, and may provide headaches for those who don't know exactly what the wires do. This is not to mention all the wires actually take away from the amount of available working space in this location. Fortunately, there is plenty of space for managing cables, and the hard drive bays are very easy to access. Each drive bay comes with a holder for easy insertion and removal of disk drives. The wires are fed through large rubber grommet holes; a great way to visually hide cables. It also ensures less air flows through these openings, so they are restricted to where they should be going. On the other hand, there is a major design issue with these rubber grommets. The rubber flaps on them are extremely fragile, and will tear very easily under stress. This could have been easily resolved by having thicker flaps, but instead I'll have to be careful not to rip them out when routing my cables.
---
Page Index
1.
Introduction, Packaging, Specifications
2.
Physical Look - Outside
3. Physical Look - Inside
4.
Installation and Conclusion