By: Aaron Lai
February 16, 2018
If you are a fan of anime, you probably have heard of the movie called Kimi no na wa, or Your Name. This movie premiered in mid-2016, going on to make quite a bit of money from the box office. It was lauded for its animation and emotional appeal. Without revealing too much, the movie centers on the life of two teenagers in Japan, with one in rural Japan and the other in the heart of Tokyo. Seemingly enough, their life would intertwine as they found themselves waking up in each other's bodies. A story unfolds between the two, but I think I will let you readers watch the movie for yourself. When I was talking to one of my junior high friends about this movie, she exclaimed her dismay to the conclusion of the movie. I am not going to spoil anything, but I actually really liked the way they concluded the movie. To me it was subtle without needing to tell the audience any more than necessary. Through the movie, the audience learned enough about both of the characters through their interactions, allowing them to draw their own conclusions. Honestly though, I think these subtle ends only work well if enough information and clarity is provided for the audience. Similarly, when it comes to products, the gamer look is nice, but I always like a subtle design as long as the performance is not affected by it. Today, we have the Corsair Gaming HS60 Surround, which is a gaming headset from Corsair. But instead of throwing RGB lighting and things, Corsair has stuck to the basics with its appearances and included a USB sound card for a virtual 7.1 surround output. But how does it perform and does its subtle finish hold it back from being more? Read on to find out!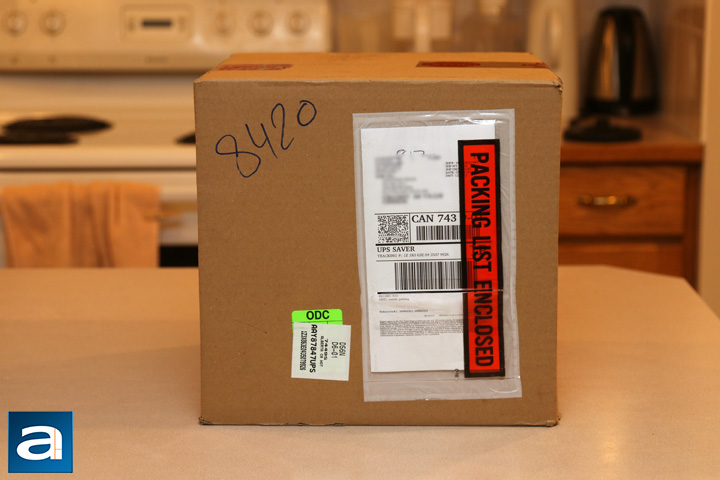 Today's review unit of the Corsair Gaming HS60 Surround arrived directly from Corsair's offices in Ontario, California. Arriving with UPS and their Saver service, this shipment arrived quickly. The brown corrugated cardboard box arrived without any holes, dents, or bruises to be really concerned about. All the edges were fully sealed, so I know no one else was inside this box after it was taped up. Otherwise, I grabbed a pair of scissors and opened up the container. Inside, the Corsair Gaming HS60 Surround was found with a pile of bubble pockets to ensure the headset was not damaged in transit. In addition, the box was sealed in a plastic bag to prevent any scratches on the retail container itself.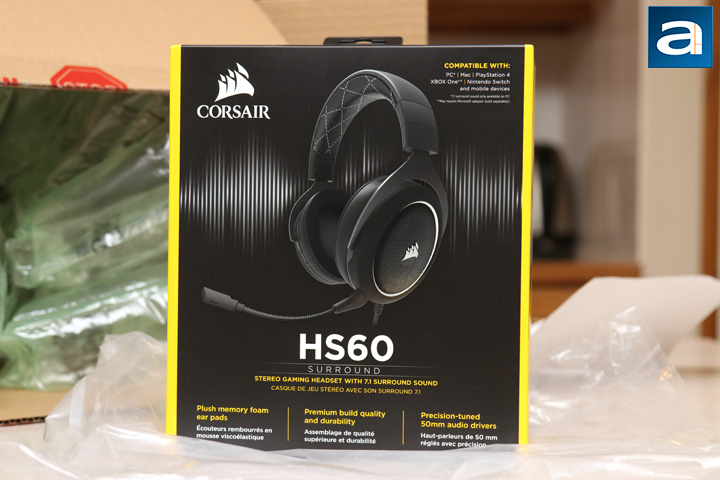 Speaking of which, the Corsair Gaming HS60 Surround's retail container aligns with other Corsair products as it adorns the yellow and black theme. The front shows off the headset itself with the product name underneath it. Primary product features are displayed on the front in both English and French. You will also find the product description, "Stereo gaming headset with 7.1 Surround Sound". Finally, the top shows off the fact this product is compatible with all sorts of gaming consoles and machines. On an aside, Corsair has said the HS60 Surround is a follow-up model of their stereo HS50 headset, so we will also see where the similarities and differences are in our review. Otherwise, there is not much else to talk about, so I continued to open up this headset.
But first, if you are interested in the specifications of the headset, I have grabbed them from the manufacturer's website for your perusal:
Headphone
Warranty: Two years
Frequency Response: 20Hz - 20 kHz
Impedance: 32k Ohms @ 1 kHz
Drivers: 50mm
Connector: 3.5mm analog
Microphone
Type: Unidirectional noise cancelling
Impedance: 2.0k Ohms
Frequency Response: 100Hz to 10kHz
Sensitivity: -40dB (+/-3dB)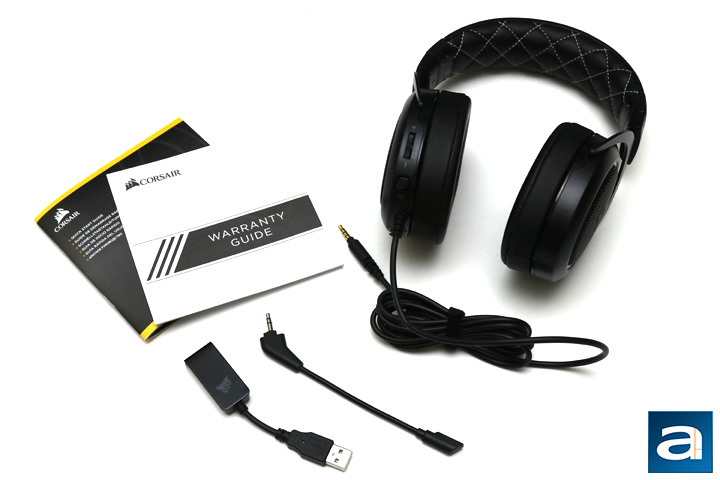 The Corsair Gaming HS60 Surround was packaged in the cardboard box and held in a plastic shell. Unlike the Corsair Gaming HS50 Stereo, the HS60 Surround comes with a 3.5mm to USB sound card. Otherwise, there is also a detachable microphone. Both of these components were stored in individual plastic bags. We also have two short manuals. One is a quick start guide, which helps with using the headset. The other is marked as a warranty guide, which outlines the warranty information from Corsair. For your information, two years of warranty is offered by Corsair, which is standard for all of their audio products.
---
Page Index
1. Introduction, Packaging, Specifications
2.
Physical Look - Hardware
3.
Subjective Audio Analysis
4.
Conclusion