By: Ben Joubert
September 16, 2022
My wife and I have recently made a big decision to move once again. The process of finally getting to the point of moving was a long one. It took quite some time to weigh all the options and come to a good conclusion. Part of the challenge was that there were good things where we were staying. I am sure for many of you who have made big decisions, they are often complicated, because sometimes you are choosing between two good options without a clear winner. Over time, as you think through the options, one may become clearer as better or something else may come up which tips the scales in one direction, but choosing between two good options requires wisdom and a certain amount of awareness for what you are actually looking for or to see the situation you are in clearly. That was part of the struggle for my wife and I as we were thinking about moving. Staying was not a bad option, and moving was not a bad option. We had to approach the decision slightly differently to have some more clarity about the whole idea. So, instead of just looking at it as two good options, we simply asked and entertained what would be the best for us? So, instead of weighing all the good options on either side, we began to think through if those good options were actually best for us. Now, I know this seems super simple and straightforward, but it actually helped to clear up quite a few things. I think this little question is helpful in many areas to ask if it is best for our situation. No less helpful than in the peripherals arena where there are many choices to build your PC setup. Today, we have the Corsair HS80 RGB Wireless, which seems to be a good option, but is it the best for what you are looking for? Read on to find out!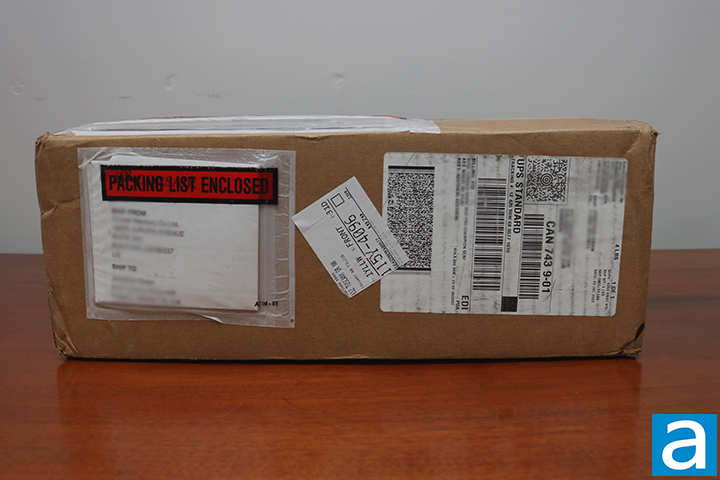 The Corsair HS80 RGB Wireless and the Corsair Sabre RGB Pro Wireless arrived in a medium-sized box via UPS Standard. It was shipped all the way from California to us here in Calgary, Alberta, and arrived in pretty good condition. There was little on the exterior to indicate damage to the products inside. After opening up the box, there were plenty of plastic air pockets to prevent things from bouncing around. Everything was in order from the outset, so let us take a look at the retail packaging.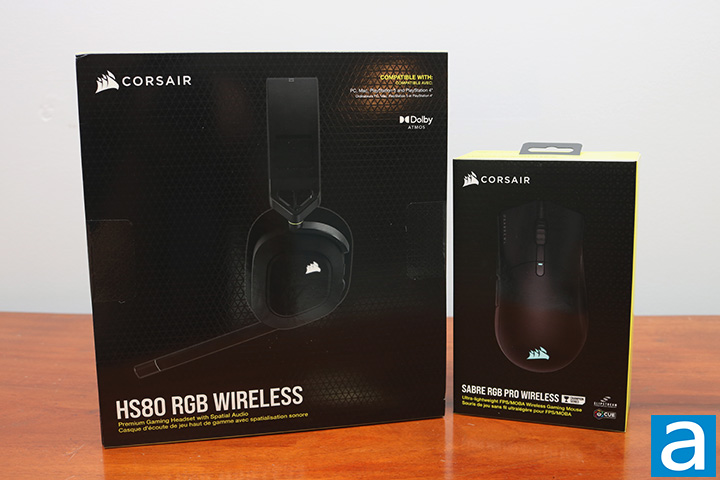 Both the Corsair HS80 RGB Wireless headset and Corsair Sabre RGB Pro Wireless mouse have similar packaging. The front and back of the box is black, while the sides have a yellowish-green color to it, signature of the brand. This corresponds to small writing underneath the name of each product. The Corsair HS80 RGB Wireless' compatibility and main features are highlighted; namely, its spatial audio. Otherwise, all the specifications are provided on the back of the box.
Below, you will find the specifications from the manufacturer's website:
Audio CUE Software: Yes
Surround Sound: Yes
Detachable Microphone: No
Rechargeable Battery: Yes
Weight: 0.368
Headset Frequency Response: 20Hz - 40 kHz
Headset Battery Life: Up to 20 hours
Headphone Sensitivity: 116dB (+/-3dB)
Headset Wireless Range: Up to 60ft
Impedance: 32k Ohms @ 1 kHz
Headset Type: Wireless
Headset Drivers: 50mm
Color: Black
Audio: Dolby Atmos
Lighting: RGB
Platform: PC, Mac, PlayStation 4/5
Microphone: Impedance 2.2k Ohms
Microphone Type: Omni-directional
Microphone Frequency Response: 100Hz to 10kHz
Microphone Sensitivity: -40dB (+/-3dB)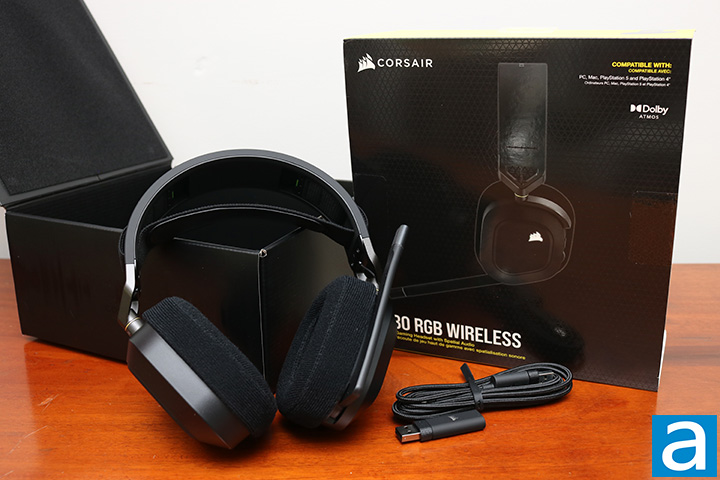 The accessories included are fairly simple. There is a USB cable with a Type-C connector on the one end. This cable is braided and can be used to charge the Corsair HS80 RGB Wireless. Otherwise, we find the wireless USB receiver to link the headset to your computer. All of these were placed rather securely in the box, ensuring things do not move around or scratch the headset. For a pricey headset, the accessories seem a little bare, especially considering there are no replaceable or other options for the ear cushions. On the other hand, what is included is well-made.
---
Page Index
1. Introduction, Packaging, Specifications
2.
Physical Look - Hardware
3.
Subjective Audio Analysis
4.
Conclusion