By: Jonathan Kwan
January 29, 2021
In many places of the world, the price you pay for internet service can differ significantly than what they post on their website. In fact, I have not paid the list price for my home connection for as long as I could I remember. The way it works is every couple of years, I would call my ISP and try to wring out a discount price and sign a contract to lock in for another two years. Recently, my two-year plan was about to expire, and realizing it is the season to negotiate, I looked on a popular Canadian online deals forum to see what people were getting. As it turned out, a plan listed for $114 could be had for $54 a month along with a $100 bill credit, which was about what I was paying currently. So I called them up, and the first response I got was the deal was expired and is no longer available. I knew they were lying, mainly because the promotion just came out the day before. I understand how customer service representatives are trained, so I decided to mention a few key words such as a competitor's plans and prices so they can start offering me better deals. Immediately, the $54 a month plan with an extra $100 bill credit magically became available. As it can be seen, if companies want to corner a market with their product on price, they can. When it comes to mechanical keyboards, Cherry MX is the original and long been the high-end manufacturer of key switches. This means keyboards using their switches are expensive. All this is changing though. Allegedly to give kill off membrane keyboards, and in my opinion, keyboards based on budget non-Cherry switches, the company launched the Cherry Viola, which is used in the Corsair K60 RGB PRO SE we are reviewing today. I do not think $100 MSRP is a budget keyboard by any stretch, but hear me out on this: The K60 RGB PRO SE comes with full RGB backlighting along with PBT keycaps. Did Corsair make something amazing with the Cherry Viola? Read on to find out!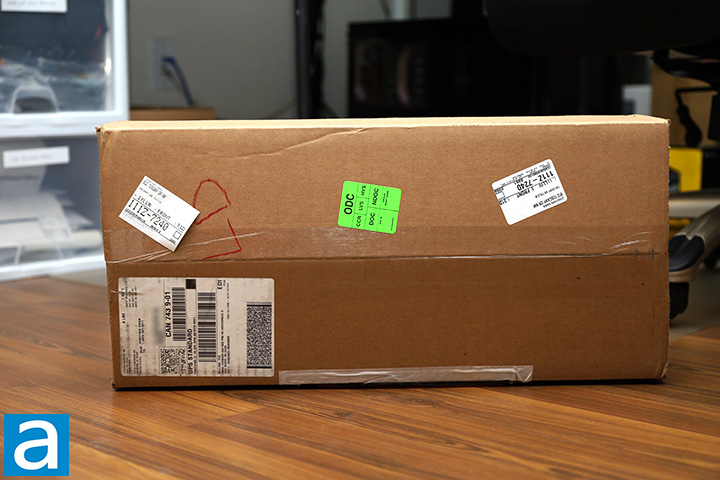 Our review unit of the Corsair K60 RGB PRO SE came in an elongated brown corrugated cardboard box from the company's headquarters in Fremont, California, USA. Using UPS Standard, everything arrived in excellent condition to us here in Calgary, Alberta, Canada for our review today.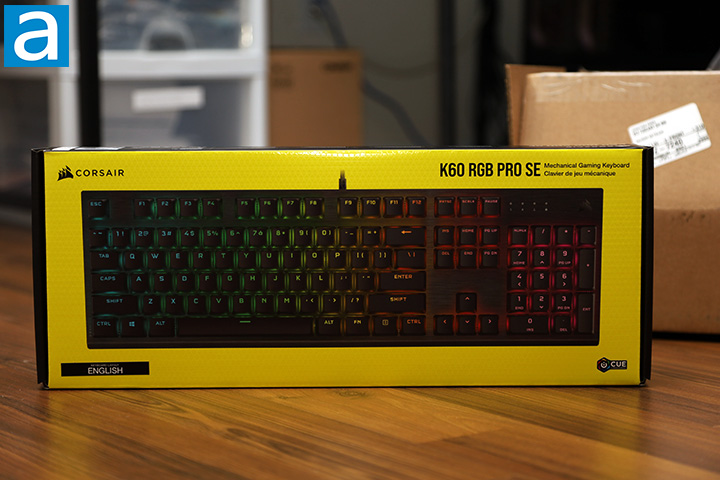 The retail packaging of the Corsair K60 RGB PRO SE is immediately recognizable to anyone who has seen peripherals from the company at the local computer shop in the last little while, assuming they are still open where you live and you still go to computer shops. It uses the same template as the Corsair K57 RGB Wireless and K70 RGB MK.2 Low Profile. The predominantly yellow color scheme is complemented by black strips on the side, contrasted by the white text on the darker shades and black text on the lighter shades. A photo shot from the top of the keyboard occupies majority of the real estate in front. At the top, you will find Corsair's logo. The name and description of the keyboard is printed next to it. At the bottom is a sticker to indicate its English keyboard layout. On the right is a Corsair iCUE logo. Further feature highlights and miscellaneous product information such as specifications and system requirements can be found on the remaining sides of the box.
Before we move on, let us take a look at the specifications of the Corsair K60 RGB PRO SE, as obtained from the manufacturer's website and press material:
Keyboard Warranty: 2 Year
Weight: 0.92kg
Keyboard Backlighting: RGB
Keyboard Layout: NA
HID Keyboard Report Rate: 1000Hz
Key Switches: CHERRY VIOLA
Matrix: 104 Keys
Keyboard Connectivity: USB 3.0 or 3.1 Type-A
Media Controls YN: Yes
Keyboard Type Size: K60
Keyboard Product Family: K60
Keyboard Rollover: Full Key (NKRO) with 100% Anti-Ghosting
Size (Full/TKL): Full Size
Battery Charging: Yes
On-Board Memory: Yes
WIN Lock: FN Shortcut
Media Keys: FN Shortcuts
Wrist Rest: Included, magnetic detachable, cushioned with soft textured leatherette cover
Keyboard CUE Software: Supported in iCUE
Keyboard Cable Type: Tangle-free rubber
Integrated Touchpad: Wired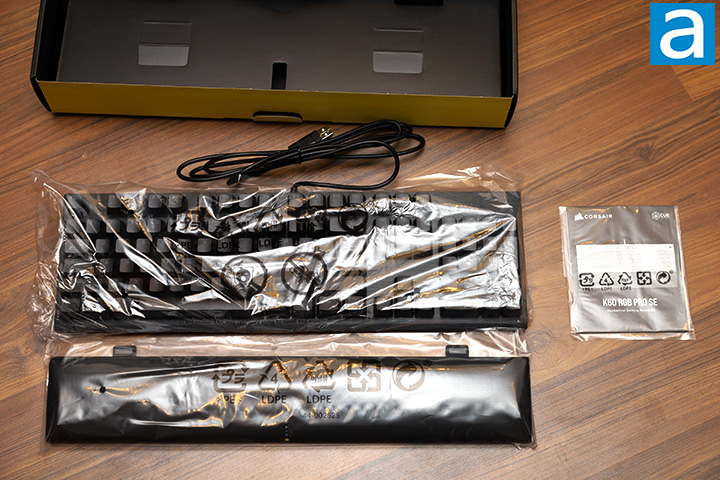 Out of the box, you will receive everything you need with no extras. Securely placed inside the box is the Corsair K60 RGB PRO SE keyboard itself contained in a clear plastic bag, while its detachable wrist rest is wrapped inside a separate plastic bag. On the product literature side, you will find a warranty guide and quick start guide.
---
Page Index
1. Introduction, Packaging, Specifications
2.
A Closer Look - Hardware and Software
3.
Conclusion