By: Jonathan Kwan
December 13, 2019
If you have been following APH Networks for a while, you may remember a couple of review introductions where I gave relationship advice. It just so happens both happen to be Western Digital Red hard drives; the first one being the WD40EFRX and the second with the WD60EFRX. If you wonder whether I give relationship advice to my friends in real life or not, I can assure you I do. A few months ago, I was grabbing late night snacks with a couple of friends at a McDonald's when the topic of relationships came up. My friend, Robert, has been single for quite a while now. Robert is far from socially awkward, and as the conversation progressed, I found out he actually has a girl's number, but was not sure how to start the conversation, therefore he did not text her. "Robert," I said. "if you really have no idea, do what you normally do on Craigslist or Kijiji: 'Hi, is this still available?'" I will tell you what actually happened in the conclusion of this review, but let me put it this way: Even though this is probably one of the worst opening lines you can use, it is pragmatic and beats doing nothing at all. When it comes to keyboards, having something that is wireless, RGB, and mechanical is probably the ideal for many until price comes into pay. People make different choices on what is more important like my terrible opening lines that is better than doing nothing, and the Corsair K57 RGB Wireless picks wireless and RGB over mechanical. Will it be any good? Let us read on to find out.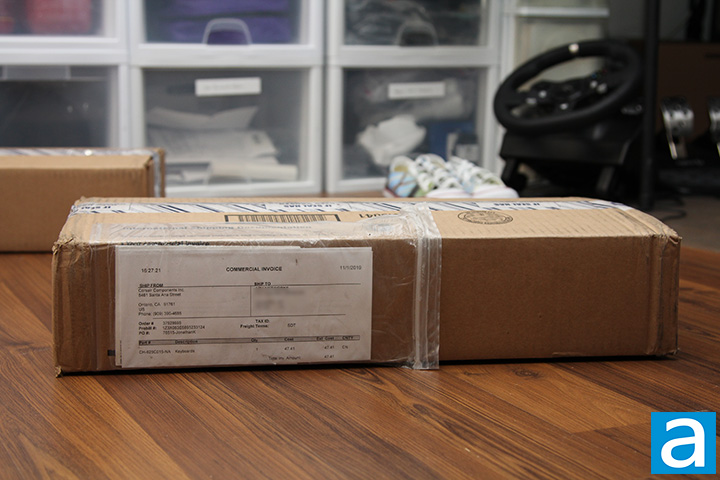 Our review unit of the Corsair K57 RGB Wireless came in an elongated brown corrugated cardboard box from the company's American headquarters in Ontario, California, USA. If you wonder why there is a place in California called Ontario, it actually has Canadian roots. The place was named by three Canadians after their home province of Ontario. There you have it. Using UPS Standard, everything arrived in excellent condition to us here in Calgary, Alberta, Canada for our review today.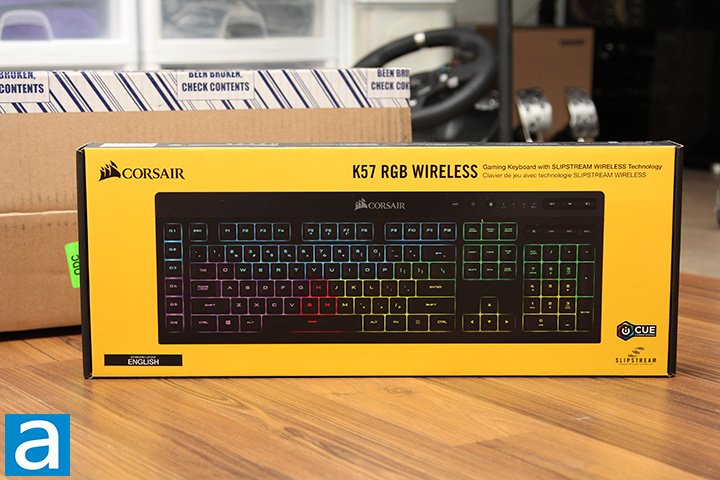 The retail packaging of the Corsair K57 RGB Wireless is immediately recognizable to anyone who has seen peripherals from the company at the local computer shop in the last little while. It uses the same template as the Corsair K70 RGB MK.2 Low Profile. The predominantly yellow color scheme is complemented by black strips on the side, contrasted by the white text on the darker shades and black text on the lighter shades. A photo shot from the top of the keyboard occupies majority of the real estate in front. At the top, you will find Corsair's logo. The name and description of the keyboard is printed next to it. At the bottom is a sticker to indicate its English keyboard layout. On the right is a Corsair iCUE and Slipstream wireless technology logo. Further feature highlights and miscellaneous product information such as specifications and system requirements can be found on the remaining sides of the box.
Before we move on, let us take a look at the specifications of the Corsair K57 RGB Wireless, as obtained from the manufacturer's website:
Keyboard Warranty: 2 Year
Weight: 0.95kg
Keyboard Backlighting: RGB
Keyboard Layout: NA
Macro Keys: 6
HID Keyboard Report Rate: 1000Hz
Key Switches: Rubber Dome
Matrix: 110 Keys
Keyboard Connectivity: Wireless, Wired
Adjustable Height: Yes
Media Controls YN: Yes
Keyboard Type Size: K57
Keyboard Product Family: K57
Keyboard Rollover: 8-Key Selective (8KRO) with Anti-Ghosting
Size(Full/TKL): Extended
Wired Connectivity: USB 2.0 or 3.0 Type-A
Wireless Connectivity: 2.4GHz SLIPSTREAM: Up to 16hrs with standard lighting or 24hrs with lighting off
BLUETOOTH: Up to 30hrs with standard lighting or 50hrs with lighting off
Battery Charging: USB to Device
On-Board Memory: Yes
WIN Lock: Dedicated Hotkey
Media Keys: Dedicated Hotkeys
Wrist Rest: Included, detachable, with soft touch finish
Keyboard CUE Software: Supported in iCUE
Keyboard Cable Type: Tangle-free rubber
Keyboard Battery Life: Up to 35 hours with RGB backlighting or 175 hours with backlighting off
Keyboard Battery Type: Rechargeable Lithium-Ion
Wireless Range: Up to 33ft (10m)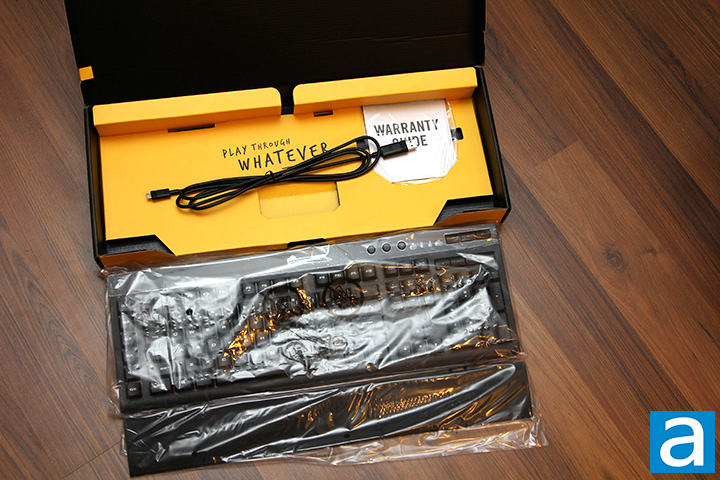 Out of the box, you will receive everything you need with no extras. Securely placed inside the box is the Corsair K57 RGB Wireless keyboard itself contained in a clear plastic bag, while its detachable wrist rest is wrapped inside a separate plastic bag. A USB Micro-B to Type-A cable is included to charge the keyboard or to operate it in wired mode. On the product literature side, you will find a warranty guide and quick start guide.
The K57 RGB Wireless is a classic Corsair keyboard with a clean, practically reference layout -- meaning no crazy designs -- with media and macro buttons on the side, RGB LED backlighting, and a detachable wrist rest. Corsair's logo can be found at the top, right in the middle of the fingerprint-prone piano black bar. Meanwhile, it features a matte black plastic backplate. Matte plastic is no aluminum in quality, but it hides fingerprints well. The sides and bottom are all made out of quality plastic as well. There is some flex in the keyboard, but this is expected considering the material used. Overall, the look is great for a non-mechanical wireless gaming keyboard with RGB backlighting.
The Corsair K57 RGB Wireless wrist rest is fully detachable from the main unit. It is designed to be connected to the keyboard via two plastic clips. The tabs on the plastic clips appear to be of reasonably good quality. The entire wrist rest is made out of plastic, but most of it has a textured finish for improved grip. It protrudes comfortably for my average sized hands. When placed on the table, the wrist rest does not move from side to side and has a limited slip rotation angle when lifted off the table.
This keyboard measures in at 480mm width, 166mm depth, and 34.6mm height. Adding the wrist rest increases the depth to about 230mm by my measurements. This is slightly deeper than a standard QWERTY keyboard due to the top bar. To go along with its medium footprint and medium profile, the keyboard weighs about 950g according to the manufacturer. This leans on the heavy side for a rubber dome keyboard.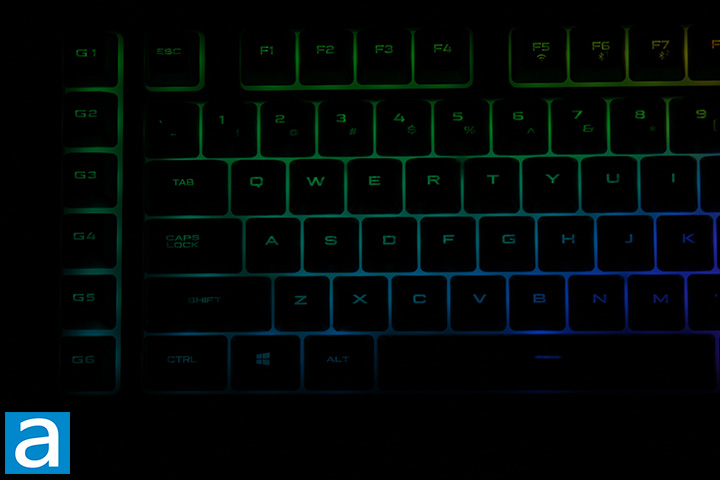 Once you turn off the lights and activate the Corsair K57 RGB Wireless's Capellix RGB LED backlit keys, the keyboard flows with color. Corsair claims Capellix LEDs are 60 percent brighter while using 40 percent less power. The result is up to 35 hours of battery life at brightness level 1, 20 on level 2, 8 on level 3, and 175 hours without lighting according to the company. Meanwhile, the font on each keycap is large and bold. The K57 RGB Wireless features full independent key RGB backlighting. Backlight intensity can be adjusted on the fly by a dedicated button located in the top bar to cycle the brightness.
The backlight can be turned off completely or activated in three different brightness levels as aforementioned. I am a big fan of fully backlit keyboards and I am happy Corsair designed the K57 RGB Wireless with this feature. The Corsair K57 RGB Wireless's key illumination distribution is perfectly, because this is a rubber dome keyboard with clear stems. The area between the keys are also backlit thanks to the reflection of the LEDs, and I like it.
The laser-etched acrylonitrile butadiene styrene (ABS) plastic keycaps are of average quality. Polybutylene terephthalate (PBT) keycaps such as the ones found on the Cooler Master MasterKeys L PBT are stiffer, harder, and has better color retention, but the ones found on the Corsair K57 RGB Wireless are smooth and feels nice on the fingers despite showing a bit of oily marks.
Almost everything here is pretty standard in terms of layout with a few additions. I am a big fan of the single row Enter key layout as present on our US QWERTY Corsair K57 RGB Wireless. Keyboards with a double row Enter key usually means the "\" button is moved to the left side of the right "Shift" key; reducing the size of the latter. I am more used to having a full width Shift on the right and a half height Enter. Obviously, this is more or less personal preference, but having a half height Enter key makes a lot more sense to me.
Above the number pad are four media keys, which includes stop, previous, play/pause, and next. Mute, volume down, and volume up buttons are located in the top bar. All media keys are not backlit. Four indicator LEDs corresponding to battery/wireless status, Num Lock, Caps Lock, and Windows Lock/Macro Status, respectively, can be found between the volume control buttons and three other keys. These three keys include one for adjusting backlight LED brightness as aforementioned. The other two are for recording macros on the six dedicated G buttons on the left and toggling Win Lock on or off. They Num Lock and Caps Lock LEDs glow white when activated and its color cannot be changed. Meanwhile, the battery/wireless status LED blinks, pulse, or glows steady in white, blue, cyan, yellow, green, red, or amber depending on connectivity status or battery level.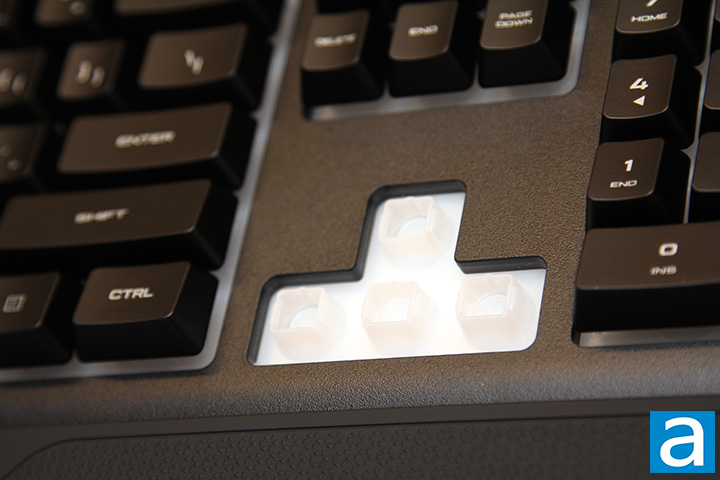 If you do not know what a rubber dome keyboard is, there are three main types of keyboards in the market today. The cheapest is the rubber dome keyboard, often used interchangeably with membrane keyboard, which is the easiest to make, but also has relatively poor typing feel and response due to squishy keys. A scissor switch keyboard has its own independent keyswitch mechanism for each key, which delivers improved tactile response and typing experience. Modern scissor switch keyboards can be very good for everyday office use. Mechanical keyboards cost the most because each keyswitch is an independent part.
The K57 RGB Wireless features rubber dome switches. They are quiet and has a tactile bump right at the very start. They feel decent for what they are, but keep in mind this is not a mechanical keyboard. The base is made out of plastic as aforementioned, so there is some keyboard flex.
The Corsair K57 RGB Wireless is an 8KRO keyboard. 8KRO stands for 8-key rollover. If you have used keyboards with limited key rollover capabilities, you may have experienced ghosting issues in the past where when too many keys are pressed at the same time, your system unable to register any more strokes. A full NKRO keyboard, on the other hand, overcomes this by independently polling each key, making all inputs detectable by the hardware regardless of how many other keys are activated at the same time. This mean in the event you have every other key on your keyboard depressed, it will still register the last stroke. The K57 RGB Wireless can support up to eight simultaneous keypresses. It is not as good as a full NKRO keyboard, but since you have only ten fingers, eight is a decent figure.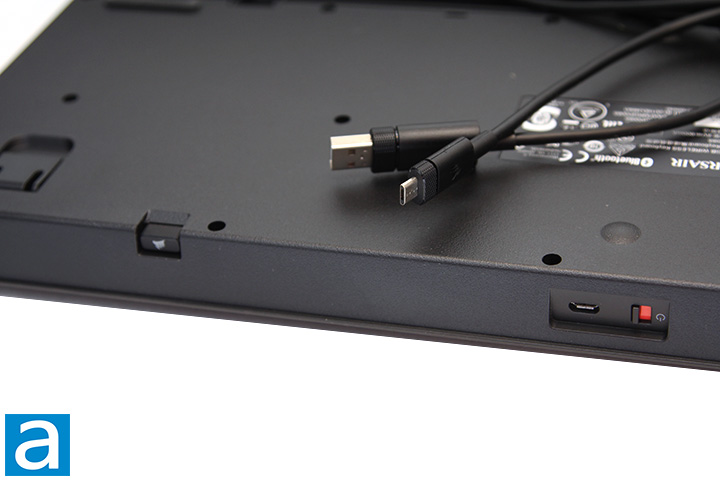 At the back of the Corsair K57 RGB Wireless is the USB Micro-B cable lead out used to charge the keyboard or to operate it in wired mode. It comes out in the center and is located next to the power switch. I would have much preferred a USB Type-C port like the Cooler Master SK621. This braided rubber cable is very thick and extends 1.8m in length to connect to your computer via a standard non-gold-plated USB connector. When we bring about the question of whether gold plated connectors are actually useful or not, let us just say if it was the actual pins, then possibly -- since gold offers better conductivity than other metals. This theoretically establishes a better connection with your computer, but on a digital signal level, we must understand it is a discrete one or zero; if anyone tells you they can tell the difference, you can definitely defeat their theory with a double blinded test. Additionally, if you are referring to the gold part of the connector you see on the plug, I would like to point out it actually does not make any physical contact electrically with your computer. In other words, it is nice to have and it is pretty to look at, but it is not anything significant on a practical level. The lack of a gold-plated USB connector will not have any performance impact on the Corsair K57 RGB Wireless.
A small USB wireless transceiver is hidden in the keyboard shown in our photo above. Although the Corsair K57 RGB Wireless is Bluetooth compatible, the transceiver provides support for the company's proprietary Slipstream wireless technology. According to Corsair, it is a low latency protocol with intelligent frequency switching for improved gaming performance. In the context of a keyboard, the reduced latency is probably not noticeable, but you will likely see improved NKRO performance.
At the bottom are four rubber pads and strips to help the K57 RGB Wireless stay in place during intense gaming sessions. The two non-rubber lined flip-out risers at the front tilts the keyboard up for those who prefer it. Once flipped out, you will lose the rubber contact with your desk, which will make you lose some grip. Thankfully, the Corsair K57 RGB Wireless is a pretty heavy keyboard by itself, which is great to keep it in its place during intense gaming sessions. There are no keyboard drain holes, so it is advisable to keep your Mountain Dew at a distance.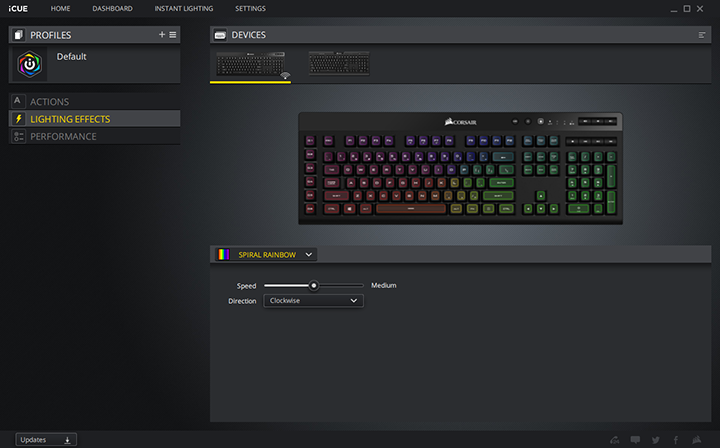 The Corsair K57 RGB Wireless works along with the latest version of the Intelligent Corsair Utility Engine (iCUE), which is a 355MB download from Corsair's website at press time. This program unifies all your Corsair peripherals and components into one application. After selecting the Corsair peripheral you want to configure from the main screen or top bar, the graphical user interface is basically separated into two sections; the left side allows you to select the configuration category, while the right side displays all options. All settings are stored on your PC.
The Actions tab is where you can control the function of the buttons on your keyboard. Options include macro, text, media, launch application, timer, disable, or profile switching for each button on the K57 RGB Wireless. The macro recording system in Corsair iCUE is one of the most comprehensive I have ever seen, while timer will activate a countdown timer that plays a sound and enable an action upon completion. You can also remap the keys into other keys from A to Z, number or symbol keys, function keys, enhanced keys, numeric keypad, modifiers and lock keys, language key, mouse button, or keystroke.
The Lighting Effects tab is where you can play around with the lighting effects of each of the Corsair K57 RGB Wireless keys, as shown in our screenshot above. If you have multiple Corsair products, it supports synchronized lighting effects across your devices. Note keys cannot be independently controlled. With regards to the lighting effects, there are nine pre-defined effects, including Spiral Rainbow, Rainbow Wave, Color Shift, Color Pulse, Color Wave, Visor, Rain, Type Lighting, and Static Color. You can configure the speed, direction, and color depending on the setting. If you do not want to bother with all the advanced options, "Instant Lighting" at the top takes all the complexity out. "Performance" is where the Windows Lock options are configured. This includes disable Alt+Tab, Alt+F4, Shift+Tab, and Windows key if the Windows Lock is on.
The Corsair K57 RGB wireless has a slightly reduced feature set compared to the higher end products like the Corsair K70 RGB MK.2 Low Profile. The K57 does not support lighting layers, individual key colors, or execute lighting effects when a timer is done.
Overall, I found iCUE to be powerful, straightforward, and reasonably easy to use. Significant improvements were made to the usability of this software in the last few years, and the overall experience was very positive to me.
-----------------------------------------
In the end, Robert did not actually use the classified ads reply, but he did reach out to the girl and they ended up meeting. In fact, last time I checked, things were going well between them. As far as the Corsair K57 RGB Wireless picking wireless and RGB over mechanical, were these good choices? I absolutely agree mechanical switches are better than rubber domes, and you will be hard pressed to find any true enthusiast who would disagree. That said, if the K57 RGB Wireless were to be equipped in the same way with Cherry MX switches, my best guess is the price would probably at least double. Therefore, I think the choice is ultimately up to you. Do you want RGB and wireless or do you want mechanical switches at this price point? If you choose RGB and wireless, the K57 is a respectable choice. It is a fully featured keyboard with macro and media keys, full RGB lighting, and an excellent wireless subsystem that is compatible with both Corsair's own low-latency Slipstream protocol and standard Bluetooth. Battery life is excellent, especially with the backlight off, and the rubber dome keys are pretty decent for what they are, too. On the other hand, the plastic backplate means there will be some keyboard flex, and there is a slightly reduced feature set when it comes to RGB lighting effects support compared to some of the company's higher-end offerings. If you are looking for a mechanical keyboard, you are simply looking at the wrong product. For about $75 at press time, the Corsair K57 RGB Wireless offers exactly what its name suggests: RGB and wireless at an affordable price.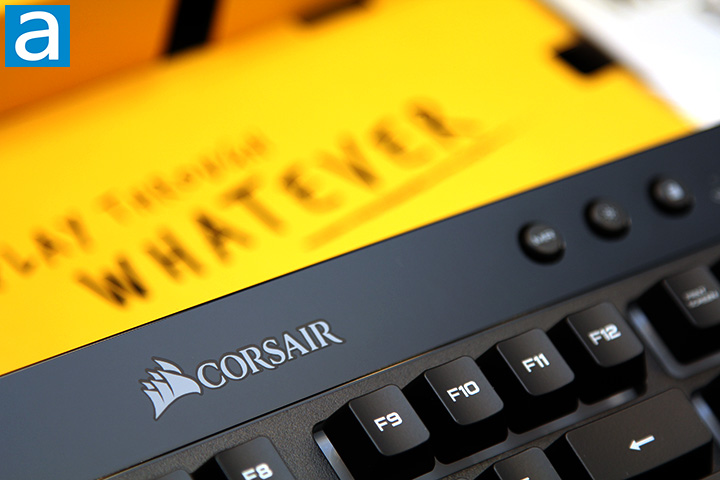 Corsair provided this product to APH Networks for the purpose of evaluation.
APH Review Focus Summary:
7/10 means Great product with many advantages and certain insignificant drawbacks; but should be considered before purchasing.
-- Final APH Numeric Rating is 7.0/10
Please note that the APH Numeric Rating system is based off our proprietary guidelines in the Review Focus, and should not be compared to other sites.
If mechanical switches are not a must, the Corsair K57 RGB Wireless offers both full RGB LED backlighting and wireless connectivity at an affordable price.
Do you have any comments or questions about the Corsair K57 RGB Wireless? Drop by our Forums. Registration is free, and it only takes a minute!