By: Jonathan Kwan
January 6, 2020
Happy New Year! In my review of the Seasonic FOCUS SGX-650 650W in January 2019, I talked about a guy who likes to argue about pretty much anything for the sake of arguing. So what better way is there to start 2020 with another story that contains the same main character? Recently, I was hanging out with a few friends when the topic of electric cars came up. I am a big proponent of electric cars just like him; unfortunately, he is also quite misinformed about traditional gas powered vehicles and started to make some very incorrect statements. For the interest of discussion, I pointed out the emissions of cars using an internal combustion engine is actually much lower than he thinks with modern technology -- a 2011 test published by Edmunds showed the Ford F-150 Raptor had lower emissions than a leaf blower. Naturally, he tried to start an argument with me, stating he took a university course on this and what I said could not be true. Genuinely curious, I asked him which course he was referring to, which turned out to be a single lecture on the benefits of installing electric car chargers in apartment parkades in an urban studies class. Before I could even figure out what that has to do with anything, he challenged me on what makes me qualified to speak in this area, to which I answered, "Actual data and multiple degrees in engineering." While he thinks he is knowledgeable in every topic under the sun, the reality is we all have to have a bit of humility and acknowledge we really do not know that much. But how come some people appear to be smarter than others? The way I see it is, other than it is a bad idea to start unsolicited arguments in general, being knowledgeable in what you are talking about is a good start. The Corsair K95 RGB Platinum XT promises to be an improvement over the popular non-XT version with an updated wrist rest, PBT keycaps, and really everything you would ever want in a keyboard. Does it try to be something it is not like our argumentative friend, or is it really good at what it is intended for? Read on to find out!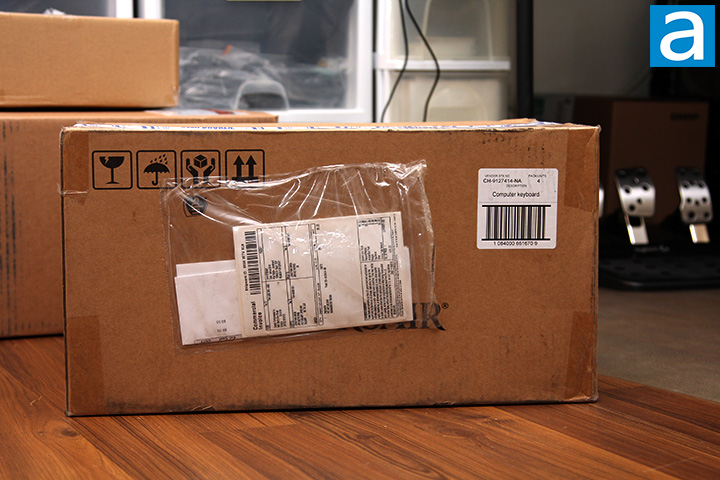 Our review unit of the Corsair K95 RGB Platinum XT came in an elongated brown corrugated cardboard box from Ryder Integrated Logistics in Ontario, California, USA. That is quite a bit of a distance from the company's actual headquarters in Fremont, but regardless of which, using UPS Standard, everything arrived in excellent condition to us here in Calgary, Alberta, Canada for our review today.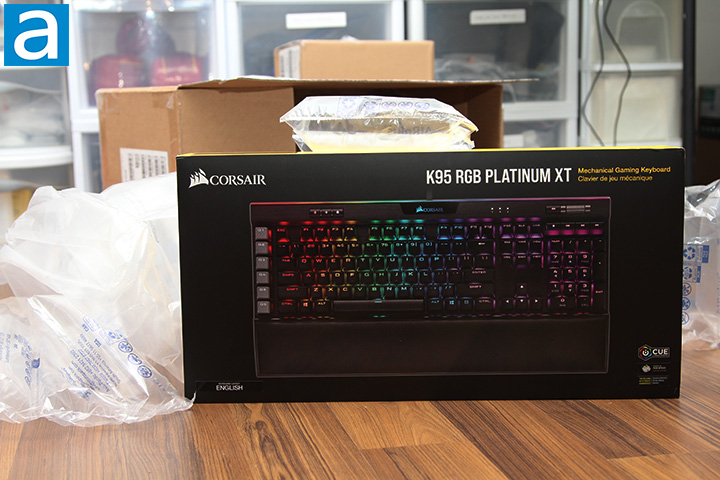 The retail packaging of the Corsair K95 RGB Platinum XT is immediately recognizable to anyone who has seen peripherals from the company at the local computer shop in the last little while. It uses the same template as the Corsair K70 RGB MK.2 Low Profile, but with inverted colors. The predominantly black color scheme is complemented by yellow strips on the side, contrasted by the white text on the darker shades and black text on the lighter shades. A photo shot from the top of the keyboard occupies majority of the real estate in front. At the top, you will find Corsair's logo. The name and description of the keyboard is printed next to it. At the bottom is a sticker to indicate its English keyboard layout. On the right is a Corsair iCUE logo, Cherry MX Speed sticker, and 100 million keystroke guarantee. Further feature highlights and miscellaneous product information such as specifications and system requirements can be found on the remaining sides of the box.
Before we move on, let us take a look at the specifications of the Corsair K95 RGB Platinum XT, as obtained from the manufacturer's website and press material:
Keyboard Warranty: 2 Year
Weight: 1.31kg
Keyboard Backlighting: RGB
Keyboard Layout: NA
Macro Keys: 6
HID Keyboard Report Rate: 1000Hz
Key Switches: CHERRY MX Speed
USB Pass-through: USB 2.0 Type-A
Matrix: 110 Keys
Keyboard Dimensions: 465mm x 171mm x 36mm
Keyboard Connectivity: Wired
Adjustable Height: Yes
Additional colored and textured keycaps: FPS / MOBA
Media Controls YN: Yes
Keyboard Type Size: K95
Keyboard Product Family: K95
Keyboard Rollover: Full Key (NKRO) with 100% Anti-Ghosting
Size (Full/TKL): Extended
Wired Connectivity: USB 2.0 Type-A
On-Board Memory: 8MB
Number Onboard profiles: 5
WIN Lock: Dedicated Hotkey
Media Keys: Dedicated Hotkeys, Volume Roller
Wrist Rest: Included, detachable, cushioned with soft textured leatherette cover
Keyboard CUE Software: Supported in iCUE
Keyboard Cable Type: Braided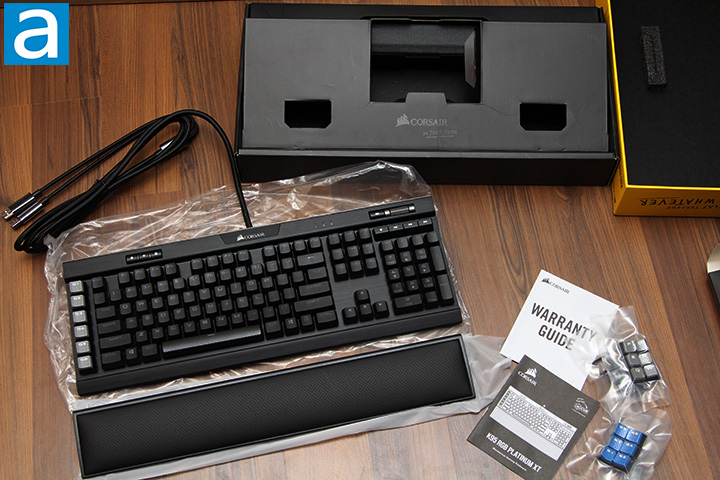 Out of the box, you will receive everything you need plus a few other things that are really nice to have. Securely placed inside the box is the Corsair K95 RGB Platinum XT keyboard itself contained in a clear plastic bag, while its detachable wrist rest is wrapped inside a separate plastic bag. A keycap puller and three sets of extra keycaps, including grey WASD for first person shooters, grey QWERDF for League of Legends players, and blue S1 to S6 for Elgato Stream Deck comes from the factory. There is even a spare keycap with Corsair's logo on it. In case you are wondering, yes, there are two extra "W" and "D" keys. On the product literature side, you will find a quick start guide and warranty information.
---
Page Index
1. Introduction, Packaging, Specifications
2.
A Closer Look - Hardware and Software
3.
Conclusion