By: Jonah Chow (Debut Review)
February 25, 2021
I recently went to a ski hill called Powderkeg located in Blairmore, Alberta. Powderkeg did not have anything unique like long runs or perfect snow powder that other ski resorts near Calgary would have. Powderkeg's website, on the other hand, has the main selling point for why skiers should visit, being their friendly community. While this does not seem like something that would matter much for ski resorts, the friendly atmosphere made for an above-average experience. It was nice to have conversations with people at the top and bottom of the hills. Everyone was happy to recommend their favorite runs. Even though there was nothing special about the runs, the snow was still decently maintained and there was a fair variety of them, varying in difficulty. After paying $54 for a day pass, it was hard to complain about the experience I got when comparing to an average day pass, which usually costs $100 or more. Similarly, when it comes to the Corsair Katar PRO XT, we have a new wired gaming mouse that offers enhanced performance and light weight for an MSRP of only $30. How much enhanced performance? Well, let me say it has the same high-end PixArt PMW3391 sensor as the Corsair Scimitar RGB Elite. Just like how Powderkeg advertises a friendly community at a very competitive price, will the Corsair Katar PRO XT be able to provide a good experience and adequate performance for a low-budget gamer? Keep reading to find out!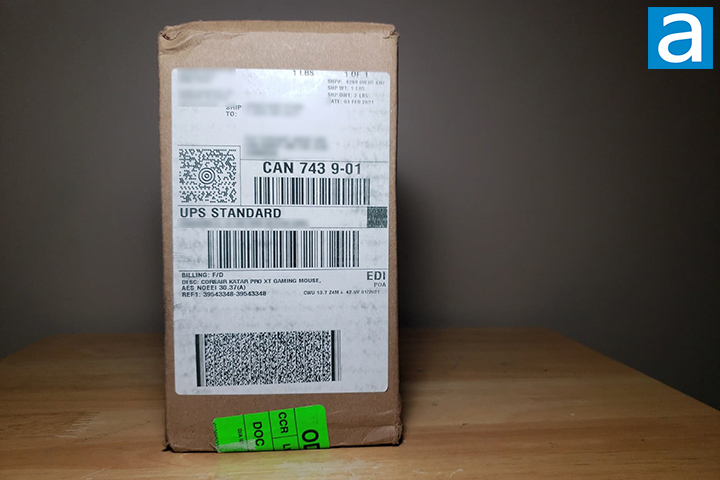 Our review unit of the Corsair Katar Pro XT arrived here in Calgary, Alberta, Canada from the company's American headquarters in Ontario, California using UPS Standard. The shipping box was in decent condition with a few marks and scuffs alongside the corners. Generally, I had nothing to worry about as the marks were not severe enough to damage the retail box. With the shipping box protecting it so well, the retail box arrived in perfect condition. I had no complaint about the shipping.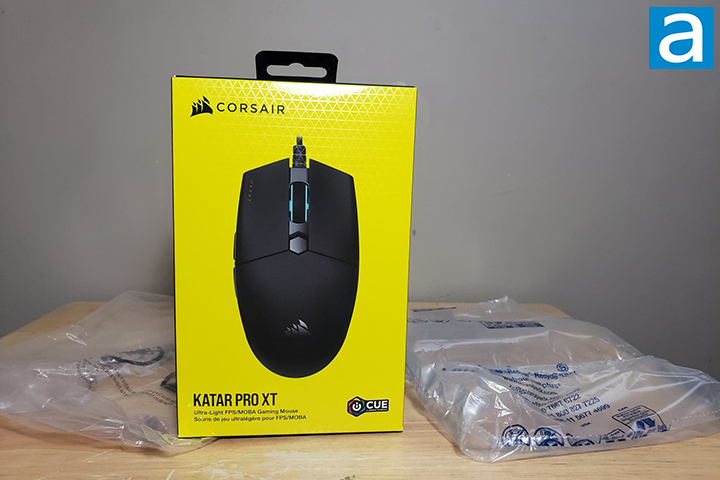 My Corsair Katar PRO XT arrived in retail packaging. Taking a look at the box, it is quite clean and does a good job of displaying the mouse along with its prominent features. The Corsair logo is located at the top left corner, likewise to many other products sold by Corsair. The classic Corsair black and yellow color scheme is used once again. In the light, you can see the triangle pattern across the yellow portion of the design, which makes it feel a lot less flat. A photo of the Corsair Katar PRO XT is displayed front and center, showing off the general design of the mouse with a bit of RGB LED goodness shining from the scroll wheel. The back of the box contains some of the specifications, and the sides has some more Corsair branding.
Before we move on, here are some specifications of the Corsair Katar PRO XT, as obtained from the manufacturer's press material:
Wired Connectivity: USB 2.0 Type-A
Sensor: PMW3391
Sensor Resolution: 100 DPI – 18,000 DPI, with 1 DPI steps
Onboard Profiles: 1 (only lighting and DPI settings, no macros or key remaps)
Backlight: 1-Zone RGB
Buttons: 6
USB Report Rate: 1000 Hz
Color: Black
Mouse Feet: Large PTFE
Cable: 1.8m / 6ft, drag-reducing paracord, black, fixed
iCUE (Software): Supported
Dimensions: 115.8mm(L) x 64.2mm(W) x 37.8mm(H) / 4.56in(L) x 2.53in(W) x 1.49in(H)
Weight: 73g / 0.16lbs
Warranty: Two Years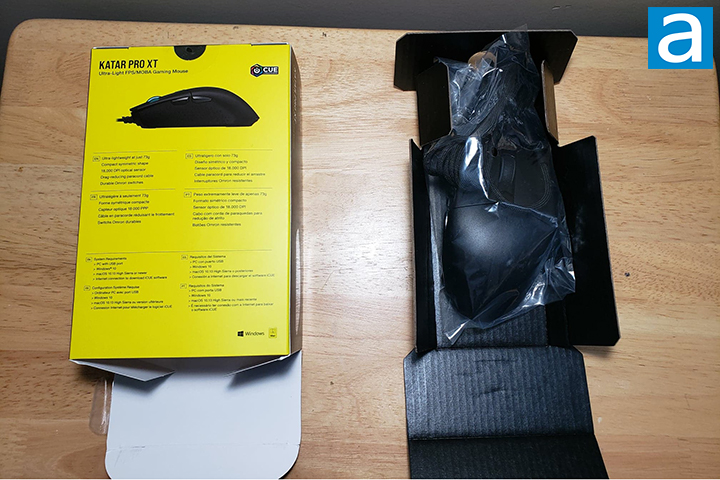 Right out of the box, the first thing you will see is the mouse itself. The mouse alongside its USB cable is bundled in some plastic wrap, which is placed securely under a piece of black cardboard. The user manual and warranty guide were also found inside of the box, as one would expect. The warranty, per the specifications, is two years, which is common for peripherals in 2021.
---
Page Index
1. Introduction, Packaging, Specifications
2.
A Closer Look - Hardware and Software
3.
Subjective Performance Tests
4.
Conclusion