By: Aaron Lai
March 6, 2020
There is another old saying that says everything is bigger in Texas. After being there for a week, I can say it definitely applies to a lot of things. For one, even though I did not think food serving sizes were that much larger, I think the actual plates are larger than what we have in Calgary, and therefore everything was scaled up without looking bigger. Secondly, roadways and overpasses are much more prominent in the cities like Houston or San Antonio. However, one of the largest things we saw was in Houston, which was the Saturn V rocket at the Space Center. When we first passed by during one of the tours, they had an outline of the rocket from the outside, and I thought, "There is no way that thing is actually that big". On our second tour, we were able to go inside the building at Rocket Park when we really saw the massive scale difference of the Saturn V compared to a human. It currently is lying on the ground and thus measures over 363ft or 110m long. While I was also impressed to see the amount of engineering and technical marvel that dates back to the 1960s, the sheer size was definitely the initial shocker. When Corsair sent us their Scimitar RGB Elite, I was a bit shocked, albeit for different reasons. For one, even though we have seen mice marketed towards MMO and MOBA gaming, I have never seen a mouse with a keypad on the side. However, this is exactly what we have for review. The number of buttons may have astounded me at first, but how does this mouse perform as a gaming mouse and is it still capable of tracking smoothly? Let us read on to find out!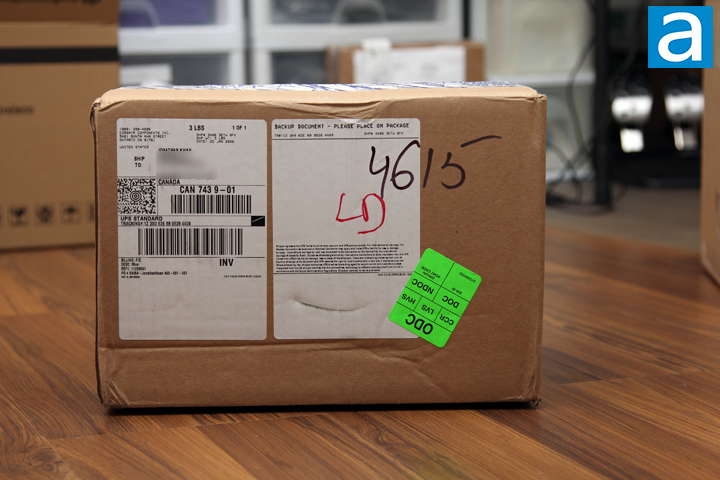 Today's review unit of the Corsair Scimitar RGB Elite arrived from Corsair's offices in Ontario, California. Traveling with UPS and their Standard ground service, the box arrived in good condition with no real bumps or bruises to be concerned about. Corsair clearly has packed this mouse well, because there were also no signs of damage to the retail container inside. It is honestly not too often we see much damage on our products in transit, so it should not be surprising.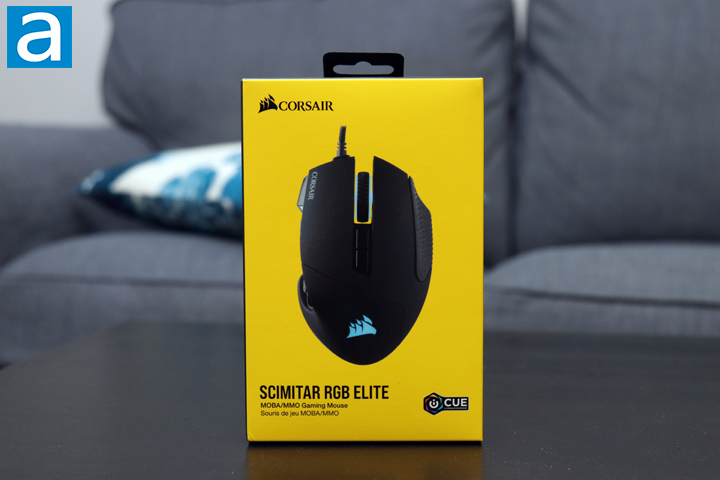 Corsair loves their black and yellow color scheme and this is what we have with the retail packaging of the Corsair Scimitar RGB Elite. Its yellow panel at the front is quite striking and I personally like how bright it stands out from the competition. Otherwise, the mouse is displayed on the front in a scaled down fashion. The Corsair with its sail logo can be found on the top while the bottom shows the name and a description of "MOBA/MMO Gaming Mouse". We also have an "iCUE" logo to show this mouse works with Corsair's software for lighting and other controls. We will look into this later. Around the box we have some information and features regarding the mouse. Just for your information, this is not the first Scimitar mouse released by Corsair, as they have previous versions. From the specifications, it looks like the main difference the Elite and its predecessor is a new sensor.
If you are interested, I have obtained the specifications from the manufacturer's website for your viewing pleasure:
Mouse Warranty: Two years
Prog Buttons: 17
DPI: 18,000 DPI
Sensor: PMW3391
Sensor Type: Optical
Mouse Backlighting: 4 Zone RGB
On Board Memory: Yes
On-board Memory Profiles: 3
Mouse button Type: Omron
Connectivity: Wired
Mouse Button Durability: 50M L/R Click
Grip Type: Palm
Weight Tuning: No
Weight: 122g (w/out cable and accessories)
CUE Software: Supported in iCUE
Cable: 1.8m Braided Fiber
Game Type: MMO, MOBA
Report Rate: Selectable 1000Hz/500Hz/250Hz/125Hz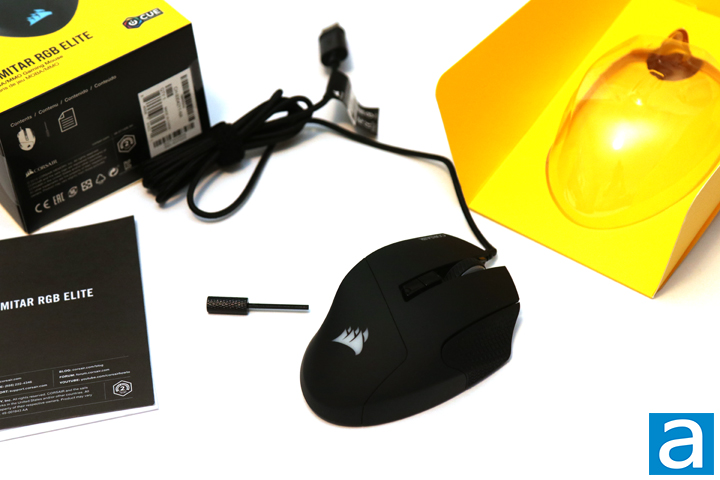 Out of the box, we have the Corsair Scimitar RGB Elite found in a large yellow cardboard and plastic shell with its cable wrapped up securely with a Velcro tie. A small hex key comes with the mouse for some adjustments as we will see on the next page. Otherwise, we have some documentation regarding the mouse and its included warranty. As you may have already read from the specifications chart, this comes with a standard two-year warranty, which is pretty typical for peripherals nowadays.
---
Page Index
1. Introduction, Packaging, Specifications
2.
A Closer Look - Hardware and Software
3.
Subjective Performance Tests
4.
Conclusion